Hello race fans! Welcome to the Number Cruncher, brought to you by Shift MX. We're back this week with a request:
"You have to do #22. I first put that number on my bike in '86 after seeing Danny 'Magoo' Chandler at Hangtown during the early '80's. I ended up with one of his Team Honda promotional photos with him wearing #22. It looks like its from a Des Nations race or something because he is wearing a blue helmet with the two white stripes running back from the visor, and it says USA on the side. Anyway, I know he wore a lot of numbers, but that one sticks with me. And now, with Chad Reed wearing Magoo's number, I know a lot of the younger crowed might like to hear more about it."
Trevor Thomas. Chico, CA
You got it, Trevor. This number that has some major moto history horsepower. Number 22. the "Double Deuce," has a long history of kicking ass. Sure, Patrick Swayze split some skulls bouncing at the Double Deuce to win the heart of Kelly Lynch in Road House, but the real muscle behind the number comes from some of the fastest motocross riders in the history of the sport. From the Bad Boy to Bayle, Ryno to Ron Ron, Skippy to Magoo, there is a plethora of motocross magic behind the incredible number 22.
And we'll start with the photo itself of Danny Chandler that came from the 1983 Honda promotional press kits. Magoo is wearing his Team USA "skunk" helmet from the '82 season-ending Motocross and Trophee des Nations, where he dominated the events in a way that will never be replicated. Magoo won all four motos going on to lead Team USA to the wins. Danny wore the 22 in '83, and he won four 500cc Nationals with it.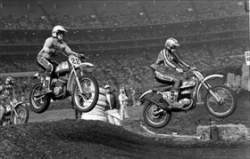 photo: Dick Miller Archives


Now that's old school! Bob Harris is running the #22 here at the Houston Astrodome, and that's the Goodyear-backed Gary Bailey ahead of him on the #38 Bultaco riding ahead of him, with Maico-mounted Jim West #28. the race was the Houston Astrodome 500cc Supercross (yes, they used to run two classes), but here's the mystery: Is it 1974 or '75? Because if it's '74, Bailey finished fourth; if it's '75, West finished fifth. If you know which year it is, email me and tell me more: Andy@mxsports.com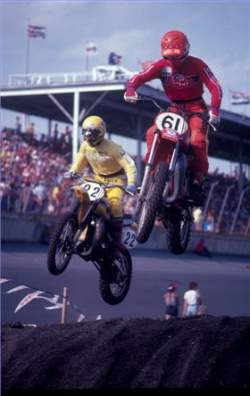 photo: Dick Miller Archives
Check out these two gladiators from yesteryear going for it at the 1980 Daytona SX. While #61 here has some super trick red Fox Gear on, the major style points go to Rick Burgett wearing #22 and his state-of-the-art Scott plastic boots. Talk about comfort, Phil Knight surely took some notes from these beauties and incorporated them into some of the early Nike prototypes! Can you imagine going 20 laps at Daytona with your feet and ankles entombed in those plastic torture devices?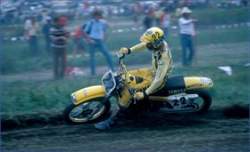 photo: Dick Miller Archives
This is a really cool early picture of Ricky Johnson, just prior to his "Bad Boy" days when RJ was just "Too Hip" and only beginning to establish himself as one of the guys to beat in the supercross series and outdoor nationals. Things were preparing to drastically change forthe hungry and determined kid from El Cajon. Few could have imagined that in just a couple years he would become one of the most unique and charismatic motocross racers of all-time. Rick was one of the first racers that built and carried an image for himself and his fans, as the Yamaha/JT Racing/Scott Goggle days you see here would soon evolve to provocative (and sometimes naked) Fox Racing ads, bizarrely cool Oakley ads with Hollywood war paint, and all of the Life's A Beach stuff that made him one of the most popular motocrossers ever… well, that and those seven championships, of course!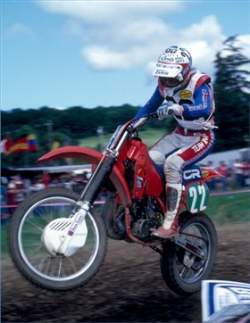 photo: Fran Kuhn
Jeff Hicks was one of the top journeyman pros from the early '80s—think of him as the Kyle Lewis or Tim Ferry of the era. He came out of Atwater, Ohio, riding for George Quay's Keystone Motocross Works, then earned Yamaha pro support, then went on to a Team Tamm ride, then followed his friend Bob Hannah to Suzuki later on. Hicks, shown here at Broome-Tioga in 1984, never quite made a supercross podium but was also a top-ten threat in every race he rode.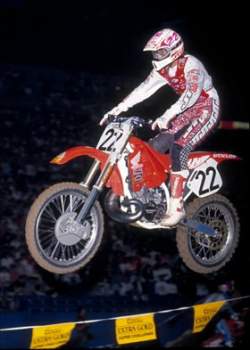 photo: Dick Miller Archives
Jean-Michele Bayle wore the number 22 in 1990 and left subtle hints that his days of domination were on the horizon. With five AMA Supercross victories coming in the "AMA Camel Supercross Series," Honda dispatched the two-time world champion Bayle to the 125 class for the AMA Nationals and immediately put a beating on the division. After opening up a 74-point lead by the eighth round, Bayle would go down hard at Washougal and break his arm, ending his title run.
Oddly enough, Bayle broke his arm wearing 22 in pretty much the same spot that another well-known #22 rider, Ryan Hughes, broke his arm. Only Ryno just did his two weeks ago at a WORCS event at Washougal, and not back in '94 when Hughes was wearing the number 22 as a Pro Circuit Kawasaki prospect.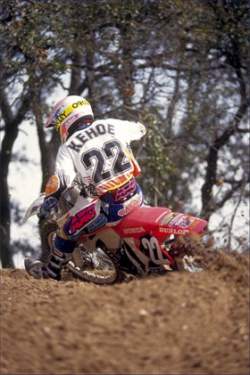 photo: Racer X Archives
Erik Kehoe is one of the fastest 125 riders never to win the championship. A two-time runner up, Kehoe always came up a little short of the ultimate goal. After a strong career at Team Suzuki, which included a bunch of 125 National wins, as well as the '87 125cc USGP, Erik jumped over to the newly formed Honda of Troy team to ride out the wanning moments of his career. Sadly, Eric would suffer a horrendous endo at High Point in the mid-'90s, which all but ended his racing days. Fortunately, better things were in store for Kehoe, as he would go on to become the team manager for the powerhouse Yamaha of Troy and then now factory Honda squad. This former #22 is widely considered to be one of the most respected team managers in the industry.
Once upon a time Robbie Reynard was thought to be the best prospect in the motocross world. He came out of Loretta Lynn's almost directly into a factory ride with Kawasaki, and he won five nationals there. But even as early as 1995, when he wore the #22, the Oklahoman was showing signs of being fragile and unlucky. The injuries mounted, which was a damned shame because Reynard was a beautiful rider on the motorcycle and certainly would have done some damage had he not suffered so much damage to himself.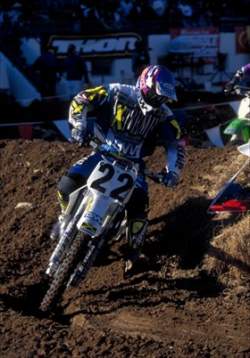 photo: Simon Cudby
Buddy Antunez wore the #22 while racing for the jet-set crew of Team Great Western Bank. The motley crew consisting of Phil Lawrence, Davey Castillo, Denny Stephenson and Bud Man himself logged way more airtime in the team's private jet 1996 than even Team Honda! Buddy put in some decent rides in the 125 AMA Nationals, but the high-profile team closed up shop at the conclusion of the year. Better days lay ahead for Buddy, as he would make the jump over to arenacross where he is still the most winning rider in arenacross history.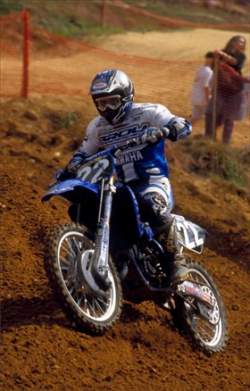 photo: Simon Cudby
Stephane Roncada wore number 22 in 1999 and raced his way to 11th place in the 125 East Coast Supercross series and 6th in the 125 Nationals. But the following year, "Ron Ron" would set the world on fire as he easily won the 125 East and would go on a tear in the outdoor nationals. He was winning races and pulling away in the standing when he hurt his knee and gave up valuable points to a young Travis Pastrana. The two riders went toe-to-toe in a friendly rivalry between the day's two biggest smiles—they even put stickers of each other's websites on the back of their chest protectors! But Roncada would lose the title to number 199 in the final moto of the year and begin a slow downward spiral that he has yet to come back from.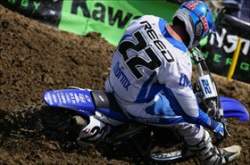 photo: Simon Cudby
Today's fans know that #22 has a comfortable home with 2004 AMA Supercross Champion Chad Reed. As the fastest and most winning Australian motorcycle rider this side of Mick Doohan, Chad has had a great career in America. In fact, had he not arrived in the middle of the Ricky Carmichael and James Stewart era, he would certainly have more than that '04 AMA title. With the exception of these two freaks of nature, nobody on the planet has been able to touch "The Thunder from Down Under," they also like to call "Skippy." All the same, Chad has beaten Ricky and James on several occasions and was within one finishing position of becoming the 2006 Amp'd Mobile AMA Supercross Champion. Chad's immediate future will see him move into his own personal race team for 2007. While Chad has had to endure some excruciating mental anguish at the hands of # 4 and # 7, he can still sleep well-knowing that the future bodes well for #22!
Finally, a nod goes out to a man who wore #22 at the very first Loretta Lynn's AMA Amateur National Motocross Championships, Brian Juhnke. A prospect from North Dakota, Juhnke rode at Loretta's that year in the 125 Intermediate class. A pro career wasn't in the cards for Juhnke, but he did have some impressive results in another field: Brian's the own of Motoworld Racing of El Cajon. And he sent this bib to DC for a story he's doing on the first Loretta Lynn's race.
Okay, that's it for this week. While we surely missed a #22 or two, feel free to email me at: Andy@mxsports.com. Thanks for reading another Shift MX Number Cruncher. We will be back next Wednesday with another number to crunch!