Monday Conversation: Ricky Carmichael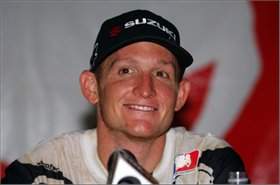 Ricky smiles after another solid 1-1 performance in Michigan

photo: Steve Bruhn

Team Makita Suzuki's Ricky Carmichael is not one to toot his own horn. Even with two convincing moto wins at Red Bud ahead of his rival James Stewart, Carmichael sat next to Stewart and chatted during the post-race press conference and gave the team credit for making his bike work just right.
Carmichael was able to get around Stewart when he needed to, it seemed, and when he got a clear track he checked out. Ricky rode like he was "answering" something, as he likes to put it.
Stewart said he was 100 percent on the podium, even though he is still sore from pounding his knee at High Point and Southwick. Still, something seemed to really click for The GOAT at Red Bud, so we stopped him on the way out of another Monster Energy Kawasaki Triple Crown of Motocross success to see what he had to say.
Racer X: Ricky, this was quite a day for you.
Ricky Carmichael: I tell ya, I can't say enough for the team. We made some adjustments to the bike chassis-wise and engine-wise. That was the best I felt all year. The changes we made today were the changes I've been looking for.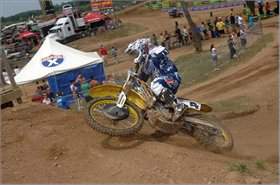 RC scrubs the Red Bud finish line

photo: Carl Stone

What prompted you to want things changed after three straight wins? Was it that this track is a little loose?
No. We still test—actually, we're testing next week to try to improve. I just felt I couldn't ride the bike any faster. With the changes we made, I could ride as fast with a lot less effort. As you saw today, I answered every question. It was a strong weekend for me, and the main thing is, I had a lot of fun riding this weekend after I got the changes I was looking for.
Not to press on details, but you're saying both engine and suspension changes?
Both, yeah. With chassis, some parts on the bike that have a big effect. Engine-wise, we were going back and forth on gearing and this and that. I always seem to have a gearing problem here, even since 1997. I learned that on 125s just tinkering around.
After practice, when you were getting ready for your motos, did you anticipate checking out both motos?
No, absolutely not. We made a change before the first moto. I said, "Hey, throw this on." They threw it on and I knew on the hot lap that this is how it's supposed to feel. James was right behind me, and when he was, I didn't feel like previous weekends when I was trying so hard. I was like, "Ah, this is cool." I could pick my lines and go where I wanted to go. I just tried to keep that tempo high. He rode really well for being gone, that's for sure.
Are you still changing your style? Are you evolving even now?
I don't know. I don't think my style is as good as it used to be. I look a little on the stiff side anymore. To be honest, I haven't watched a videotape of a race, like on TV, for a whole year. I just hate watching myself ride.
This new layout here at Red Bud, did it remind you of Ernee at the MXdN last year with the crowd on one hill and racing on the next hill?
Yeah, but I don't think the lines were as good. It seemed to be more one-lined than it is normally here. I was a little bummed with that, but the dirt was really good. I had a good time. I love the dirt here. The design could have been a little better for developing more lines. We have to work on the tracks and try to get it where the start is not as crucial. I think the starts are way too crucial. For instance, I think [Ben] Townley could have caught up a lot further than he did. I didn't care about anything but the start this weekend, because I knew that was where it was at. We have to do something to develop more lines. It's not as fun. Like all the times I have been behind James, he will probably tell you after this weekend, you get behind a guy and you just get ruined and you're just waiting for a mistake.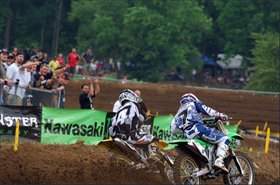 RC passing James early in the second moto

photo: Steve Bruhn

Early in that second moto, you made that pass on James on the inside around where the start is. Did you plan that and set it up?
I just tried to do a little scrub and get on the inside of him. I wanted a clean pass—no bumping, no nothing. The way the bike was handling today, it was easy to get by. I set it up really nice and was able to get by without any rubbing. We had good racing. I think we respect one another, and we have a good time racing each other.
So the pressure is off right now on points—didn't your gear say "Comfort Zone"?
The reason we wore these was a little fitting problem with the gear! [RC teases Fox Racing's Scott Taylor a little.] We had some sick gear, and we'll have it ready for Unadilla.
Are you going to bring some bolt-on armor for those infamous rocks?
When I get there that weekend, I'm counting the laps I have left at that place—I might not even do Saturday practice. I'm over it anymore. I mean, every time we get on the track, everyone is so dug-in on lap times, so I just might not even ride Saturday.
I better not get you started. Congrats again on a solid day at Red Bud.
Yeah, for sure. Thanks, Steve.