Great Races: The 1984 Cal-Expo Supercross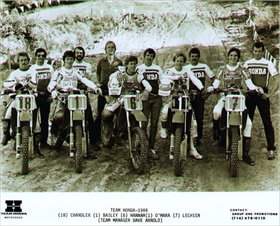 Team Honda 1984 was one of the strongest lineups in motocross history
Rain pouring down on my windshield, I was driving back to the hotel after making it out of the Prairie City SVRA Park following the opening round of the 2006 AMA Toyota Motocross Championship at
Hangtown
. Nearing the exit for the hotel, the highway sign caught me by surprise: "Next Exit: Cal-Expo Fairgrounds." I looked over to my right and there it was, the Cal-Expo Fairgrounds.
That's where the Cal-Expo Supercross was held in 1984. It was a one-off supercross that Insport, a breakaway from the AMA group, ran that season. Looking out of the car window, the Cal-Expo didn't really look like much at all: some roadway, bleachers, and a giant field. However, on Saturday night, September 29, 1984, the Miller High Life Supercross at the Cal-Expo Fairgrounds was a big deal. It was the 13th of a 15-race schedule, and Team Honda's Johnny O'Mara was attempting to fend off the advances of Team Yamaha's Rick Johnson, Team Kawasaki's Jeff Ward, and his Honda teammate David Bailey in an attempt to win his first supercross championship (in what was called the Insport/Wrangler Supercross Series).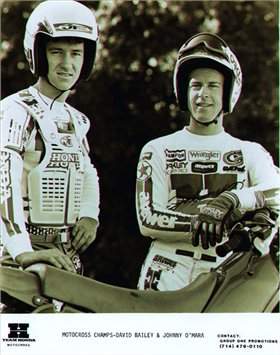 David Bailey and Johnny O'Mara were friends, teammates, and rivals for the 1984 Supercross Championship
"Winning the opening round of the 1984 Supercross Series at Anaheim before 70,000 fans definitely got the ball rolling for me in achieving my goal of winning a supercross championship," O'Mara says. "I won four more races along the way, and I knew Sacramento would be an important race for me if I was to clinch the title. David had won at Foxboro, the race before Sacramento, and was gaining momentum. That had me concerned."
Interestingly, the Cal-Expo Supercross was also held the year before, as part of the CMC Trans-Cal Series that was run in the late autumn months. Insport picked up the successful event and dropped it on the 1984 supercross schedule. The Cal-Expo Fairgrounds were also the site of the fabled Sacramento Mile, which had been hosting AMA Grand National Dirt Track races since the 1950s. It was normally a track traversed by 90-horsepower Harley-Davidson XR750 flat track bikes, and the event organizers really had to go to work to turn the flat parcel of dirt into a supercross circuit. But they got the job done. Come race time, the starting gate had been planted immediately before the old, clapped-out grandstands. The majority of the course featured an extra-long, high-speed straight with a couple of jumps tossed in, in which the riders would pitch their motocross bikes into a right hand hairpin turn. Then it was into the infield, where the track ran back-and-forth in lanes.
"The main part of the track was based on the front start straight of the Sacramento Mile," David Bailey recalls. "There was this super-long straight we would go down and then just dive into the hairpin turn. There were a lot of bowl turns and jumps, and the track did a lot of zigzagging, like water going through a radiator."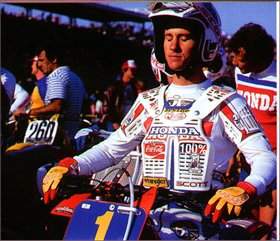 Bailey got to wear a trick blue-and-yellow #1 plate in 1984
photo: Racer X Archives
With approximately 15,000 fans looking on, series points leader O'Mara and rookie Honda teammate Ron Lechien battled In their eight-lap heat, Lechien winning by a bike length. Bob Hannah, also on a Honda, was third.
Team Yamaha's Broc Glover won heat 2, and Mark Barnett, on what was basically a stock Suzuki RM250, did everything save ending up on his head to keep David Bailey and his super-trick Honda RC250 works Honda behind him in heat 3. It was a hopeless cause, Bailey motoring by and winning the heat handily. Rick Johnson passed early leader Alan King of the upstart Team Tamm privateer effort to win heat 4.
Bailey holeshot the main event and proceeded to check out. The most technically perfect, naturally talented rider of the era, Bailey calibrated his talent to the oddball dirt track/motocross/supercross hybrid racetrack and ran for daylight. Behind him, a good piece back, was O'Mara, followed by Lechien and Hannah—a Honda whitewash in the works right from the onset. As the laps clicked off, Bailey maintained a large 10-second lead over O'Mara who was being shadowed by "Hurricane" Hannah. With one lap to go, Bailey, O'Mara, and Hannah had lapped almost everyone in the main event, save for Broc Glover and Rick Johnson, who were less than a quarter of a lap away from being zapped by Bailey.
"My bike ran pretty damned good," Bailey told the crowd after the race. "We had to make some gearing and crab changes, but my mechanic, Cliff White, got in there and got the job done."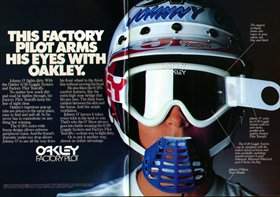 How cool were the old-school Oakley "Factory Pilot" ads, like this one of Johnny O?
Added O'Mara, "I could see that David was doing good, so I know I had to settle for second. I knew that we were going to get 1-2-3. I guess Honda should like that a whole lot."
"I won everything that night," Bailey says. "I had beat Johnny the race before at Foxboro and won again that night and was on a roll. I was happy to win, and the 46 people who were there to watch the race that night seemed happy, too!"
Told the "official" announced attendance that night was 15,000, Bailey laughs, saying, "Maybe so, but the number 46 is tattooed in my head.
"You know, Preston Petty picked us up after the race in Sacramento and flew us to the last round of the Trans-Cal Series," Bailey continues. "The race was at old 395 Raceway and it took us most of the night to get there. Along the way, while we were flying, I remember Johnny looking at me and saying, 'You're not going to take this championship away from me, are you?' I was like, 'No, not unless you screw up. If you screw up, I'll be right there.'"
O'Mara didn't screw up, winning the 1984 Supercross Championship, while his good friend and teammate David Bailey wound up third overall.