Between the Motos: Phil Alderton
Phil Alderton has lived quite a life. He was a pro motocrosser from Dayton, Ohio, in the 1970s, then part of the highly successful Honda of Troy shop there. He began sponsoring pro riders in the early 1990s, including Erik Kehoe and Todd DeHoop, and that grew into Honda of Troy, which later became Yamaha of Troy, one of the most powerful satellite teams of the last decade. But then Alderton started having issues with alcohol and he started a downward spiral that saw him incarcerated for a spell. But now his life is on the rebound, and Phil has gone back to basics: He's racing dirt bikes and staying on the wagon. Now he's looking for a job as the next piece of the puzzle he's putting back together.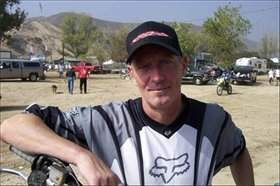 Phil Alderton

Racer X: Phil, let's start by giving everyone an update. Where are you and how are you?
Phil Alderton: I'm in Beverly Hills, California, and I'm doing great. I really don't like to dwell too much on the negative things that have happened in the past, but one of the positive things here is that I've been sober now for 21 months. So that's good.

Right on. As some of our readers and industry friends know, you had quite a battle on your hands for a while there.
Yeah, it was totally 100 percent my fault, and I put myself into that situation, and that six months that I went away, I feel like I really paid the price and it really opened my eyes, and I'm definitely back on the right track.

Speaking of being back on the right track, did I see your name in the Loretta Lynn's qualifying applications?
Yes, absolutely!

Let me see, you won in 1990, right?
That's right, I won the 30 Plus class. This year I'm riding the 45 Plus class.

You're going to be going after Matt Tedder, huh?
[Laughs] Well, I'm going to be on the same track as him and giving it my best ... put it that way.

How much has riding and just going out and being at the racetrack helped you to kind of keep the rubber side down in life, too?
A ton! The first thing, I got released on a Friday and my friend Michael Rigdon picked me up and we went down to San Bernardino, stayed in a hotel, and then I went to REM the next day and the guys from Motocross Action were nice enough to loan me a bike, and the second day out, I raced. I continued racing the bikes for a couple months and then Erik Kehoe [Team Honda] was nice enough to give me a CRF450R, which I raced almost all of last year. And I blew it up towards the end of last year, and then I kind of raced MXA bikes over the winter again. I then went out and bought a 2006 CRF450R this spring, and I went to the area qualifier for Loretta Lynn's and I got third. I continued riding and racing just about every weekend, and a couple weeks ago I went to the regional there at Glen Helen and I went 3-2-1 and won the regional.

Nice, congratulations!
Thanks! It was a really good feeling. It's funny, for as long as I've been involved in motocross, I can't believe how much of an enthusiast I still am. I'm really into it and still feel like a kid.

What about as far as pro motocross goes? I know that you parted ways with the team you founded, Yamaha of Troy. But suddenly, with Brett Metcalfe and Andrew McFarlane, those guys are having a pretty good summer. Do you still find yourself pulling from them when you look at the results?
Oh yeah, I follow the pro motocross now as much as I ever did. It's funny now that I'm kid of on the other side of the fence as a fan. It's a different perspective and I don't to as many races as I used to, obviously. I went to Anaheim 3 this year and I went to a couple nationals last year, and Sacramento this year. And as far as pulling for the team, it's funny because after I left the team—we kind of had a bitter split, I guess, and to be honest, I go both ways because I'm not involved. At first it's like, I'm not involved and these guys aren't doing so great, so you get some satisfaction from that, but you don't want to feel that way. Now that Brett and Andrew have been doing well, it's nice to see, it really is. So I'm kind of torn between the way I feel. But yeah, I definitely get pleasure out of seeing those guys do good because I kind of feel like I started that whole thing, and I was the one who picked Brett there a couple years ago and thought he had a lot of potential. He's coming to realize that potential and it looks like those guys got it together. I was really pumped up there at Sacramento when those guys went 2-3, so it's good to see.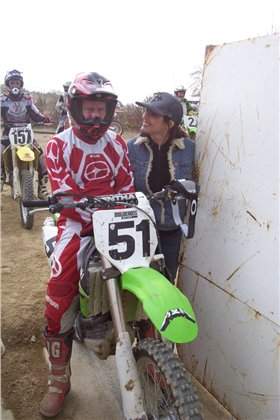 Phil and his girlfriend, Angie West

You told me what you're riding, but where are you working now?
Actually, as of about three weeks ago I'm unemployed. I worked for SixSixOne between October of last year and March of this year, doing export sales. I then got a better opportunity working for a company within the industry last year, but it just didn't work out. I don't want to go into it any more or badmouth anyone, but I thought everything was going great, but it didn't work out. So I'm in the process of looking again, and that's probably been the most difficult thing over the last year for me. The last piece of the puzzle is to find a good gig that I enjoy doing and that I can make a difference and feel really useful.

Do you feel like you're starting all over at the bottom, as far as the industry goes?
Well, yes and no. One of the reasons I wanted to do this interview is that hopefully people can get an idea of where I'm at and how far I've come in the last year. In a way, I think people look at me with one eyebrow up a little bit, wondering where I'm at and how effective I can be. In that regard, yeah, I kind of feel like I'm starting at the bottom, but at the same time I still have a lot of contacts in the industry, and I stayed in touch. From that standpoint I feel I have a head start on a lot of people that would be starting completely at the bottom. It's a double-edged sword, but I feel like I have a lot to offer, and I definitely want to be involved in the racing end of the industry. Shoot, the last year I was working and doing stuff for Yamaha of Troy wasn't a great year, but the three years before that, I felt like I did a pretty good job and made quite a difference.

Let's switch gears here. As far as Loretta Lynn's goes, who's going to help you get there?
Well, my biggest sponsor is my girlfriend, Angie West. She and I are living together here in Beverly Hills, and gosh, she's just been great and so supportive. She helped me buy a truck and this bike—she's just behind me 100 percent and she's been great. As far as getting my bike there, my old friend Mike Craig, his son Christian is racing, and he's going to take my bike and I'm going to fly down there. And as far as some of my other sponsors go, Bob Rathkamp at Gaerne has helped me out a ton; Skip Norfolk at No Fear and his brother Shawn; Rob Healey from N-Style; Rich Truchinki from Tru-Tek; I guess those are my primary sponsors there. And Mitch Payton from Pro Circuit, he helped us out a lot and I got a few parts from him. Just a lot of people that I've known for a long time have helped me out and it's been great. I've got to give a nod to the guys from Motocross Action, Jody and Tim, because when I didn't have a motorcycle to ride, they let me ride whatever. I got to help with the testing and I got to pick the bike I liked the best and ended up going out and buying one. There are just a lot of really nice, genuine people from the industry who have helped me out quite a bit.

Well, if anyone wants to get a hold of you, how should they go about it?
They can just e-mail me at alderton2005@yahoo.com. I just really appreciate the support that Racer X has given me through the good times and the bad times. If anyone is interested in a hardworking guy with a lot of knowledge of the sport, hit me. I'm ready, willing, and able!

Good luck, Phil.
Thanks DC.