Bench Racing Ammo: MX Versatility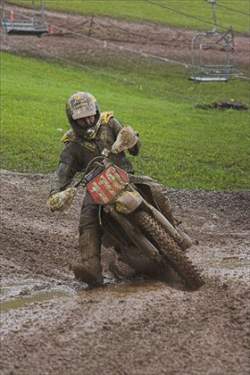 John Dowd finished fourth at his first GNCC this past weekend
photo: Ray Gundy
Besides a golf course, the next area where riders dream of riding their dirt bikes is a ski slope, and this past weekend, GNCC racers had their dreams fulfilled as the Suzuki Grand National Cross Country Series rolled into McHenry, Maryland, and the Wisp ski resort. And lining up Sunday morning with the likes of current points leader Juha Salminen, former champion Barry Hawk, and the young up-and-comer Charlie Mullins would be none other than the Junkyard Dog,
John Dowd
. The 40-year-old Dowd was coming off a sixth-place overall finish at the
Southwick
National only two weeks prior. He made the trek down from Ludlow, MA, to participate in his first GNCC race, aboard a two-stroke Suzuki RM250.
"I'm not even sure how I got myself into this," he told Racer X Online the week before the race. "Because I'm kind of retired, it's not uncommon to see guys try different things like this. It seems like everyone is interested to see if this is something I would like."
John's first off-road experience was actually indoors, at the 2005 Maxxis Endurocross, where he finished second. But when asked if he was feeling any pressure to perform at his debut GNCC, Dowd admitted that there was some added pressure on him as a result of another retired motocross racer.
"Doug Henry went out and did that one in Florida, and he won the darned thing, so that puts a lot of undue pressure on me," Dowd said of Henry's Orange Crush GNCC victory last year. "I really don't expect to win or anything. If I raced the one in the sand, like Doug, that would have probably been the way for me to get started."
Although he didn't fare as well as Henry—it was really, really muddy, and those GNCC guys are really, really good in the mud—Dowd did open some eyes, as he was the top-finishing Suzuki racer in a very experienced field with a fourth-place finish.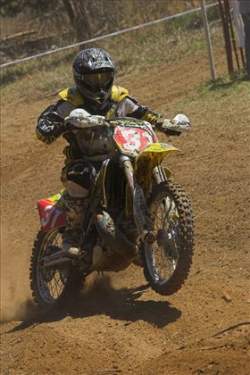 Before switching to off-road, Rodney Smith was a World Motocross contender
photo: Ray Gundy
"That had to be the hardest race I've ever done in my life! It was good. I put in a couple of good laps and a couple of bad ones," Dowd said, smiling through the mud still in his teeth. "I had fun, though. I'm pretty sure I'm going to come back and race the one at
Unadilla
. I'd really like to try a dry one!"
Dowd kept his cool and stayed in sight of the leaders for the first two hours. He followed the advice of the FMF Suzuki GNCC pit crew: Stop for goggles, gas, and gloves, don't ruin your tires by spinning through the paved pit sections, and stay focused. Dowd was running third for a while, but eventually he faded just a bit.
"It's still kind of mind-boggling to ride for three hours," Dowd said. "I did good for four laps, but the last two, it was tough after that."
So does Dowd have a future in off-road racing? Maybe. But it's definitely interesting to see the versatility of motocross racers as they venture into different genres and actually fare well.
This GNCC series sees a lot of entries from ex-motocross racers. Take Fred Andrews, for instance. The Ohio resident was a top privateer racer throughout the '80s and never quite made it to the factory level. Then, in his first season racing GNCCs in 1993, he won the championship, which sparked a lucrative career in that series.
Five-time GNCC Champion Rodney Smith is also a former professional motocross racer. From being a Brazilian National Champion to finishing third overall in the 1988 250cc World MX Championships as a Suzuki factory rider, as well as racing for podiums in the 1990 AMA 125cc Nationals, Smith certainly knows his way around a motocross track.
In more "cameo" appearances, Larry Ward finished fourth at the Florida GNCC in 2001. Brock Sellards rode the
High Point
GNCC in 2001 but DNF'd when his rim lock broke and his tire spun on the rim. Last year, New York's
Paul Carpenter
and
Bobby Kiniry
raced the
Unadilla
GNCC, Carpenter finishing 14th and Kiniry 17th. And our own David Pingree finished a solid 99th overall in Florida in 2004.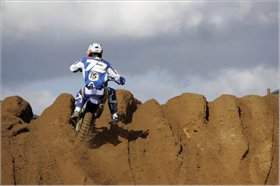 Stefan Everts added an ISDE win to his resume in 2003
photo: Steve Jackson
And let's not forget that Ryan Hughes also gave GNCC racing a go but found that the World Off-Road Championship Series (WORCS) races more to his liking. He is currently leading the series for Team Suzuki, though he is on the mend from a broken arm. His teammate in that series is Mike Kiedrowski, a four-time AMA National Motocross Champion as well as a member of multiple winning Motocross des Nations teams.
And speaking of WORCS racers, both second and third place in the 2006 standings are also very talented motocross and supercross racers. Second place in points right now is Team Green's
Ricky Dietrich
, who qualified for the Seattle SX this season in the 250F class. And third is ZipTy/Montclair Yamaha's Bobby Garrison, a regular top-20 finisher in the Toyota AMA Motocross Nationals in the 450 class.
That ZipTy/Montclair team is led by Ty Davis, a former Suzuki factory motocrosser who notched the 1990 AMA 125 West SX title (and Jeremy McGrath finished second to Ty that year!).
And does anyone remember when nine-time World MX Champion Stefan Everts tried off-road racing? The year was 2003 and the event was International Six Days Enduro. The result: a win!
If you dig a little more in the history books, you will find that eight-time AMA National Enduro Champion Dick Burleson was an outstanding motocross racer as well. He was the unofficial 1970 500cc National Champion based on his "top American" finish in the Trans-AMA Series.