Monday Conversation: Barry Hawk
Am-Pro Yamaha's Barry Hawk won a tough GNCC yesterday in the rain and mud of The Wisp Ski Resort in Deep Creek, Maryland. Hawk outlasted series points leader Juha Salminen for his second overall win of the season, as well as his second Wisp GNCC win in a row. We caught up with him right after he got out of the pond he jumped in to celebrate his win.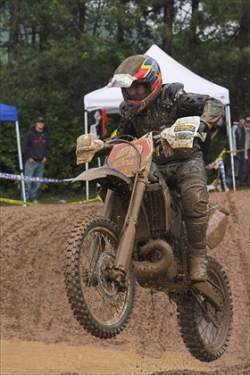 Barry Hawk on his way to his second win at the Wisp

Racer X: Can you talk about your second Wisp GNCC win in a row?
Barry Hawk: The race didn't start out too good for me. I guess I had an okay start, but I rode at little too conservative for the first couple of miles. I just kept going backwards, it seemed. I was trying to conserve my gloves and not get them wet, but I ruined my goggles. Guys kept passing me and passing me. I decided since my goggles were shot, that I just threw them off, and that's when I floored it.
All those guys that passed me, I ended up picking them off. I think I caught Charlie Mullins when he crashed or something. He was looking at his brakes. I caught Juha and we went back and forth a few times. It was so muddy, I don't think people knew we were flip-flopping. When I finally passed him for good, it was at the top of the ski slope. He drifted out in a corner and I went for the inside. He got a lot of my roost, and he didn't stop for goggles that lap. I think it really hurt him not stopping for goggles. That was the lap I ended up pulling a minute gap or whatever. I just tried to floor it all the way to the finish.

So that was the turning point in the race?
Yeah, that was the turning point. Whenever I saw him not stop for goggles, well, on mine, I've raced so many times, I know when I pull the string when I'm getting low on film [on the roll-offs]. I could tell I was low because I had thought about going and not stopping. I knew that about a mile in, I would be out of film if I didn't stop. I stopped, and then I caught up to him real quick. I think that was basically the turning point. I'm sure he got quite a bit of roost off of me, and I think that ruined his goggles. He couldn't key off me because he had to stay out of my roost. Maybe that's not what happened, but from that point on, I never saw him again.

How's it feel to win this race—one that many consider to be the centerpiece of the series—two years in a row?
It certainly feels real good. I'm real happy. Coming in, I knew there would be a lot of people here, a lot of family and a lot of friends. Whenever it started raining, I thought, You know what? These guys are not going to be looking forward to it. It made me want to win that much more. When I woke up at 7 this morning and heard the raindrops, I got a big smile on my face. It was good. I just wanted to win here really bad. I guess it's my home track, and there are a lot of friends and family here. It feels really good.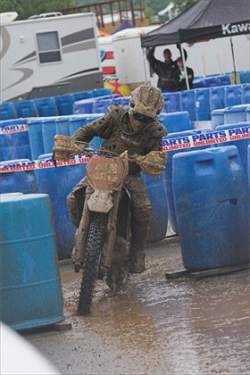 Barry navigates a parkig-lot section at the Wisp

What's different between last year's win and this one?
Last year's was still probably like my all-time favorite win. I think I just had so much going on in my life, with my wife—she ended up having my son a week before this race. She wasn't due, and she was actually a month early with him. She had some problems with him, so I was Mr. Mom. I brought my daughter here and spent time with her on Friday and Saturday. On Sunday my wife came up and I didn't worry about the racing part of it—I just got suited up and raced. I said this in the interview last year, on that last lap, my body was just tingling, I felt so good to get a win. It was really emotional. Well, this one ranks up there, too. A close second.

What was the deal with jumping in the pond after the race?
I was just talking to my friend Shawn Remington before the race—he won Vet B and I help him out with some stuff. I was looking at him and said, "Hey, if we win, let's go jump in the pond." And he said, "I'll do it if you do it." He didn't want to back out and I didn't want to back out, so I said, "Okay, let's go do it." I'm always calm and reserved and don't get too out of control, but wins like this don't come around too often. I decided to have a lot of fun and jump in with the fish.

What did you think of John Dowd racing here?
John was one of the guys that passed me. That's almost when something happened and I was like Okay, I need to pick it up here, because nothing against him—I don't want him to take in the wrong way—but when he passed me, I thought, It's rocky, it's raining, it's muddy, and John Dowd shouldn't be passing me in these conditions—he's a motocrosser! I mean, he's a great rider but it usually doesn't cross over for guys in these kinds of conditions. When he passed me it was like that put a fire in me. I thought, John Dowd is passing me. I have to get going here. I followed him for about a mile and he ended up making a little mistake and just hit a rock. He didn't go down—he just went sideways and I went around him and didn't see him again after that. How did he finish?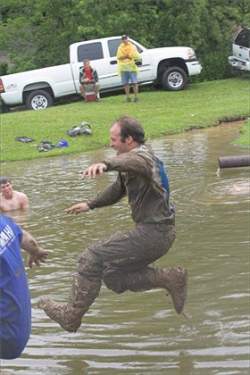 Barry takes a swim after a long, muddy day

He finished fourth.
That's awesome. That's good that the motocrossers aren't afraid to come and race. I'd like to see more of them do it ... as long as they stay behind me [laughs].

What are you going to do for the break over the next two months?
Nothing different than I've been doing. Maybe when I get some 2007s, I'll start working with that stuff. I'll race some local stuff and stay in shape. We have two and a half months off I guess, but it's not like we can sit around and do nothing. We have to stay in shape and keep fired up, keep motivated. I'll just do the same thing we've been doing.

Since you've won two races this year, does this means results will change?
I don't know. I haven't thought that far into it. After I won Ohio, I beat Juha but a lot of people said, "Well, he got stuck" or, "He went the wrong way." But that was the first lap and he ended up catching back up and leading, so that doesn't really go into effect. A win is a win. This one is a little sweeter because he wasn't stuck when I passed him this time. I just flat-out passed him and pulled away from him. He probably was riding smart today—he could have hung it out a little more, but he has such a big points lead, why take a chance? That was smart on his part maybe to not push. If I would have been in his shoes, I would have said, "Hey, go right ahead."

Were there noticeable differences in the course this year?
Last year it was more mixed up. You're on a fire road for a little bit, then in the rocky stuff for a little bit. This year it was a long three or four miles of tight, rocky stuff, then three or four miles of fast, open stuff. That's good that they keep it different and not the same.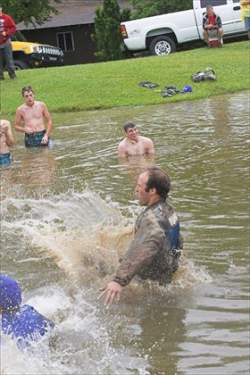 Splash!

So did your bike work well today?
Yes, my mechanic [Doug Whitmer] did an excellent job. I was a little mad at him when I pulled in to the second lap because the bike was running really rich. Usually it's the other way and I'm telling him to calm down! Today when I pulled in the second lap, I said, "You have to do something with the bike—it's running too rich." I thought the choke was stuck on or something. He said, "Calm down, Juha just pulled out, Mullins has brake problems, [Nathan] Kanney is right here with you, everything will be all right.…" I took off, and from that point on everything was good. He kept me in check.

Congratulations on the win, Barry.
Thanks, it was wet but fun.