KTM 2007 XC Model Line Launch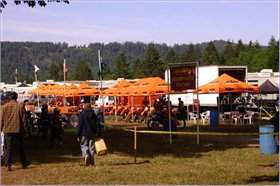 Washougal MX Park played host to the 2007 KTM XC launch.
Photo: Billy Ursic
On June 10-11, KTM USA held their 2007 XC model-line launch in conjunction with round seven of the Rocky Mountain ATV/MC WORCS series at the famed
Washougal
Motocross Park in Washington. The weather was perfect, not only for racing, but also for evaluating this new line of these cross-country-ready machines. And holding the introduction on this weekend enabled us magazine editors to put the bikes through the real-life rigors of an actual off-road race to see if the KTM slogan "Ready to Race" holds true.
What interested me most was the release of the all-new KTM 250XC-F, which is basically a KTM 250SX-F with a small number of changes to adapt it to off-road competition. The changes include a bigger fuel tank (2.64 gallons), an 18" rear wheel, machined triple clamps, high output ignition, modified cam shafts, off-road-tuned exhaust, and an electric starter. Although these may not seem like much, they all add up to a serious and competitive off-road motorcycle right off the showroom floor.
But that's not all KTM has to offer in their 2007 line of XC motorcycles. Their model line is the most extensive of any manufacturer, as they literally have a model to suit everyone, no matter if you prefer two-strokes or four-strokes. Their cross-country pre-mixers include the 200XC, 200XC-W, 250XC, 250XC-W, 300XC, and 300XC-W. (The "W" on the end stands for a wide-ratio transmission.)
As for their popular four-stroke cross-country motorcycles, the models are as follows: the 250XC-F-W, 250XC-F, 400XC-W, 450XC, 450XC-W and 525XC-WLMNOP. (Just kidding.)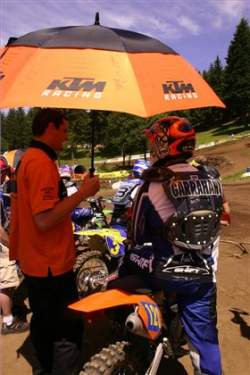 KTM's Patrick Garrahan raced a box-stock KTM250XC to 10th overall in the pro class

Photo: Billy Ursic
Now that we have that out of the way, let's get down to the nuts and bolts: the performance. I split time between the 250XC and the 250XC-F-W. Both motorcycles performed great, but I really took a liking to the two-stroke 250XC. Although the bike was brand new, I felt great on it. The suspension broke in nicely after a few laps on the
Washougal
course, and the Brembo hydraulic clutch was a dream to my blistered hands near the end of the race. It felt light, yet the engine just kept on pulling, especially up Horsepower Hill. In fact, the day after I tested it, KTM's Patrick Garrahan slapped some numbers on the same bike and raced it to 10th overall in the Pro class against an experienced field of off-road talent. If that's not a testament to the off-road capabilities of these bikes, I don't know what is. (Well, maybe take a look at the resume of Juha Salminen or David Knight.)
The 2007 KTM 250XC's MSRP is $6,498. The KTM 250XC-F-W's MSRP is $6,798. For more information, check out www.ktmusa.com or visit your local KTM dealer.