Monday Conversation: Ryan Villopoto
Pro Circuit/Monster Energy's Ryan Villopoto has won his second national already with a solid 1-1 on a tough, hot Father's Day at Budds Creek. While it seemed all the fast guys in the class were snakebit at least once, Villopoto was able to find his way to the front in both motos. Villopoto benefits from series leader Mike Alessi having a bad moto 1, and the points gap has closed to just nine. We wanted to know what Ryan was thinking after a tough but successful first four rounds in the great outdoors, so we caught up with him after the press conference.

Racer X: Ryan, you've won two out of four nationals. How does it feel?
Ryan Villopoto: It feels good. I know I did a 2-1 at High Point. A 1-1 was better because winning two motos is better.

This was one of those upside-down days: So many people you expected to see up front, like in that first moto, were in the back. How did you avoid all that?
The first turn was the big separator, and your start. If you made it through the first turn inside the top 10, you were looking pretty good. The track was hard to pass on, one-lined. You had to set you passes up for a lap or two, depending on your fast section and his slow section. You just had to work it, and it was tough.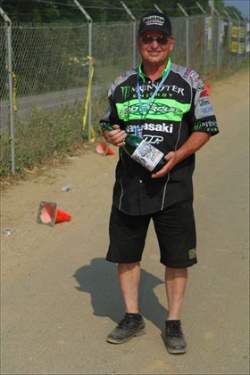 Ryan's grandfather got a nice Father's Day present at Budds Creek

Was there anything unusual about that first turn?
Yeah, it's not a right angle. Once you got into it, you kind of go up the hill just a little bit, then it kind of drops back down. That was the worst first turn.

Your first moto, you were about 15th on the first lap.
There were some guys leading that moto that had never led a lap before. I think it was Boniface and Zach Osborne, so that wasn't going to be too hard to catch those guys and move in front of them. Once I did that, I just tried to pull my gap, so I had a little bit of breathing room.

In that second moto, it looked like Alessi had it there for a while. Did you reel him in or did he make a mistake?
Yeah, he had quite a bit of gap on us all. I don't know what the deal was, but we all really started catching him real fast. I got up to him in second and followed him for a while. We came up by the start. He was looking back to see where I was. He went to the middle of the turn and I just like squared up on the very outside and came across the side and we bumped a little bit and he went down.

You didn't have any trouble in this heat today?
Today was hot. It really wears on you. My trainer, Randy Lawrence, and I had prepared for this.

Out of these first four nationals, are these tracks you've never ridden before?
The only ones I have ridden are the last race from last year [Glen Helen], and I have ridden Washougal, but local races.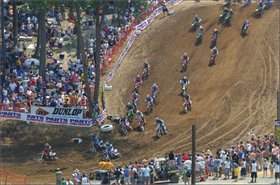 The guy who won the race is at the top of this photo!

As far as points, you made a lot of progress and it was Alessi's turn to have a bad day.
Yeah, it went good for me. That [points gap getting smaller] is going to make him more nervous, which is better for me because he doesn't have a big gap. There's no breathing room now. One moto can do a lot of damage.

You guys had a rivalry going on in amateur days. Is that going to carry on to the pros?
I don't know, we'll see. I don't talk to him, he doesn't talk to me. I think it's still there.

See you in two weeks.
Thanks a lot.