Kawasaki/Racer X Race Report
Round four of the Toyota AMA Outdoor Nationals was a scorcher in every definition of the word. The racing action, the tempers of the participants, and the weather itself had the thermometer pinned all afternoon. The beautiful green grass valley of Jonathan's Beasley's Budd Creek was packed with hordes of motocross craving fans who braved the brutal mid 90 degree temperatures and spent the day hanging over the fences cheering wildly and running from fence line to fence line. Unlike last week's race at Southwick, Budd's Creek allows the fans to view almost the entire track, which was a good thing because there was a lot of racing to keep a close eye on! The action today was as dramatic as it gets. The 250F class saw a big points swing, and more importantly a possible swing of overall series momentum. There were first turn crashes, from the back to the front dashes, and pit board clashes. Wait a tic, "Pit board clashes?" Like I said, folks, this one was wild and at the end of the day it was two red heads standing on the top of the steps.

Just as been the case in the first three rounds, the 250F class put on the best show of the day. Monster Pro Circuit backed Ryan Villopoto had the fastest practice times and was looking to get back some valuable points he lost with last weekend's DNF. In addition, the long injured and mysteriously embattled Broc Hepler would be making his return to the starting line. With Red Bull/KTM's Mike Alessi beginning to sneak away with the points lead, his competition needed to stop the bleeding this weekend.

When the gate dropped in the first moto it didn't take long for the sparks (and the bikes) to start flying as there was a huge pileup in the first turn. Everyone was expecting the KTM of Alessi to grab the holeshot; instead it was the KTM of young Zack Osborne holding a handsome set of handlebars in the lead. Alessi and Andrew Short got caught in the pile up, which Short says was caused by Mikey Boy. "I guess he didn't want to shut off for the first turn. He just plowed into me. Next thing I knew I was throwing his bike off of mine and thinking about getting back in the race."
While the two title hopefuls began a quest through the pack, it was all Zack Osborne out front. In his wake was a slew of underdogs with names like Sean Collier,
Martin Davalos
, and
Steve Boniface
. You could throw a blanket over the top four for the first five laps. Meanwhile, Broc Hepler had gated around the top 10 and was beginning to click off guys at about a position a lap. Gating even further back was Villopoto. But his incredible speed and charge had the fans spinning their hats and waving their t-shirts over their heads in approval.
The half way point marked the end of the leader. The pressure and incredible nervous tension of leading an outdoor national for the first time proved too much for Osborne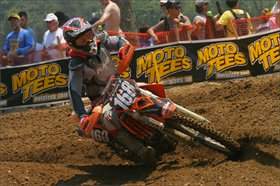 Zach Osborne
as he dropped anchor and began rapidly falling through the pack. "Man, I just got so nervous. I got out there and I was leading and I was trying as hard as I could. All of the sudden I saw the halfway mark and I just thought, oh no this is only half way? That was all I had." To his credit, it was the hottest national of the year and he was riding with an injured and extremely sore thumb. With Osborne's demise came more bad news as
Billy Laninovich
and
Grant Langston
came together on the off camber and ended in a heap. Reports from the Factory Connection camp say that Grant ran it in on Billy. Nonetheless, both riders were down and injured. For Billy, a right knee. For Grant, the already injured wrist. Up front, Villopoto and Hepler
reached the top three around the same time and spent two laps trading positions. Hepler showed some surprising staying power, what with him not seeing action since before the supercross series began! Villopoto eventually made his way into the lead and took the checkered flag with perhaps the dirtiest number plate on the track, followed by Hepler and a very strong
Nathan Ramsey
. Alessi made his way to the top 10 but dumped it again on the last lap and would finish a painful 16th place. Short however would climb to 13th.
The absence of
James Stewart
in the 450 class took a major toll on the anticipation of the first moto. With Carmichael the most incredible wrecking ball in the history of outdoor racing and
Chad Reed
not really considering outdoor racing his thing, many were excepting a run away. Instead, Chad rode extremely hard all day long and made RC earn it.
When the gate dropped on the first moto, it was none other than mid forties aged series veteran Barry Carsten grabbing the Racer X gas card for $500!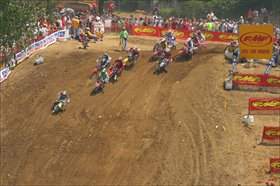 Barry Carsten gets the holeshot.
Large bunches of fans put their arms up and screamed, "BARRY freaking CARSTEN!" It was a great, great moment for one of our sports true iron men. At the end of the first lap Carmichael had the point position and tried to sprint away. A pesky Reed kept him in check and actually posted a faster lap-time on lap four. RC surely read the news on his pit board because this did not repeat itself till the end of the race, Reed stayed within about 10 seconds till the very end when he finally gave in. After the moto Racer X asked him if he was pushing his hardest, to which he replied, "Yeah, I was digging pretty hard. I was riding like James was in there, because he'll be back at the next race. Reed always rides this track well though. He was on it for sure."
Some visits to the personal motor coaches and team trucks saw riders looking completely exhausted from the incredible heat. Some guys were actually soaking their feet in tubs of ice trying to cool down their body temperature. One of them was
Josh Grant
. He had crashed an excruciating three times in his first moto on his way to seventh place. When entering the Honda truck to interview Andrew short I saw
Travis Preston
sitting in his personal quarters having just returned from his grueling 30 + 2 moto. He looked absolutely punished and I just nodded in acknowledgement and asked, "Pretty gnarly out there?" He just stared blankly ahead and with his non-shelant speech style muttered back, "Yeah, it's a little warm."
It was more than a little warm. The strain of the heat could be seen on the faces of every rider who came off the track. Even
Ricky Carmichael
wasted little time stripping down to his underwear and the comfortable A/C of his Team Hauler. Who would have the juice for moto two?
The crowd was hooting, whistling, and clapping their hands as the 30-second card went up for moto two of the 250F class. The overall was still up in the air and so far this division has been painfully inconsistent. Throw in the fact that they watered the heck out of the track during intermission, and it was still certainly anybody's ball game. The first laps of a race after such a heavy dose of the water hose are very sketchy. With the crowd's screaming nearly drowning out the drone of the 250F machines, the gate finally hit the ground. This time it was Alessi grabbing the holeshot and the early lead. With
Josh Grant
and
Andrew Short
also gating well, a line was drawn in the sand! Sadly, first moto 3rd place finisher
Nathan Ramsey
went down in the first turn and was dead last. Up front Alessi was able to sneak away with a comfortable lead while Short and Grant dueled it out in his wake. Where was Villopoto? Ryan gated much better this time and he wasn't wasting any time getting to the front. It didn't take him long to rear fender of Grant and Short's CRF250F's.
The three incredible talents immediately went to war on each other, trading places back and forth several times a lap. Nobody wanted to give an inch and each rider matched the pace each time one of them stepped it up. What this did was bring them to the early sprinting Alessi. Villopoto must have gotten a glimpse of #800 because all of the sudden he blew past short and Grant and began reeling in Alessi at about 2 seconds a lap. Not one to give in easily, Alessi stepped it up himself when Villopoto began knocking on the door. The crowd was in frenzy as the two rivals drag raced up the hills and tried to out break each other into the turns. Villopoto pulled along side Alessi as they entered the mechanics area turn and went for a pass on the outside. The track announcers were screaming at the top of their lungs, as the two riders collided. The crowd was now almost silent as they waited to see who would crest the hill – and it was
Ryan Villopoto
! A large percentage of the crowd threw their arms up and howled in approval. Oddly, as Villopoto came by Alessi's mechanic actually struck him with his pit board. On the following lap, said KTM mechanic stood by the edge of the track with his arms spread out gesturing towards the new leader in a taunting fashion. Just another notch in what will surely be a rivalry we will enjoy for seasons and years to come.
Villopoto maintained focus and immediately pulled a comfortable lead,
but would actually fall down with about 6 laps to go. This brought a rejuvenated short back to his fender, but the flying freckle just pulled away again. Ryan has put on some great performances in the first three rounds, but he rode the best motocross of his career on this hot summer afternoon in Maryland. "Ricky told me about his rookie year when he lost 50 points and still won the title. I don't know, my bike is really good and I have been working with Randy (Lawrence) a lot. We'll see."
Broc Hepler
made the podium with two gritty rides that saw him makes passes late in the race. Afterwards he said, "I was actually surprised how well I did. The first time I rode I went out with Billy Ursic and he was beating me. I've only ridden a handful of time since then, but I guess it was enough. I'm pretty happy how it went. I felt good out there and I think I'll be better for the next race.
With the crowd beginning to file out, the gate dropped on the second 450 moto. The announcement of
Chad Reed
taking the green flag at the end of lap one ahead of Carmichael had many running, lawn chairs in hand, back to their spots! Reed was riding the wheels off of the factory YZ450F and holding the nine-time outdoor champion at bay. Ricky didn't panic and calmly followed Reed
and began searching out a possible place to make an attack. This went on for a few laps when Ricky does what he has done so many times before. He held the throttle on impossibly long on a rough, rutted out down hill and drove to the inside of the Australian. RC could have stuffed it in there but grabbed a handful of binders and gave Reed some room and respect. Although, Ricky wasn't as merciful on the proceeding up hill as he went into a tuck like a road racer and simply flew around Chad. Chad kept the pressure on till the end, but there is no stopping the GOAT on an outdoor track on a blinding hot summer day. Ricky added, "Hey, Chad was riding really well. You know, this track has changed a lot since I first came here. It isn't nearly as deep as it was and the turns kind of slot themselves into a single groove. It's actually getting like this at most of the tracks we go to. The dirt just seems to be fading away or something."
This might be attributed to 10 years of abuse from the throttle hand of
Ricky Carmichael
.
Overall, the event was another immense success. Huge spectator turn out, incredible racing action, and a very well maintained track allowed for a perfect day of motocross on Father's Day.
Race notes:
- A very touching tribute and moment of silence was performed at the opening ceremonies for the late Kevin Crine. Budd's Creek was his local tracks and it is a true tragedy that God had to take one of the good ones this past winter.
- Honda mounted
Kyle Partridge
suffered a horrendous crash on Henry Hill and had to be life flighted to a near by hospital. Team personnel reported Kyle was generally OK, but suffered a nasty concussion. Stay tuned for updates.