Where Are They Now: Gary Jones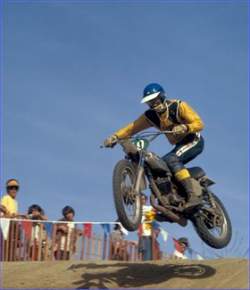 Gary Jones was the man Honda put on the first Honda Elsinore CR250R
photo: Dick Miller Archives
Last week, we mentioned Marty Smith as the first superstar of American motocross. Well, before Marty became a star, Gary Jones was the first champion of AMA motocross. In fact, Jones was the first champion of pre-AMA motocross. In 1971, one year before the outdoor national series started, Jones was the "top American" in Edison Dye's Inter-Am Series, finishing seventh behind the likes of Czech rider Vlastimil Valek, England's Dave Bickers, and Swedish transplant Gunnar Lindstrom (the father of current Honda mechanic Lars Lindstrom). As a result, Jones could lay claim to the national championship. But that wasn't all. When the AMA did enter the picture, Jones won for real—three times in a row, and on three different brands! But then a knee injury spelled the end of his glory days, and the likes of Smith, Bob Hannah and Tony DiStefano took over.
Jones did not leave motorcycling after his Motorcycle Hall of Fame career. In fact, we caught up with Gary, now 54 years old, at this weekend's WORCS race at
Washougal
, where he was watching his sons, Greg (19) and Justin (13), compete.
Racer X: Gary, what are you doing now?

Gary Jones: I actually work for myself. I work out of my workshop and build bikes for people who need bikes built, and I keep my sons' bikes running. I build motocross and off-road bikes. Dirt bikes, in general.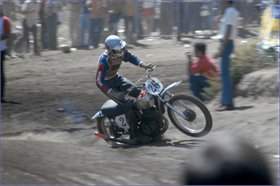 Jones wore #26 at the '73 500cc USGP of Motocross at Carlsbad
photo: Dick Miller Archives

And you used to work for White Brothers?

Yes, for a long time. They're downsizing, though.
Do you still follow the sport closely?

Yes, I watch it all the time. I still go to a lot of the races. I ride a lot of the vintage races, and I still do autograph signings and a lot of stuff for Yamaha.
What kind of bike do you ride nowadays?

I have two WRs and a YZ450F.
What do you think of James Stewart?

[
Laughs
] I don't know, I never met him! But I do know that everybody has to jump up to his scale of riding and training, just as they did with Ricky.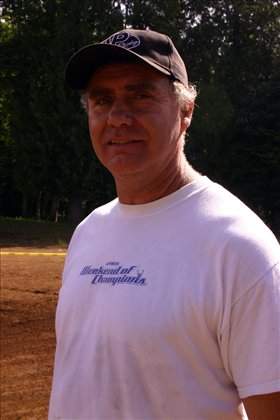 Gary Jones at Washougal last weekend
photo: Billy Ursic

Where do you live now?

The same place I've lived for the past 20 years, in Norco California.
Nice talking to you, Gary, and good luck to your sons.

Hey, thank you.