Great Races: The 1972 Superbowl of Motocross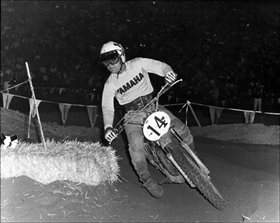 Marty Tripes won the first "supercross" race ever held
Mere minutes after
James Stewart
,
Ricky Carmichael
, and
Chad Reed
had crossed the finish line to end the thrilling 2006 AMA Amp'd Mobile Supercross Series, I stood in the TV booth high atop Sam Boyd Stadium and did my best to take in what was taking place down on the floor of what was normally used as a college football gridiron.
"How cool does that look?" I said to Denny Stephenson, pointing down to the podium where Carmichael, Stewart and Reed—all multimillionaires—surrounded by a phalanx of Vegas showgirls dressed up in brilliant hues of green and blue, held up trophies, sprayed champagne, and waved to a few million people across the USA who were taking it all in on live national television. Stephenson nodded in agreement. "I can't believe how big this sport has gotten," he said.
Flash back nearly 35 years. Having first kicked off in the infield of Daytona International Speedway on March 11, 1972, the inaugural AMA National Motocross Championship Series was only 10 races old. And while Gary Jones and his Yamaha teammate Jimmy Weinert—who won the first true National that day in Daytona—were fighting for the 250cc National Championship, back in California, a rock 'n' roll promoter named Mike Goodwin was dreaming and scheming up a new idea: stadium motocross.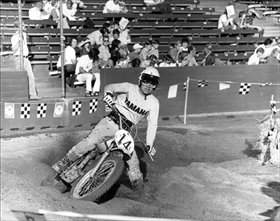 Supercross sure looks different today,
doesn't it?
"There was a motorcycle magazine that wrote up Don Briber's success in selling out Madison Square Garden for short track racing, which I think is about exciting as watching paint dry," Mike Goodwin said of the light bulb that went off in his head. "I saw that he sold it out! I thought to myself, This new sport motocross would be really exciting in a stadium. So I talked to my wife about it and said, 'Let's see if I can package this.' I put together a proposal, sent it to Olympia Beer, and they amazingly said yes! But then I had to figure out how to do it. So I met with Mr. Nicholson, manager of the Los Angeles Coliseum at that time. I was scared to death because I new he was going to say no. Luckily, his kid rode motocross. We went across the street to a restaurant-bar called Julie's, and we drew a sketch of the track on a cocktail napkin."
Thus, what was to be called the Superbowl of Motocross was brought to life on a soggy cocktail napkin in a dimly lit restaurant in south central Los Angeles. Vic Wilson and his crack crew from Saddleback Park—down Orange County way—were brought up to the Los Angeles Coliseum and presented the daunting task of creating a motocross track inside the same 101,574-seat edifice that hosted the 1932 Summer Olympic Games. The end result was a tight, sinuous track that consisted of a four-foot jump on the start straight, followed by a sharp left and right switchback that sent the racers on a 17-turn circuit replete with ruts, sand and mud, jumps, and whoop-de-doos.
Come race day, Saturday, July 8, 1972, Jimmy Weinert was not especially fond of the racetrack: "The jumps were atrocious because there was no landing or landing ramps on the back side and the track was all confined, so there was no room for error."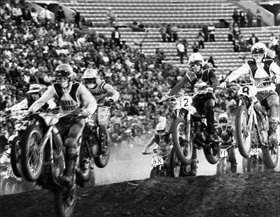 Tripes, who hailed from El Cajon, went 2-2-2 in the three-moto format
However, Marty Tripes, a rider from San Diego who had turned 16 years old just 10 days prior to the race, saw it all much differently: "Walking around and seeing the narrow turns and jumps and all was just incredible. I couldn't wait to get out there. I always rode in the hills around where I grew up in Santee, right next to El Cajon, and did the trick stuff. The track at the Coliseum was perfect for me."
And what of the Europeans? What did Grand Prix stars such as four-time 250cc World Champion Torsten Hallman and future World Champion Hakan Andersson think of the race that Mike built? "The Europeans thought, Oh, this is stupid," Weinert said. "This is not motocross. Motocross, you go outside, up the hill, through the mud. This is not motocross! They weren't real happy with Goodwin."
When the lights went up and the fans sat down, all 35,000 of them waited for the gate to drop on not only the Superbowl of Motocross, but on round two of the then-named Inter-Am Motocross Series. After the 40-rider, two-row field raced down the start straight and over the "4-foot bozo" jump, it was Swedish rider Torlief Hansen finding his way to the front on a #19 Husqvarna. Hansen would win the first of three motos, followed across the finish line by Tripes. Arne Kring, yet another Husqvarna-mounted Swede, won the second moto, Tripes working his way up to second after a lackluster start.
Ever the showman, Mike Goodwin had exactly what he wanted going into the third and final moto: a tie between European rider Hansen and teenage American Tripes. Hakan Andersson grabbed the holeshot and led while Hansen settled into second after trading moves with Kring. With Tripes was back in 10th, it didn't look good for the home team. Standing atop the pegs of his Yamaha and motoring along, he kept his cool and methodically picked off riders, finding third at the halfway mark. With less than five minutes left in the moto, Marty slipped beneath Hansen, the Coliseum erupting in a roar. Tripes held station, and in doing so, won the first true American supercross.
"The 'Wonder Kid' Marty Tripes just stole the whole show," said Weinert, who would win the 1976 Supercross Championship, two years after supercross became an official AMA championship series. "He was very talented, and he had that patented style of standing on the pegs almost the whole time. He was talented and this kind of racing was something that he really liked."
Today, Marty Tripes, still lives in his native San Diego, where he owns and operates a private motorcycle shop and is an accomplished chef. "We never knew what we had just started would turn into such an awesome sport," he said. "Now I see how big supercross is, and I just can't believe it. What stands out was that I set a record for myself that nobody in the world will ever break. I won the first supercross, which was very special."