Hello, race fans! Welcome to the Number Cruncher, brought to you by Shift MX. We think you'll find this week's number to be very interesting. Some of the guys who have raced with this particular number did not become all-stars of the sport; others were revolutionary riders who changed the way we look at outside sponsors forever; and one particular rider, of certain distinction, raced with this number his rookie season and went on to become a pretty decent motocross racer. This week's number is the powerful # 70.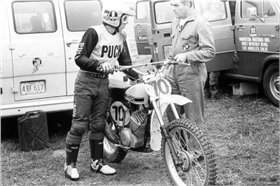 Harry Everts
photo: Dick Miller Archives
Harry Everts raced this beauty in the Trans-AMA series in the 1970s. The #70 lived in relative obscurity throughout the 1980s, although there were some interesting aspects to the number. In 1983, #70 was Roger Hensley from Rosamond, CA. We know nothing whatsoever about him, except for the fact that he ended up one number below eventual Grand Prix winner and five-time GNCC champion Rodney Smith, who wore #69 in 1983!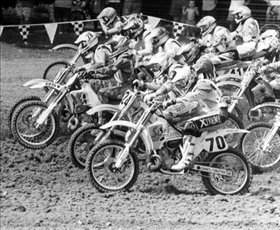 Jeff Glass
photo: Davey Coombs
Eventually, Jeff Glass would wear the #70 and bring the AMA ranking some distinction. Jeff was a consummate pursuer of outside sponsors and eventually landed the famous Surf detergent company as a primary sponsor for his racing efforts. I remember seeing his orange-white-and-green AXO gear and matching graphics on his bike and thinking it was the coolest thing ever. In fact, I would tell my mom to make sure we bought Surf to wash my gear. This was the spark that ignited the flash of outside sponsors' involvement with motocross that we enjoy so much today. The fruits of Glass' labor are visible from Team Subway Honda to Team Makita Suzuki. In a way, we can attribute the power of #70 to this!
Jeff Pestana raced with the #70 in 1993. He never made it all the way to the top in our sport, but don't tell anybody in Northern California that. Jeff rides, races, and teaches motocross to this very day and can still turn in some impressive laps. In addition, Jeff has been working with Fox and Shift Racing as a test rider for the past five years. As a former durability test rider for Team Honda, there are few riders around that know more about spending an entire day pounding lap after lap on a motocross or supercross track.
Weren't the '90s great? Check out this beautiful, all-blue scheme on Mike Treadwell's RM125! Changing up the colors on the bikes (among other things) was all the rage in the 1990s. Mike never made a whole lot of noise in his professional career, but he was always a ringer at
Southwick
, which prompted KTM to use him as a backup rider for the injured
Grant Langston
in 2002. Treadwell has a decent day, finishing 17th overall.
In the latter part of the '90s, #70 made some popular appearances on the likes of Mike Chamberlain (1995), Joel Dengler (1996), and James Eickel (1998). Chamberlain was one of the guys who emerged from the famous Perris Raceway, where he was one of the fastest riders to frequent the popular Southern California facility at the time. He raced his way into the powerful Spitfire/Pro Circuit squad, where he had dismal results. Joel Dengler, from New Jersey, was one of the riders who made a successful transition from motocross to off-road, as he has competed in the GNCC events for several years now. In addition to being a certified F.O.W. (friend of Weege), Dengler raced for the factory Husky squad and finished 10th overall one year.
And then there was James Eickel. The charismatic Eickel raced with #70 in 1998 for a few races on a Kawasaki for Moto XXX. Known more for his off-track antics (he was rumored to be a fairly large bookie at one time) than his on-track results, James was actually aiming for a shot at the world-record long-distance jump – which never came to be.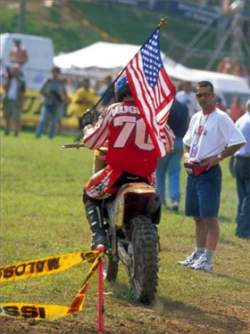 Ryan Hughes
photo: Racer X Archives
In a career filled with heroic efforts, this moment has to be the crown jewel of all of Ryan Hughes' accomplishments: Ryno teamed up with
Ricky Carmichael
and
Travis Pastrana
to win the 2000 Motocross des Nations.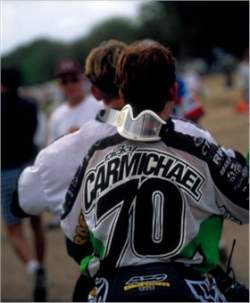 RC
photo: Racer X Archives
They said he was too short. They said he was out of shape and could not last all the way through a 30-minute moto. It took only two motos for
Ricky Carmichael
to silence his critics, as he took #70 (big gut, love handles, and all) to the overall win at the 1997 Gatorback National. In what was, at the time, the most dominating rookie season in the history of the sport, RC laid wasted to the 125 class all summer long, leaving small hints here and there there more than just some profound speed in his riding. There is no mistaking greatness, as it does not try to hide itself. At the conclusion of the 1997 outdoor season, many were asking themselves, "How great will this kid become?" Fast-forward almost 10 years to present time and they have their answer: GOAT.
Travis Preston
wore the #70 in 2005. That's as about as exciting as it got for him last year!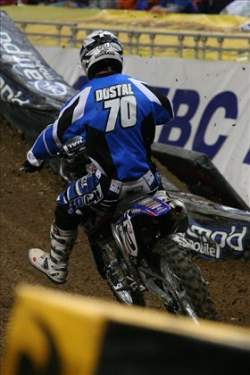 Jiri Dostal
photo: Matt Ware
The #70 currently resides with Jiri Dostal. At one time, Jiri was one of the more promising amateur riders in the sport. As a member of the Cole Gress' potent Amateur Suzuki team, he jumped into the fire of professional racing straight out of Loretta Lynn's. Injuries and misfortune followed, but Jiri has now found a comfortable home with the SoCal/Lucas Oil Yamaha privateer team.