Between the Motos: Rob Wickard
If you attended the 2006 AMA Toyota Motocross National at High Point, you definitely heard the name Anderson & Strudwick mentioned more than a few times throughout the weekend. That's because they were the presenting sponsor of the 2006 High Point National, which was also the first round of the Monster Energy/Kawasaki Triple Crown of Motocross. While most of you no doubt know who Monster and Kawasaki are, many of you are probably wondering what Anderson & Strudwick is! We spoke to Vice President Rob Wickard to get the lowdown. (For more information, check out www.anderson-strudwick.com.)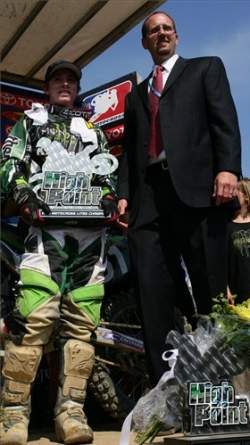 Rob Wickard. (He's the one on the right.)
photo: Simon Cudby

Racer X: Rob, it was interesting to see a man wearing a suit up on the podium at High Point, handing out the trophies. Turns out, that guy was you! I think that was the first time I've ever seen someone wearing a suit at a motocross race, so tell us what the occasion was.
Rob Wickard: Actually, long story short, I was the presenting sponsor at the High Point National, which was kind of new for everybody to see a financial-services firm involved. I think the opportunity was big enough that it warranted me going to my company and inviting a couple other companies to work with me on that. I got it done, and that's why I was there!
Before we go any further, give us some background about Anderson & Strudwick.
We are an employee-owned regional financial services firm with two offices in the Pittsburgh area. Our independence allows us to focus on client needs, not corporate products and quotas. As a vice president and financial consultant, I am able to listen to clients and structure plans that help them fulfill their financial goals. I work here at the Canonsburg, PA, office at Southpointe.
How many different offices does A&S have?
We have, to my recollection, about 12 to 14 offices—mostly in the mid-Atlantic region, including the office in Canonsburg, where my team is located. We are looking for opportunities to expand, but we're more interested in inviting additional financial consultants to join us than to open new offices. The investment banking side of our business operates nationwide.
Tell us how the idea came about for becoming a presenting sponsor for a professional motocross race.
Well, how long do you have [laughs]? The way I got involved, which was about two years ago, was that a client of mine introduced me to the sport of motocross through his two sons that race amateur motocross in District 5. And when I showed up at the race I saw all of the money involved—the motor homes, trailers, bikes, etc.—and I thought to myself that this was a great opportunity for me to get involved with something that I think I'd like to do and my son would like to do. And nobody else is there. It seemed to me that if anyone needs financial counsel, it would be young men with lots of money—money that won't be coming in forever, and money that could easily slip through their fingers.
From that point on, I really focused on going after both the amateur parents and the professional side. Right now I have one professional client and I'm working on three additional ones, just from this past race. I just felt that it was a great opportunity to kind of get my name and face in front of those professional athletes at High Point. So I got in touch with Tim Cotter of MX Sports and started putting everything in motion about a year and a half ago to become the presenting sponsor.
Well, it's not even two weeks after the event, so do you feel it was a good decision to sponsor the race?
There's no doubt. From the response that I received from Tim Cotter to John Ayers and from the professional riders that were at the race, there's not a doubt in my mind. And I look forward to Steel City, and I can't wait till next year.
After meeting a lot of the top riders, who impressed you the most—both on and off the track?
I think the biggest surprise for me was Mike Alessi. He's one of the best out there right now. You see him on the racetrack and meet with him after the race and he's just a totally different person. He's only 18 years old, and he's a super-nice guy. I think a lot of the press that's been around him has been incorrect.
I gather that you're also going to be the presenting sponsor at Steel City, but in the future, do you want to sponsor more events?
I already had discussions with my company about the future, and so far, the Budds Creek National looks like a strong possibility, with it only being an hour and a half from our headquarters.
So are the professional racers your primary focus at this point, or are looking at amateur racers and families as well?
Well, there's really two different ways to go after this from my standpoint as a financial adviser. I see the money involved in getting the amateurs to the races every weekend, keeping everything going throughout the year. I really feel that there is the opportunity there on the amateur side to guide the parents and grandparents who may be looking at educational needs, or want more flexibility to follow their racers, or plan for retirement. But right now with me being a presenting sponsor at High Point and Steel City, for the next three months I'm focusing on the professional athlete side.
I know one rider you work with is Makita Suzuki's Broc Hepler. Describe your relationship with Broc.
Our relationship is wonderful. I've worked with Broc for about a year and a half now, and I was introduced to him by another client of mine. Over the past year, we have developed that relationship where I kind of view myself as the quarterback or manager for his financial aspects of his career. And looking ahead, I anticipate being able to serve a few more of those clients.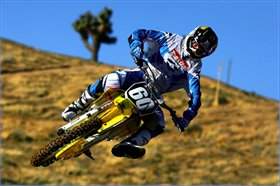 Makita Suzuki's Broc Hepler was Rob's first professional motocross client
photo: Simon Cudby

Only being in this sport for a couple years, are you surprised to see the amount of money some of these kids are pulling down?
It amazed me the first time I saw it, and that's when I told myself that this is an area I want to go after. Because everyone I talk to in my industry, I don't tell them how much they make; I want to keep it quiet for a while because nobody really knows. Now that I do know, that's one of the things that I really focused on—getting to know a lot more about the sport from the standpoint of contracts and bonuses, just the whole realm of where these guys make their money, how much they need to stay competitive, and how much they'd like to invest for when their racing days are over.
Does your company focus on other athletes in other sports?
I believe that there are a few gentlemen in Richmond that have tried to focus on the NASCAR side of things but because we respect the privacy of our clients, we don't discuss the individuals we serve I don't know of any other professional athletes that we're working with. But then again, you look at the other sports such as NFL, NBA, NHL, MLB—all of those you have to deal with the agents. Once those agents are involved, they've got their own network set up. In this sport here, with it being such a young sport from that standpoint, getting access to these riders and agents is a lot easier.
In the future, would you like to see all of the top riders maybe running an Anderson & Strudwick sticker on their helmet?
I don't know if we can ever get to that point. With the rules and regulations in my industry, being able to sponsor a rider is extremely difficult. But just if they know that I'm going to try and make as many races as I can, I'm going to be front and center with everybody. I'm actually planning on going to Budds Creek next weekend. It'll be a little more relaxing.
You won't have the suit and tie on.
Exactly! I'll just be able to walk around and visit the pits and be able to talk to people, rather than getting pulled in 10 different directions.
Do you ride or are you just a fan?
I have not had the opportunity to get on a bike yet. I bought my son a DR-Z110 and a RM65, and I just got him started a year ago. I already have three of four of my friends urging me to get a bike, but right now I'm just a big fan and want to continue that way.
If someone reading this wants to start investing with your company, or maybe they just want some financial advice, what's the best way for them to get in touch with you?
They can go to the Anderson & Strudwick website, which is www.anderson-strudwick.com, and click on "Meet our Associates" and find my name and e-mail address. Or they can give me a call here at 888-743-9150.
Well, on behalf of everyone in the motocross industry, I want to say thank you for getting involved in our industry. It's always nice seeing someone from outside the industry helping us out, and I hope to see you guys around for a long time to come.
You're welcome. I just want to thank everybody in the sport for a great weekend. It was everything I expected it to be, and I cannot wait till Steel City now, because I now know what to expect.
Oh, one last question: When can we anticipate seeing Mr. Hepler back in action?
I expect Broc to be back at Budds Creek this weekend. I think he's getting very close to being 100 percent, and that's where he hopes to make a return.