Bench Racing Ammo: The 'Wick '06
Man, were the calculators out at
Southwick
. As the 250F riders crossed the finish line in the second moto, AMA officials and team personnel were scrambling to determine the overall winner. The 250F class of 2006 is one of the closest we've seen, and it's rare to see a 1-4 take the overall win, as Team Honda's
Andrew Short
proved on Sunday.
So, how exactly did
Andrew Short
's 1-4 beat
Brett Metcalfe
's 3-2? Unlike local motocross events, which determine the overall by moto positions alone, the AMA uses a points system, so the highest point total wins the overall. (The tiebreaker in both amateur and pro racing is the best second-moto score.)
Andrew Short
scored 25 points for his first moto win and 18 points for his fourth-place finish, for a total of 43 points. Yamaha of Troy's Metcalfe, on the other hand, scored 20 points for third and 22 for his second-place in the second moto, for a total of 42 points. And Mike Alessi's scores were opposite of Metcalfe's, giving him third overall, since
Metty
won the tiebreaker with a better second-moto finish. Add it all up and the top three finishers were separated by one point! In fact, when Short crossed the finish line, he was unaware that he won the overall until Jeff Stanton told him. And Metcalfe, maybe unaware of the points situation, crossed the line pumping his fist in the air (though he should have been absolutely stoked by his solid two-moto performance).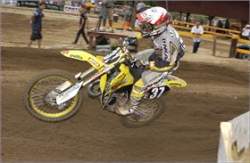 Danny Smith's 1-5 at Southwick in 2002 was good enough for the win
photo: Steve Bruhn
A 1-4 is an unlikely number for an overall win, but it has certainly been done before. In 2001, David Vuillemin won the
High Point
250cc National with a 1-4, topping
Kevin Windham
's 3-2, which are the same scores as our top two 250F riders this weekend. Still, unusual moto scores seem commonplace at the 'Wick. In 2002, Danny Smith took his first and only outdoor national win with a 1-5, topping Ernesto Fonseca's 5-2.
But the strangest of any AMA Motocross race we have come up with? Robbie Reynard's 7-1 for the overall at the '93
Steel City
125 National. It was the first of his five career 125cc national motocross victories, and he remains in the record books as the youngest winner ever of an AMA Motocross national.
Anyone recall any other unusual moto scores that took an overall win? DC said something about an Irishman named Alan Morrison winning a 125cc GP with a 4-2, but we'll have to have our British readers confirm that one! And what about Max Tannenbaum, the kid who went 4-3-10 for the win in the 65cc Stock (7-9) class at the AMA/Air Nautiques Amateur Nationals at Loretta Lynn's last summer?
Know some more?
letters@racerxill.com
.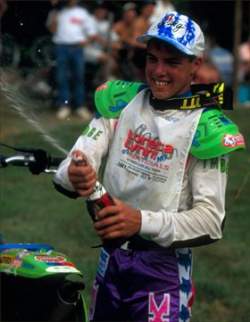 Not long after this podium celebration at Loretta Lynn's, Robbie Reynard became the youngest winner of a motocross national
photo: Davey Coombs