Monday Conversation: Ricky Carmichael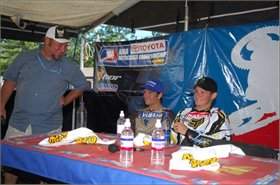 RC lets off some steam after his first-moto crash by kidding around with announcer Rob Buydos

You can't call Ricky Carmichael a lame duck in the Toyota AMA Motocross Series. Even though this is his last full season and he has a good points lead over his rival James Stewart due to Stewart's hard crash at High Point, he won't settle for second, not even for a moto. Yesterday, RC could have backed it down and let Stewart go—he could do that for most of the summer!—but he didn't. James was back to his unreal speed at Southwick, even though he had trouble walking due to his injured leg. The two had great battles in both motos, with the best part being a second-moto do-or-die launch off the finish-line jump past Stewart, where RC was so far back on the bike off the face of the jump that he couldn't shut off and, at full race speed, he flew past Stewart in the air with both feet off the pegs!
RC won the overall, but true to his reputation, he was hard on himself for making a mistake in the first moto that cost him the moto win. He took the overall with a 2-1.

Racer X : So, Ricky, two wins in a row. How does it feel?
Ricky Carmichael: Yeah, well…. The win was great. Until that last lap, I thought it was basically going to be a scratch weekend, as far as points go. I just hate to make stupid mistakes like that first moto. You can't do that at his level. That really just bummed my weekend out right there.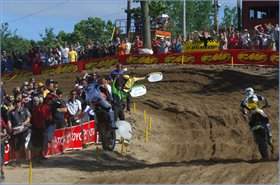 Fans are really getting their money's worth at the nationals this summer. RC and Stewart race clean and are totally hanging it out.

You said in the press conference you like G'd out in a dip and just flipped over.
There was a section of the track that was really whooped out. You kind of had to keep the front end light. I was doing that and got a really good drive. I was carrying some good speed and my shock blew through and I just high-sided. That just bummed my weekend out right there. It was going all to plan until that stupid mistake right there.

The second moto was okay for you?
Yeah, the second moto was good. James and I got out to a 1-2 start, and I tried to make a couple of moves there at the beginning but never could make it stick. I just wanted to get by so I didn't get in his rhythm. I wanted a clear track. It took me a few laps, but I was just kind of laying back and picking a spot where I could make an effort and get on by. I did get by and he tried to drive it in a few times, but there were no problems. No contact was made, so that was nice. He definitely was not cutting me any slack, and I was not cutting him any either. It was a great race. I got a gift there at the end. I guess we both got gifts. I can't tell you how disappointed I am for myself and for the team. It was my stupid mistake. Something like that does not need to happen.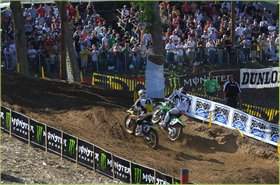 Lap after lap, neither rider wanted to let up

Were you surprised how strong Stewart was after all we heard about his hurt leg and how he could hardly ride?
You hear so much stuff, I don't know what to believe. All I know is he was riding good all weekend. That's why I don't get on the internet and read anything. I believe it when I show up to that gate and we put in laps on the motocross track. He was strong today. Everything was going pretty much as planned until that slip-up.

Your points situation is looking good right now and we are just three races into this season.
Yeah, on James I have some pretty good points built up. But Reedy is right there. I can't slack up. We need to improve a little bit. I feel that there are some areas where I need to improve, to be a little faster and to make it a little bit easier for me.

When you got by in that second moto, were you thinking, Okay, time for another Hangtown second moto—time to lay down some wood?
Nah, when I went by, I just thought, I'm going to make it stick. I'm going to get with it. I felt really strong the second moto.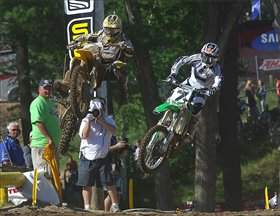 Carmichael lets it all hang out - and off - over the finish-line jump

When you made that spectacular pass over the finish line, were you thinking High Point, second moto last year, when you launched and flat-landed to pass James?
I don't know if it was really flat-landed. It was kind of what I did here last year before I fell, but the opposite way. For some reason, I was off the back of the bike because I was trying to get a good drive off the jump. I couldn't chop off the throttle because I was so far back.

Do you feel like you're on a farewell tour? We don't talk or hear about it much.
Yeah, kinda. Definitely though, I am not losing any motivation. It's almost easier for me to stay motivated because I know it's pretty much my last full season. It's easy to stay motivated to keep on going for nine more races. That's not too much to ask.

See you in a week for round four.
All right, thanks.