Everts and Philippaerts Win in Italy
Stefan Everts just keeps on winning. This time, the nine-time world motocross champion took the Italian Grand Prix in front of 26,000 fans at Montevarchi. Everts went 1-1 for the win. The 33-year-old claimed both motos to stretch his haul of consecutive victories to 11, and seven from seven Grand Prix. His career total now stands at a phenomenal 94 and he has eight remaining rounds from which to reach a magical 100.

"I don't get bored with winning, because every race is a hard job," Everts said. "Kevin did well today to put some pressure on me, especially in the second moto. He is keeping me focused lately and I have to keep pushing to stay in front. It was a good close race for the crowd. It is not coming that easily for me. Every weekend is a new challenge. There are still many races to go and I want to stay in good shape."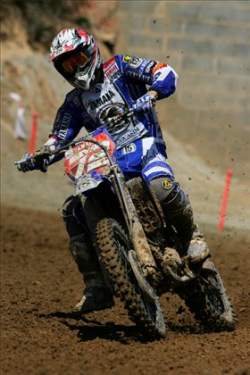 Stefan Everts
Everts claimed his second pole position of the season and his second inside one week on Saturday with a lap time over a second quicker than nearest pursuer Suzuki's Kevin Strijbos. The result of the timed practice ran straight into the first moto, where the World Champion enjoyed the holeshot and promptly set his own pace ahead of the Suzuki representative. Despite running close together, Everts was again faultless and stretched his run of consecutive moto victories to 10.
Factory Red Bull KTM rider David Philippaerts won his first Grand Prix of the season after a confident and convincing display at Montevarchi in Italy. Philippaerts was on fire at his home event and wowed the crowd with two close races against Yamaha's Antonio Cairoli. He was able to pass teammate Rattray in the first outing and defended the lead from a late attack by his Yamaha rival on the last laps for his second moto victory of the season. After lunch, Philippaerts produced an amazing start to lead by some four seconds on the second lap, but he seemed to have chucked a potential "double" out of the window when he crashed one circulation later.
"It has been a perfect day," he said. "Yesterday I was fast, but I felt quicker today and the track was better for me. The bike was really working well. It was a shame about the crash in the second race because I made a lot of work for myself. I lost control before the jump and had to recover the bike and get going again quickly if I didn't want to lose the GP. There were so many people cheering for me, and I am happy to have given them some nice races and a win."
In short, the 22-year-old was then sensational, throwing the 250 SX-F around like an 80cc and blazing his way around the cambered course. It wasn't long before he renewed battle with Cairoli and passed the World Champion to hang on through another last-lap assault. After a podium in Bulgaria last week, Philippaerts is in red-hot form and his emotional Italian victory represents his third career success.
MX1 Race1
1. EVERTS Stefan BEL YAMAHA
2. STRIJBOS Kevin BEL SUZUKI
3. DE DYCKER Ken BEL HONDA
4. RAMON Steve BEL SUZUKI
5. BARRAGAN Jonathan SPA KTM
6. GARCIA VICO Javier SPA HONDA
7. LEOK Tanel EST KAWASAKI
8. MELOTTE Cedric BEL YAMAHA
9. BILL Julien SUI YAMAHA
10. LEURET Pascal FRA HONDA
MX1 Race2
1. EVERTS Stefan BEL YAMAHA
2. STRIJBOS Kevin BEL SUZUKI
3. LEOK Tanel EST KAWASAKI
4. RAMON Steve BEL SUZUKI
5. GARCIA VICO Javier SPA HONDA
6. JORGENSEN Brian DEN HONDA
7. DE DYCKER Ken BEL HONDA
8. LEURET Pascal FRA HONDA
9. PRIEM Manuel BEL YAMAHA
10. VAN DAELE Marvin BEL HONDA
28. BARRAGAN Jonathan SPA KTM
MX1 Overall Result
1. EVERTS Stefan BEL YAMAHA 50
2. STRIJBOS Kevin BEL SUZUKI 44
3. RAMON Steve BEL SUZUKI 36
4. LEOK Tanel EST KAWASAKI 34
5. DE DYCKER Ken BEL HONDA 34
6. GARCIA VICO Javier SPA HONDA 31
7. LEURET Pascal FRA HONDA 24
8. JORGENSEN Brian DEN HONDA 18
9. BILL Julien SUI YAMAHA 17
10. FREIBERGS Lauris LAT SUZUKI 16
12. BARRAGAN Jonathan SPA KTM 16
MX1 World Championship standings after 7 of 15
1. EVERTS Stefan BEL 342
2. STRIJBOS Kevin BEL 253
3. LEOK Tanel EST 245
4. DE DYCKER Ken BEL 231
5. RAMON Steve BEL 227
6. BARRAGAN J. SPA 166
7. LEURET Pascal FRA 147
8. JORGENSEN Brian DEN 120
9. PRIEM Manuel BEL 120
10. MELOTTE Cedric BEL 118
14. TORTELLI S. FRA 99
MX2 Race1
1. PHILIPPAERTS David ITA KTM
2. CAIROLI Antonio ITA YAMAHA
3. POURCEL Sébastien FRA KAWASAKI
4. POURCEL Christophe FRA KAWASAKI
5. RATTRAY Tyla RSA KTM
6. SWANEPOEL Gareth RSA KAWASAKI
7. GUARNERI Davide ITA YAMAHA
8. GUNDERSEN Kenneth NOR YAMAHA
9. DE REUVER Marc NED KTM
10. LEOK Aigar EST YAMAHA
14. NUNN Carl GBR KTM
MX2 Race2
1. PHILIPPAERTS David ITA KTM
2. CAIROLI Antonio ITA YAMAHA
3. POURCEL Christophe FRA KAWASAKI
4. SWANEPOEL Gareth RSA KAWASAKI
5. POURCEL Sébastien FRA KAWASAKI
6. GONCALVES Rui POR KTM
7. SEARLE Tommy GBR KAWASAKI
8. CAMPANO Carlos SPA KTM
9. SEISTOLA Matti FIN HONDA
10. SEGUY Luigi FRA YAMAHA
12. NUNN Carl GBR KTM
28. RATTRAY Tyla RSA KTM
MX2 Overall Result
1. PHILIPPAERTS David ITA KTM 50
2. CAIROLI Antonio ITA YAMAHA 44
3. POURCEL Christophe FRA KAWASAKI 38
4. POURCEL Sébastien FRA KAWASAKI 36
5. SWANEPOEL Gareth RSA KAWASAKI 33
6. GONCALVES Rui POR KTM 25
7. SEARLE Tommy GBR KAWASAKI 20
8. SEISTOLA Matti FIN HONDA 20
9. CAMPANO Carlos SPA KTM 18
10. GUNDERSEN Kenneth NOR YAMAHA 17
11. NUNN Carl GBR KTM 16
12. RATTRAY Tyla RSA KTM 16
15. DE REUVER Marc NED KTM 12
MX2 World Championship standings after 7 of 15
1. POURCEL C. FRA 274
2. DE REUVER Marc NED 246
3. RATTRAY Tyla RSA 235
4. CAIROLI Antonio ITA 231
5. PHILIPPAERTS D. ITA 210
6. MACKENZIE Billy GBR 168
7. NUNN Carl GBR 159
8. POURCEL S. FRA 140
9. GUNDERSEN K. NOR 139
10. SWANEPOEL Gareth RSA 134