Sorry to have come to a grinding halt like that last night, but such is travel in the modern world. A flight that was supposed to leave at 4:10 got parked until close to six o-'clock, then had took the long way from Pittsburgh to Hartford, CT. So we had Jeff Kocan just post what we had up until that point. Sorry for the hassles—here's Part 2 of Racerhead.…
That's it from Ping, who is taking the weekend off of AMA Supermoto to, well, I'm not sure what he's going to do. As for the rest of the Racer X diaspora, Bill Ursic is going to Washougal to ride new bikes, me and Simon, plus Fubar, Matt Ware and Andy Bowyer are all going to Southwick, Jason Weigandt is hitting the Sparta GNCC in Kentucky, and Chris Jonnum is still somewhere in Europe following last weekend's sensational Mugello MotoGP from Italy, where Valentino Rossi edged out Loris Capirossi and U.S. star Nicky Hayden.
Speaking of Hayden, I am headed to Europe to visit with him next week at the Catalunya MotoGP in Spain. I also plan on checking in with Colin Edwards for a story we're doing on former Loretta Lynn's racers—before he became a famous road racer, Edwards was one of the top minicycle prospects in the U.S.
And speaking of Loretta, she herself is on the sidelines after breaking her shoulder. No she didn't do it on a triple or hammering whoops or anything; the 71-year-old country music icon fell at her home near the track (not on it) and will not be touring for at least the next six weeks. Hopefully she will be good to go for the 25th Annual AMA Air Nautiques Championships, which have been held at her place since 1982.
Another Loretta Lynn's alum, Trampas Parker, was down in Florida this week working on a new project with Jason Thomas and a few other riders over at Dade City MX. Parker, America's first two-time world motocross champion, is coming back to race Loretta Lynn's this year, which has been a lot harder for him than you might think. See, Parker still lives in Italy, and in order to qualify, he had to fly back for an Area Qualifier, then back again this weekend for his Regional.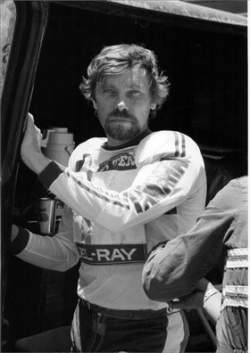 The Flying Finn is in the AMA Hall of Fame
Parker is destined for the AMA Motorcycle Museum Hall of Fame, where he will meet up with fellow former U.S. world champs
"Bad" Brad Lackey
,
Danny LaPorte
and the late
Donny Schmit
, but he didn't get in this year. Instead, the committee selected
Heikki Mikkola
, the "Flying Finn" of the 1970s who was
Roger DeCoster
's nemesis. Mikkola was my favorite rider as a kid, and I loved hearing
Howard Cosell
butcher his name every year when ABC showed the Carlsbad 500cc USGP. Mikkola won that race once—1977, I believe—and he won a pair of Trans-AMA races (both in Ohio) and an Inter-Am event or two. Which begs the question, why is he in the Hall of Fame? Mikkola didn't race in America more than a dozen times, and while he won four world titles in Europe, what does that have to do with the U.S. Hall of Fame? Like I said, he was my favorite rider and all, but putting him in our Hall of Fame is like Finland putting
Donnie "Holeshot" Hansen
in their Hall of Fame.
One rider who does belong in the Hall of Fame, in my opinion, is longtime Honda factory off-road rider Scott Summers. The Kentucky prospect was way, way ahead of the off-road curve in many ways. He was on a four-stroke long before anyone else, winning several GNCC titles aboard a massive XR600—years before Henry's breakthrough on the thumpers in supercross in 1997. Summers was also the first "professional" off-road rider in America, bringing a level of sportsmanship, marketing and business savvy into a sport that was strictly amateur back then.
Before Summers, off-road teams didn't do autograph posters or media visits; they didn't have product endorsements on a level deserving of what they were worth; and they toiled mostly in anonymity. Men like Dick Burleson, Terry Cunningham, Ed Lojak, Larry Roeseler, Randy Hawkins and the rest were every bit as talented as today's off-road heroes, but they got a fraction of the acclaim. It was Summers who came along and paved the way for guys like Rodney Smith, Juha Salminen, Barry Hawk, Ryan Hughes, Mike Kiedrowski, Johnny Campbell and more to be true factory riders and well-paid athletes. His contributions to motorcycling in America should not be overlooked.
The World Cup has started up in Germany, with the home team winning Friday's opening match against Costa Rica. The one thing that caught my attention was the name of one of the players on the losing squad: Fonseca. It made me think of the downed rider, who is fighting to regain some control of his life at a Colorado rehab center.
The Dirt Diggers were hoping to have an auction to benefit Ernesto after the Hangtown National, but that late rainstorm kind of dashed their hopes for that. So the Dirt Diggers took all of the great stuff donated by other riders and friends and posted on online auction, which you can check out right here.
When Godsmack's road manager read the "Hangtown/Fonseca/Ebay Auction" release on Racerxill.com this week he picked up the phone and contacted Dirt Diggers member David Harvey and donated a ton of Godsmack stuff to the auction, including tickets and backstage 'hang with the band and talk motocross' passes to one lucky bidder. Several of the Godsmack band members and entourage are down with motocross and were stoked to help out Hangtown with its Ebay auction for Ernie.
Now comes the bad news: Another tragedy struck American motocross. Chase Borders, an 18-year-old rider down in Alabama, was badly injured last week at Monster Mountain. According to his friend Mark Barnett, the four-time champion, Chase's bike locked up as he was launching down a hill. He suffered a back injury at about the same spot where Ernesto's back was broken, as well as James Marshall. Chase has been in the Intensive Care at the University of Alabama, Birmingham. Cards and letters can be sent to his father, Monster Mountain's Johnny Borders, 3170 Burt Mill Road, Tallassee, AL 36078. We all hope the absolute best for Chase and his family in this very difficult time.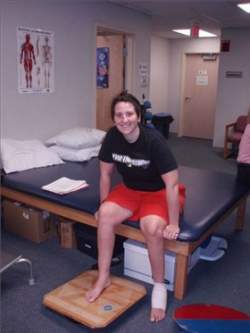 The former WMA Champion is still in rehab for her broken feet
photo courtesy of Stefy Bau
We got a note from the sidelined
Stefy Bau
yesterday about her ongoing battle to get back to the racetrack: "I went for another check up and it seems like my feet are getting better. My left foot has an inflammation and osteoporosis problem at the moment but just today I was told that I can start, really carefully, to put a little bit of weight on it. I still have an open wound that doesn't want to close, so they are going to put a vacuum pump to help it healing. The right foot, the one I almost lost, is doing better than the most optimistic thought, so I'm really happy for that. I'm almost nine months in and my #1 goal is to walk again. I hope to be able to go and watch a National before the end of the summer!" To keep up with Stefy's progress, visit:
www.stefybau.com
.
Switching the subject away injuries, but a painful subject nonetheless, is the battle to have places to ride on out in California. Senator Barbara Boxer is trying to shut down giant parcels of land to off-highway vehicle usage, which means dirt bikes, ATVs, trucks and just about any other form of motorized recreation. Whether you live in California or not, this affects you. Please check out the online petition and let the politicians hear your virtual voice.
Now, want to see something funny? Some of you have probably seen this old Hardcross video, but it never gets old. It's "Mad" Mike Jones battling it out with John Van den Berk and Davey Strijbos at one of those funky old hardcross races (circa 1989) in Holland: http://media.putfile.com/Hardcross
And speaking of funky races, Ping sent us a report last week about Travis Pastrana's last race and it got lost in the shuffle. It was the notorious Erzburg Rally, which starts in the bottom of a rock quarry in Austria and then ends up at the top of the mountain. Pastrana finished 11th this year in what might be the first motorcycle race he's finished all year. Jeremy McGrath also made the trip after making a bet with Ogio's Andy Bell (Mr. Erin Bates) earlier in the year. MC finished the event on his Honda CR 250 in just under three and a half hours, crossing the line in 29th. The two riders that finished ahead of Jeremy were Dirt Rider's Jimmy Lewis and Cycle World's Ryan Dudek. Look for his entire story in an upcoming issue of Racer X Illustrated.
Who won? David Knight crossed the line first after only an hour and fifteen minutes. Wow. How's that for a difference in lap times?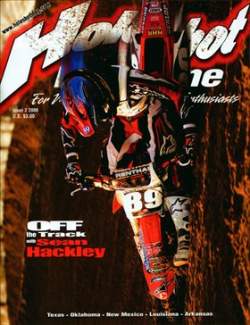 Cool regional mag cover with Sean Hackley
We get a lot of magazines and newspapers at
Racer X
, and every now and then one catches out eye, like the most recent issue of
Holeshot Magazine
. That's
Sean Hackley
on the cover, dragging his handlebar through a berm in a photo run sideways to excellent effect. Well done, guys.
My bad on the Shift MX Number Cruncher last week (when it was #17, not this week's #43). I told Andy Bowyer I was sure that Rick Johnson dislocated his hip at the Pontiac Supercross in 1983, but it turn out it was the St. Louis National, just as Andy originally said. Here's the proof from reader Paul White:
"Yes, Rick Johnson dislocated his hip at the 1983 St. Louis National. I was there that year attending my first national. The injury sure did look painful because I remember the emergency personnel had him a long time before he was transported off the track. One other note I remember from that race was the 1-1 performance Bob Hannah put in that day. He won by over a minute in each moto!"
This from Ken Faught of Pole Position Raceway (www.racep2r.com) dropped us this note to remind us of a big event in Montana: "The town of Columbus, MT will rumble to life on June 17-18 when the Nation's fastest hillclimbers show up for the second round of the Racer X / Suzuki N.A.H.A. Pro Hillclimb Series. Names like Dusty Beer, Travis Whitlock, Jason Smith, Jeff Thomas, Harold Waddell, Dave Watson, Bret and Robie Peterson will break out their 200-horsepower, nitro-burning motorcycles for this extraordinary event. Riders will be competing for a share of the $30,000 purse in two separate classes. The event will be held off I-90 in Columbus, MT. Motorcycle hillclimbing is a timed sport, and those who don't make it over the top are awarded a measurement as it relates to the massive 500-foot-tall hill. The Big Sky Thunder Nationals are produced by Big Mike Productions in association with the North American Hillclimb Association. Tickets can be purchased by calling 406/322-4122 or by e-mailing hardrockortiz@aol.com. For more information check out www.nahahillclimb.org or www.bigskythunder.com."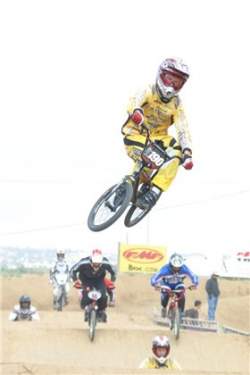 Matt Baisley is a top BMX prospect

Shannon Gillette of the American Bicycle Association sent over this shot: That's Matt Baisley, the son of Fly Racing and Western Powersports' boss Terry Baisley, competing in an ABA event last weekend. You know the Baisley must have dirt bikes everywhere, so it's cool to see him on this bike!
Looking ahead to September, the cat's out of the bag on the Motocross des Nations 2007 being held at Budds Creek September 21-23. Jonathan Beasley has long campaigned for the event, so it's good to see him finally get it going. What we (and he) needs more than anything right now is for the 2006 event coming up in England to be on TV at a recent date. Last year's race from September did not show in the U.S. until February 29, 2006, by which time the wonderful win by Team USA's RC, Windham and Tedesco was largely forgotten and Amp'd Mobile Supercross was on everyone's minds. The best way to get the best Americans to the race is to make it worth their while, as well as for the teams, and the best way to make it worth their while is to give them coverage they need to justify the dollars and the risk involved…
So will RC ride on Team USA 2007? Yes, I believe he's already raised his hand on that one. As for this year's team, he's raised his hand as well as James': "We gotta get him over there," said Carmichael last week at the Fox sales meeting in Florida. "That would be so cool…."
And speaking of that meeting, I had funny debate with some of the guys at that Fox meeting about the Vet classes at Loretta Lynn's, and how some think it's unfair that former pros get to participate (it's based entirely on age, without an A, B or C division). This year, former top-twenty pros like Doug Dubach, Mike Craig, Tom Carson, Kurt McMillen, and Mike Katin and more will all be on the starting gate in various classes down there, and in years past we've seen everyone from Marty Smith to Mark Barnett to Ron Tichenor and Keith Bowen and Billy Liles and Jeff Emig visit and race.
So what to do? The opinion of MX Sports has always been that just because you're a pro once, it doesn't make you a pro forever, and the older you get, the slower you get (John Dowd is an obvious exception here). A lot of guys that were never that good want to have a place to race, and with the ranks for the vet classes growing, well, they are probably the toughest classes to qualify for now.
So what do you do to make it better?
Upstate NY sales rep Randy Dodig had some good ideas: "Eliminate the 4-Stroke class and add a Vet Pro class. Anyone who has ever held a pro license, tried to qualify for a SX and/or national should have to race the pro class. Leave the age classes open to A riders just as long as they don't fit into the group mentioned above. This would help eliminate most sandbagging issues and give us older, just-got-into-the-sport-in-our-mid-20s B riders something to shoot for. As its set up now, legit Vet B guys like myself have no chance… If not, I will just mod the hell out of my son's PW50 next year when he turns four and turn into one of those 'Mini Dads' that everyone talks about."
Randy makes some good points, especially about the elimination of the no-longer-needed Four-Stroke class (and replacing it with a two-stroke class will make less sense as less and less OEMs make two-strokes). Anyone else got a good suggestion for MX Sports to chew on this summer? Letters@racerxill.com. (We will forward then on to Tim Cotter and his staff.)
"Stewart to Go The Distance." That's the headline Simon stumbled on in morning's The Republican newspaper from Springfield, MA. There's also a box with "Southwick Motocross National" stats. However, the story is not about James Stewart, but rather Tony Stewart, the NASCAR dude with a broken right shoulder blade who is racing at nearby Pocono. Damn….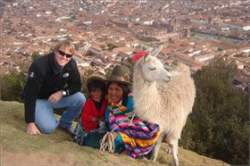 That's Red Bull's Hayes Wheeless, hanging out in South America
If you've been wondering where
Hayes Wheeless
has been, the Red Bull exec who used to be at so many races is now down in South America working on emerging markets such as Panama and Peru.
While on the case at Southwick this weekend, we will be on the lookout for Jo Jo Keller. We probably get more requests a Jo Jo update for "Where Are They Now?" than any other three riders combined! Last person I know to spot him was Ducati USA's Nick McCabe, who saw him two years ago at Southwick. "He was classic: dressed in khakis and wearing a button down shirt – a total prep! He looked to be about 300lbs as well." Last Nick heard, he was in the New Bedford area. Anyone know where JoJo is?!
It's raining in Southwick as I finish this up on Saturday morning. Hope it's not as bad as Gopher Dunes got last weekend, as Jason Griffiths from Racer X Canada told us:
"Gopher was looking like it was not about to happen. We had a really bad thunderstorm on Saturday with small tornados that ripped through the pits and made a mess of tents and things, plus all the rain basically flooded the place. But Frank worked all night and race day was pretty good—excellent actually by the end of the day. Privateer Kyle Keast led the last MX1 moto and the fans went berserk. Klatt and Dowd did finally pass Keast but it was still awesome to see him on the podium."
Jason added that they have a helmet cam video up on the site that was shot during Sunday practice at Gopher Dunes. Here is the link.
Finally, a nod to Stefan Everts. There's an ill-founded debate going on over on Mototalk from a few international fans who don't think Carmichael can ever claim to be the best in the world until he goes off to Europe and does a Grand Prix series. It's wishful thinking, of course, as Carmichael will probably never leave everything he's built and earned for himself here, where the tracks are perfectly groomed, he makes ten times as much money as a world champion racing in Europe probably does, and gets to race against the best riders in the world every weekend (sans Everts).
Everts, on the other hand, has a pretty good gig going to. Like RC, he gets to thrive in the comfort of all the things he's built and earned, and at age 34, he's as dominant as ever. His big competition (Coppins, Tortelli, Pichon) all got hurt or sick within the first three races of the season (sorta like James outdoors). So Everts has won the first six races in a row, RC-style. He's got 93 career wins, and will almost certainly hit the century mark before retiring at the end of the season with 10 world titles.
Carmichael, meanwhile, is also chasing his tenth AMA National title (in ten years), and while he can't reach the 100-outdoor wins mark this year (he's at 88) he also has 40-some supercross wins for consolation.
The two will meet at full-strength one last time—the 2006 Motocross des Nations in England—and no matter what happens, someone is going to get disrespected by fans who want their side of the ocean to be the better side. If it's dry, and the track looks like what I've seen in U.S.-friendly layout designs and photos, RC will crush everyone. If it rains, there's not a better mud rider in the world than Everts (and I rank Stewart, not RC, second there now).
The point is this: Comparing Carmichael and Everts is like comparing the Pittsburgh Steelers to Manchester United. We play motocross/supercross as differently sometimes as those two squads play "football." Let Everts be the King, let Carmichael be the GOAT, and enjoy them both while they're still out there.…
But I say Villopoto can already kick Cairoli's ass.
That's it, off to the 'Wick. Come on, England! Thanks for reading Racerhead, check out Racerxfilms.com later for Simon's preview piece (with some added Ryan Leyba beats), and enjoy the weekend.