After a weekend off, it's back to the grindstone—or maybe the sandstone, in this case. The third round of the 2006 Toyota AMA Motocross Series will roll out into the deep, choppy sand of Southwick's notorious Motocross 338. And for the first time in memory, the national will be held on a track running in the reverse direction—clockwise, if you will.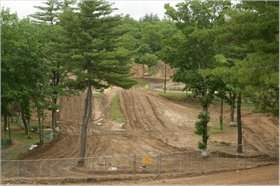 Simon got to town early, so he snapped off a few photos of Southwick before the whoops showed up
photo: Simon Cudby
If you want to see what the track looks like right now, check out a few of
Simon Cudby
's photos from the
SixSixOne photo report
he posted earlier. If you want see what it looks like with the riders on it, check out our exclusive preview of the race, with footage from Saturday afternoon practice, tomorrow evening on
www.racerxfilms.com
.
To see how fast everyone is going, all you have to do is visit @The Wire Live on www.amamotocross.com where all of the laps and race results will be counted down beginning tomorrow afternoon. To listen to Sunday's race, click on the Racer X Webcast, presented by Cycle News, at www.mxnationals.com It's an East Coast race, so that means the racing starts at 1 p.m. Sunday.
Looking ahead to the racing, the 250F class is a wide-open affair. All four of the top riders from the opening round—Mike Alessi, Brett Metcalfe, Andrew McFarlane and Josh Grant—spent the week in New England, and each of them raced amateur day last weekend at MX338. Metcalfe looked like he was most at ease on the rough stuff, winning four motos on his YZ250F, but he had a battle from his Yamaha of Troy teammate McFarlane.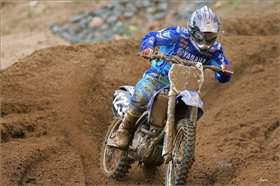 Metty is hoping for a breakthrough win this weekend
photo: Zeke Vlashi
And as you may have heard in the short
clip
we posted on
Ryan Villopoto
, the
High Point
winner, he's never been to
Southwick
, but he says he can ride the sand just fine—and we already know his teammate
Grant Langston
, who used to live in Holland, knows how to ride the soft stuff too.
The big news in the 450 class is whether or not James Stewart is healthy enough to ride after his frightening High Point crash. Stewart explained the deep bruise he suffered on his website earlier this week, and I followed up with his agent David Evans of MX Edge last night to see if there were any developments.
"James is definitely coming to Southwick and he will do his best to race," Evans said. "We have an early appointment with Dr. Augustine [of the Asterisk Mobile Medics team] on Saturday for a full evaluation and we will go from there. James' health and safety is our primary concern but he wants to race and we hope he will be able to."
Like a lot of you, I have replayed the spot-on OLN coverage of Stewart's crash several times to try to decipher just what happened, and after initially thinking his bike bogged, it seems as if he just got some wheel-spin out of the corner, cross-rutted, and caught a little kicker as he started to lean out over the bars. After that, he had no chance, and he's lucky that he's as "limber as a Ukranian gymnast," as Ping said on the show. Otherwise, wow, that could have been terrible.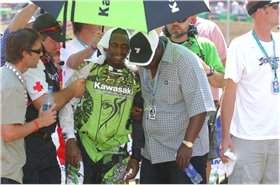 Stewart's still hurting from his High Point endo
photo: TFS
With Stewart a question mark, it's hard to see anyone else challenging Carmichael on what is his best track. RC hasn't lost an overall since 1998—the one and only time in his career he's lost at
Southwick
MX338. (Fittingly, he was beaten by
John Dowd
.) He's won the race eight times in his nine visits, which is just another one of those ridiculous RC stats.
Coming back this weekend will be three different Southwick winners from the past: the aforementioned Dowd, who must be the fastest 40-year-old ever, all-time people's champ Doug Henry (sorry, Jamey Grosser), and two-time 125 National winner Travis Pastrana. Which of those three do you think will fare better this weekend in the 450 class? Tell us on the Troy Lee Designs Racer X Online Poll.
Ping spoke with Henry at a recent AMA Supermoto race and asked him how long he's known John Dowd.
"It's pretty funny," Henry answered. "I started on an 80 at Southwick for a few races. The next year, I started the season on a KX125. I was always in the 125 class, but Dowdy started in the 500 novice class! So we never really met up for a while. We didn't start racing each other until we were in the expert classes for a while, then we became rivals. I think we stayed that way until we started hitting the nationals, and then we got to be better friends. Once we were both racing nationals, the rivalry went away and we just started riding together and hanging out more."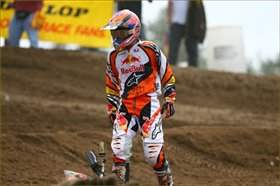 Mikey had some trouble in the tight left-handed first turn last Sunday
photo: Zeke Vlashi
By the way, Henry is trying a
Tony Stewart
-like doubleheader weekend of racing.
Scott Sepkovic
and the people at Monster are hooking him up with a private jet ride from the AMA Supermoto race he's doing halfway across the country in Wisconsin on Saturday afternoon. He will be pitted under the Monster rig, too, which means he will be near
Jason Lawrence
of the Rockstar Suzuki team.
I mention J-Law here because I have a bet going with Sepkovic that if Lawrence goes 1-1, which Scott is convinced Jason will, he gets the next cover of Racer X. (Personally, I would have said podium at best, top five maybe.) But Scott likes the action, so that's the best. What do I get if he doesn't win? Not sure, but I should have said I wanted one of those cool watches like Sepkovic gives RC at every banquet!
No one is betting on Travis to win, including Travis. He's going in under the radar—way, way under the radar—in a pickup truck without much modification to his RM-Z450. Jeff Cernic, one of his main sponsors, told me last weekend at the Northeast Regional for Loretta Lynn's at High Point that Travis didn't even want any of the good parts on the bike. That kind of freaked Red Bull 199 Team Manager Ron Meredith out, who said to Jeff, "We're going to look stupid."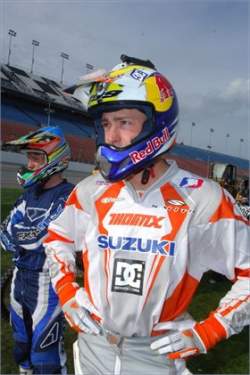 Look who's coming back for Southwick
photo: TFS
How did Cernic answer? "I told Ron this: 'Look, we went to Florida for Bike Week, crashed 150 feet into the GNCC, then DNF'd, got beat by a girl at the dirt track, and then crashed trying to do a backflip in a day qualifier. I don't think we will ever look any more stupid that that."
By the way, make sure you check out the Racer X Film of the Northeast Regional for Loretta Lynn's at High Point. It features future stars like Austin Stroupe, P.J. Larsen, Brock Tickle and Darryn Durham on a very green, loamy-looking High Point. You might also want to check out DMXS Radio's first "MX Sportscenter" of the summer with more highlights from qualifying for Loretta Lynn's.
Here's some things from Ping.…
There are a couple of big amateur races coming up on the left coast and a day of riding at any local track here will prove it. With the Loretta Lynn's qualifier this weekend at Glen Helen and the Mammoth Mountain Motocross only two short weeks away, the title contenders are out in full force putting in laps. Eli Tomac was hard at work with his mom and his riding coach, Buddy Antunez. Although I think Eli listens to his dad when it comes to training and diet because, hey let's face it, Bud Man is a round little bean burrito wrapped up in a Red Button 7 T-shirt. (That's for the comment about my love handles, Bud.) Eli is in town for both the qualifier and Mammoth, where he is a favorite for his class championships. Ben Lamay has also been busy getting things dialed in, but he's doing it on a 125. Ben is already qualified for the schoolboy classes at Loretta's and will bring out the RM125 for those races.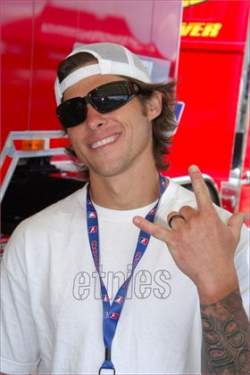 Deegan's racing comeback is still on hold
photo: TFS
The Metal Mulisha was in full force at the motocross track this week also. Team leader
Brian Deegan
was putting in laps on his 450, but don't expect to see him at a national very soon. After injuring his knee in practice before
Hangtown
, Deegan is still on the mend.
"I stretched my MCL, the ligament on the inside of my knee, in Sacramento," Deegan said. "It's not torn, but it is still sore. Some of my sponsors started freaking out that I was going to hurt myself and not be able to compete in the X Games this summer. That's my main job, so I had to back it down a little until after that. I just got a little fired up there and wanted to go racing." And he still does. Brian said that he plans on doing some nationals after the X Games this summer with the help of the guys at Richardson's RV.
Jeremy "Twitch" Stenberg and Ronnie Faisst were also doing some laps at Perris Raceway this week. Both riders are very adept on a motocross track. Nate Adams joined them in a battle, and if you were a freestyle motocross fan, it was fun watching them go at it.
There is a strange clash going on between Mike Metzger and his company Factory Freestyle and the Metal Mulisha and its riders. Apparently, the incident started at this year's Winter X Games where Metzger didn't qualify for the final. There were some heated words and Metzger accused some of the Mulisha riders of having the judges in their pockets. Then, according to the Mulisha, Metz talked a little smack after his Caesars Palace fountain jump, insulting Twitch and some of the others. Twitch then went out and broke Metzger's record of longest backflip (by around 25 feet) and the bad blood continued. There's even more to the story, but it gets pretty clouded and I haven't talked to Metz about it, so I won't comment. But it's safe to say that the war between the Metal Mulisha and Factory Freestyle is definitely on.
The lost militiaman, Josh Hansen, was also back on a bike this week. Hanny still can't ride for very long, at his doctor's recommendation, but he did look very fast when he was on the track. Maybe we'll see him this summer?
If you are a fan of Ms. Supercross, Brittney George, then you are in luck. The Arizona sweetheart has signed on for another year with Live Nation to be the first lady of supercross racing. She's good to have around. She may also be looking to move out of Lake Havasu. Last week, she told me, the high was 118 degrees. Yikes.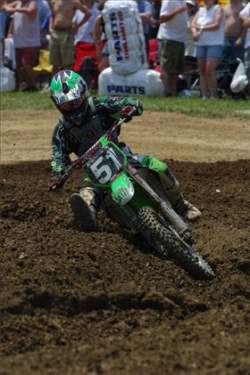 his kid is wise beyond his 17 years
photo: TFS
I went on a road bike ride with
Ryan Villopoto
and
Randy Lawrence
yesterday, and the more I get to know Ryan, the more interesting he is. This kid has a different take on racing and the mental preparation involved. I asked him if his confidence was boosted after his
High Point
win. He looked over at RL and started laughing. I was like, "What's the joke?"
Then Randy tells me that they had this conversation earlier in the week and Ryan gives me his theory: "What is confidence? How can you be confident or not confident? I mean, you are as fast and as good as you are, and that's it, right? I don't even know what people are talking about when they say that stuff. You go to the line and race, and if you're the fastest guy, then you win."
Wow. I wish I could've figured that out when I was racing, because I could have saved myself a lot of stress. His pragmatic approach to racing is working, though, and RV likes to ride in the sand. That's bad news for everyone else this weekend.
Thanks, Ping.
What do they say about planes, trains, and automobiles? DC just called – it seems his flight from Pittsburgh was parked and grounded for the next two hours. Rather than make you guys wait all night, we're just going to wrap things up now. Look for a Racerhead follow-up tomorrow morning. Sorry for the inconvenience – such is life when you're on the road....