Where Are They Now: Brian Lunniss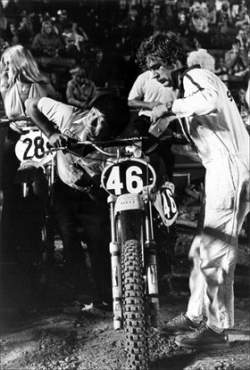 Brian Lunniss and a Suzuki technician go over Jeff Jennings' bike
photo: Dick Miller Archives
We usually search out former riders for our "Where Are They Now?" features, but through a chance phone call, we tracked down Brian Lunniss, one of the most successful mechanics in the history of American motocross. Brian was in the Charlotte Airport next to Simon Cudby after they finished up a NASCAR shoot for Mechanix Wear. Simon checked into the office just as I was going through the Dick Miller Archives looking for #43 photos for Andy's Number Cruncher. Anyway, I happened to spot the photo you see below of the #46 Suzuki and Brian Lunniss holding it up, and I wondered aloud to Simon, "Do you have any idea where Brian Lunniss is now?" Simon laughed and said, "Yeah, he's standing right next to me!" Here's the short interview that followed.
Racer X: First of all, what are you doing with Simon Cudby in North Carolina?
Brian Lunniss: We're visiting NASCAR shops to shoot photos for our new catalog for '07.
What is your position at Mechanix Wear?
I'm the director of research and development. Originally, the glove was my idea in 1991, when I was a motocross mechanic.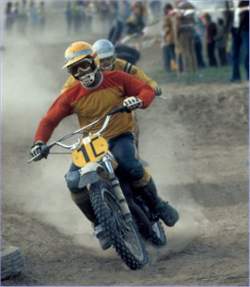 Lunnis wrenched for John DeSoto way, way back in the day
photo: Dick Miller Achives

You weren't just a motocross mechanic—you were a legend in the pits with the great amount of success you had with your riders and the teams that you were involved with.
Yes, I was very lucky. I had legends of the sport, basically. Bob Hannah, Ricky Johnson, Damon Bradshaw—those are just some of the big guys going all the way back to John DeSoto, Billy Grossi, Mike Runyard, Warren Reid, and Graham Noyce.
Did you work with Damon Huffman toward the end?
Yes, I did. Last year I was involved with Kawasaki, and I worked for Damon Huffman.I worked for all four of the big manufacturers. I had 25 years there, so I was real lucky. I came from working on works bikes to the era where we had production-based race bikes, so it was a great time. I had a lot of success, and I had some great riders that I worked with. I also had some so-so riders that I worked with. And after all of that, I moved on to car racing. I had a bunch of friends who were involved in auto racing, and they've been trying to tell me forever to come work in the car racing business.
When was that?
That was 1997. I left the motorcycle business and went to work with Dan Gurney on his Indy Car team. And so I was there for two seasons and did suspension and shocks and things like that. And then Dan ran out of financing and I had some people who were trying to hire me to go work at NASCAR two years earlier, before I went to work for Dan in CART, so some of those people had heard that I was available, so they were calling me and I did some interviews and ended up at Joe Gibbs Racing. I went to work for Joe working for Bobby Labonte directly, as his suspension guy. We won the championship the first year I was there, in 2000. And then I worked on a bunch of projects with other people in conglomeration of both teams, because both of those teams operate as one team there. The same guys work on the cars in the shop, no matter if it's the 18 or 20 car. And then the following year, in 2002, we won the championship with Tony Stewart. Also in the year that I won with Bobby in 2000, we won the Brickyard, which was quite a highlight to my career.
Lunniss boards Billy Grossi at the '75 Ravenna, Ohio, National, which Grossi won
photo: Dick Miller Archives

When you were working with Tony Stewart, did he ever ask you about the old-school motocross days? Tony is a motocross fan, isn't he?
Oh yeah, he's a big motocross fan. He actually sponsors an amateur racer that is sponsored by the amateur program at Suzuki. There are a lot of people in NASCAR land that are big motorcycle fans. Like the last few days we had Simon down here and we go, "Simon shoots photos for Racer X and Fox," and everyone is like, "Wow, cool!" But there are a lot of people, even when we'd be at the racetrack, the driver would be up watching supercross on TV and he'd go, "Hey, come here and explain this. Why did he do this?" Everybody always wanted to go to a race, but the scheduling was off. We raced so many weekends. We'd race 38 races a year, so it was difficult for those guys to go to a supercross and visit or whatever. But a lot of them follow it and they know who Carmichael is, they know who
Bubba
is, and even back to Hannah and the other guys. So there's a lot of interaction there between both racing series.
Do you ever get out to see very many of the supercrosses? I think I ran into you at Anaheim, if I'm not mistaken.
Yeah, we have a guy that does the races for us. He does the business side of stuff with race teams and I handle stuff like the pit-board project. So I get all of that stuff going and haul it to the racetrack. I was at Anaheim 1, 2, and 3, but then our car stuff starts with Daytona in February, so we're pretty busy with the car thing. But yeah, I get out occasionally and I get calls from old friends all of the time because they now know where to find me.
Right on. Well, have a safe flight, Brian, and thanks for talking to us.
No problem. Thanks for asking!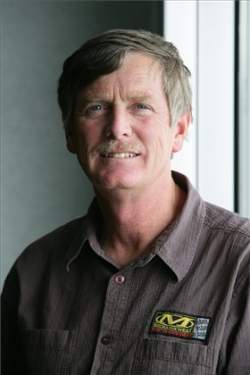 Lunniss yesterday at the Charlotte Airport
photo: Simon Cudby