Virtual Trainer: John Louch Interview, Part 1
John Louch, from South Africa, has been in the MX training business for quite a few years and has trained many pro riders including Josh Hanson, Grant Langston, Heath Voss and even Travis Pastrana at one time. John, an accomplished athlete himself, has been into riding, racing, and cycling since he was a young kid, and grew up down the street from Greg Albertein. After moving to America, it wasn't long before John was training riders and developing his personal training business. The last time we talked with John, he was busy opening a new gym, Evolution Fitness with his partner Matt Neal in Southern California. In that interview we talked about the gym but never really got around to the topic of actual training. Since all we talked about last time with John was the gym, Virtual Trainer wanted to sit down with John and talk about how he keeps his guys in top shape. This is what he had to say about MX training.
Racer X: John thanks for taking the time again to sit with us and talk about training. The last time we talked, you and Matt Neal were just launching Evolution Fitness. How has the response to the gym been?
John Louch: It has been just awesome. We have tons of amateur riders coming in as well as guys that are just into riding on the weekends. We have taken on Josh Hill and a bunch of other very fast amateur riders from around this area. There are a lot of guys with a ton of potential working out at the gym. The response has been really good.
The last time we talked you were training Josh Hanson and Aaron Gobert. Are you still with those guys?
I'm not training Aaron any more. I helped him out in the beginning and now I'm working with John Hopkins who is a road racer that does moto GP. I have a full time contract with John. I'm still helping out Hanson but I've also taken on Grant Langston again. Grant and I worked together in the past for about three years. We have a really good relationship and he wants me to train him to get ready for a run at the outdoor National Championship.
What exactly does your job entail being Grant's trainer? Do you set his day-to-day schedule and things like that or are you just there for guidance and advice?
No, no I get together with my riders everyday. It's a full time job training these guys. There are schedules and testing sessions and all sorts of things that have to be taken into account when figuring out a training schedule. After a day of training, we usually sit down in the evening, and talk about their up coming schedule, like if Grant has to go to Pro Circuit or testing or anything like that. We work around their schedules, but normally we train in the morning and are off in the afternoon. But, like after Vegas when Grant was hurt, he couldn't do any riding so all we could work on was cardio. He didn't even ride until the first National. So all we really focused on was swimming, running, cycling, and doing some weight training to keep up his strength.
So, Monday through Friday from 8 to 5 you are completely dedicated to the guys you are training.
Yeah, but we obviously don't train for 8 hours a day. Usually we'll go to the pool in the morning and do our laps, break for lunch, go to the gym, and do our weights, take a break and then go for a run or ride or whatever in the afternoon. The schedule really changes so much from day-to-day and week-to-week depending on travel, whether there is a race the following weekend, injuries, so many things.
Do you also set up a diet for your riders and make sure they following it?
Well, believe it or not I'm not real into strict diets and stuff like that. I believe that if you train hard and eat a sensible diet you will be ok. I mean you can't just go around eating junk and stuff that isn't good for you all the time. But I also don't believe in highly restrictive diets either. I mean, a pizza once every couple of weeks isn't going to kill you. Most of the riders that I have been involved with pretty much know what to eat and what to stay away from. We eat pretty healthy every day. We like to go to this place Benny's in Marietta and get these healthy sandwiches for lunch. It seems like all the riders from around here go there. I think once you get to a certain level as a pro, you just live a healthier lifestyle. Eating right just seems to go along with training hard.
Dietary supplements are huge business in all types of sports. Do any of your guys use supplements to gain an edge?
Yeah, I'm a huge fan of Cytomax. I think it's the best product out there. They have pre-performance drinks and drinks that you use while you are training. We have had great success using that stuff. That's about all we use really.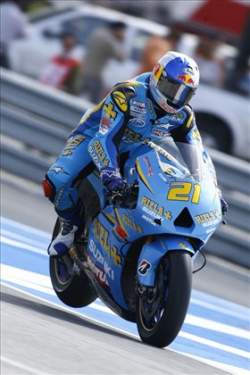 John Hopkins
photo: Andrew Northcott

When we interview Aldon Baker (Ricky Carmichael's trainer) he said that he actually trains with RC and even rides with him sometimes. Are you that hands on with your guys or do you have a different approach?
Oh, for sure, I do all the training with my guys. I have to make sure none of them can beat me on a road bike or swimming or anything like that. I can't let that happen! I don't believe in standing around telling a guy what to do. I think you have to suffer along with them. As for the motocross part of it, I have raced and ridden all my life but I never ride with them because there is nothing I can offer them for help. I mean they would lap me on the first lap. I take lap times and stuff like that at the track, but heck, I don't even get a chance to ride that much anymore.
Can you elaborate a little on what type of supplemental training you put your guys through and how you combine that with their riding?
Well it all depends on what part of the season we are in, but overall I really like to use swimming. Swimming is very hard to do and low impact. We also use running and cycling and a little bit of weight training. Normally we train in the mornings and ride in the evenings.
I am a big proponent of strength training, as long as it is done correctly for MX. What is your take on weight lifting/strength training for MX and what type of weight training do you recommend for MX?
Well, the first thing guys have to realize is that there are two different types of weight training. There is body building and then there is strength training. Obviously, for MX you want to strength train. There is a big difference and a lot of guys get confused with that. I believe in low weight, high repetition strength training. You can get away with using more weight with your legs, but when it comes to the upper body, you really want to use more of the free motion equipment like cables and stuff like that and stay away from free weights like barbells and dumbbells. Heavy weight lifting like body builders do isn't going to help you on the bike. You want to make sure you use low weight and very high repetitions to build endurance. Motocross and Supercross are all about muscular endurance. You just have to be careful not to build too much extra muscle, especially in the upper body because big muscles don't have a lot of endurance. That's not to say that heavy weight training doesn't have its place in MX. Take Josh Hanson for example. When I first started working with him, he weighed 141 lbs and needed to gain some muscle size so we started out lifting heavy weights until he developed some good muscle quality. But a guy like Langston who has good size and strength we don't really worry about that with him. Weight training, like anything else is very specific to each individual. You may start out lifting heavy weights in the beginning to build some muscle mass but then you have to switch to more of an endurance type program to maintain your strength.
Check back on Monday for Part 2 of our conversation with John Louch, where he reveals his views on tough topics like arm pump and performance enhancing drug use and even gives a few pointers on road cycling.