Rev-Up: Heroes and Madmen
Hello, everyone, and welcome to the Rev-Up. If you have been a fan of the Rev-Up for a year or so, you might recall the title of this week's column, as I have used it before. I generally pride myself on producing a creative theme for you to enjoy with the arrival of each Thursday afternoon, but the events and information that have I have absorbed this week had my mind returning to the same words: Heroes & Madmen.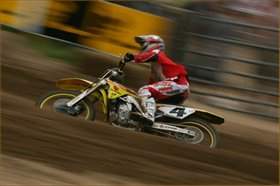 RC: speed personified
As the 2006 Toyota AMA Motocross Series makes its way to
Southwick
, Massachusetts, this weekend, there is going to a plethora of both descriptions. The rumor mill has certainly been a churnin' this week! Of course we have the obvious questions: Who's in? (And even tastier, Who's out?) Ah, the plot thickens! The series is merely two races young, and it's already gotten crazy. For instance, the opening 450 moto at
Hangtown
just couldn't be matched. That is, not until the following weekend at
High Point
, where things went completely nuclear!
No rest for the wicked, guys. Let's get this baby up on the pipe as we get Revved Up for the Heroes and Madmen coming out way. Ring the bell, round three is here!
HEROES
250F Cass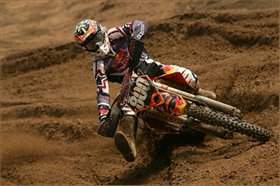 Mr. Thinker

Mike Alessi is a hero. I don't care what you say about the guy, the kid knows how to get it done. I have never seen a rider break down motos like he does. He is one of the smartest racers to ever throw a leg over a bike. He gets excellent starts, picks incredible lines, and has impeccable track awareness. Mike knows exactly where he is on the track and where he needs to be to win the overall. He is also one of the few guys that will lay up if he knows he can't win, or if he has the overall in the bag. Hey, all you kids coming up through the amateur ranks – take notes on how Mike Alessi approached his race weekend … on the track, that is. Off the track, well, he's getting better.
Ryan Villopoto is another rider who has already reached hero status. I mean, when The GOAT watches you ride and tells people, "Man, I see a lot of myself in that kid when I was his age, " well, you're pretty much a hero. Not only do Ryan and Ricky Carmichael have a comparable freckle count, but both guys ride with their heart on their sleeve and never give up. In my opinion, Villopoto has a cleaner and more attractive riding style than a '97 RC. Ryan's moves on the track are extremely deliberate and precise. He hops around and over the bumps and finds lines on the edges of the track that save time and energy. Ryan has spent the last decade looking for lines to pass #800. That will reward you with some creativity on the racetrack, doctor.
Andrew Short is a workingman's hero. Nobody will doubt Shorty tries his hardest every lap of every race. Armed with his (shameless plug) gorgeous One Industries Trooper helmet, Short always leave it all on the track. Unfortunately, he also tends to leave some visors and fenders on the track, as well, and untimely crashes as been his story to date. And it's high time Andy pulls it together and gets into the middle of the points chase with Mikey Boy and Villy.
450F Class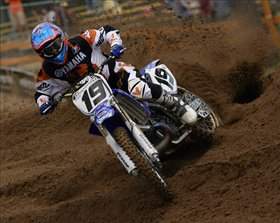 "What's stopping you?"
There is a rider who will be returning to front lines of the battlefield this Sunday afternoon. I always hesitate to use the word
gnarly
because it's hard to properly convey. As but with this man, it personifies him impeccably.
Doug Henry
is the gnarliest man to ever ride a motorcycle! When you go from eating PB&J out of a panel van to a factory ride, that's gnarly. When you whiskey-throttle yourself 50 feet up and 150 feet out and come back to win a national championship, that's gnarly. When you break both arms late, late in a scorching hot mid-summer moto and have to
walk over to the fans lining the fence and ask them to take your goggles off
… that's freaking gnarly! If that wasn't enough, you go into retirement for a couple years then get bored and come back to win the Supermoto champion and whip Juha Salminen in a sandy GNCC event. Doug Henry is a man among boys.
Hero
doesn't quite do the job when describing AMA #19.
Legend
is more like it. And this legend will be carrying the mail around his favorite track for our viewing pleasure this weekend. And for the first time ever, he will be riding a 450cc monster. Look out.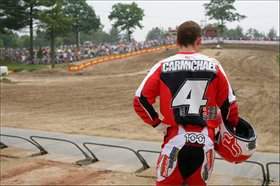 Last trip to the 'Wick for RC?

Ricky Carmichael. Hero? Sure, and GOAT. That's all I have to say about that. He will win his eighth straight Southwick National.
Robbie Reynard is a motocross hero. He has taken beating after beating and come back every time. This weekend, Robbie will be working out of an Econoline E350 with his mechanic and father. At one time, Reynard was one of the fastest sand riders in the world. If RR can get a start, I think he can run up there for a while. He'll have trouble hiding, but it will be good to watch him run for as long as he can.
MADMEN
250F Class
Grant Langston rides like a madman. A couple years ago, Grant stacked it up in practice and ripped his shoulder out of its socket. I have never done that one, but from what I hear, it's enough pain to make you puke. Then, in an effort to save the championship, Grant had the medics put the shoulder back in place and tape her up. Langston went out and put in two motos of 30 min + 2 on the roughest track in the solar system. Madness, I tell you.
Martin Davalos: I have been watching this cat all year. His blazing speed is only rivaled by his highlight-reel crashes. This kid is not afraid to hold the throttle on and leave it on. I am predicting a top-three outing in one of the motos from the Matador from Equador.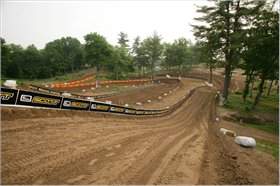 The sand storm is coming

Josh Grant: Josh Grant is surfing on the borderline of hero status. He pulls huge holeshots, pulls big leads, then crashes in the most rudimentary of places. The Weege made this observation before High Point, and lo and behold, about two-thirds of the way through the first moto, well, you know what happened. All of this has got to be on young Grant's mind. He has nailed down a moto win, but these weird crashes have prevented him from sweet victory. It has to be driving him mad.
Also, don't forget about the Australians up there at the 'Wick. Both Andrew McFarlane and Brett Metcalfe were at the warm-up race last week, and Metty swept four motos in the sand—the Ozzies are mad for sand!
450 Class
The word on the streets is that there might be a guy who shows up in a yellow pickup truck with an RM-Z450 in the back. Reportedly, this vehicle will park close to the Suzuki pits and a tall blond-headed guy with a severe limp will "hop" out and climb aboard a bike that has #199 on the sides.
Travis Pastrana is the madman.
So here we go again, guys! This is going to be a sand storm. There are always a lot of surprises at Southwick. We will have some guys running in the top 10 throughout the weekend that we have never heard of. We will have some guys (sand masters) put in their best performance of the year. We will have heroes, and we will have madmen. Ah, but the question of the week: Are we going to have James Stewart? Man, I hope so.
Thanks for reading, see you next week.