Privateer Profile: Brian Shuckhart
The 30th running of the Monster Energy High Point National was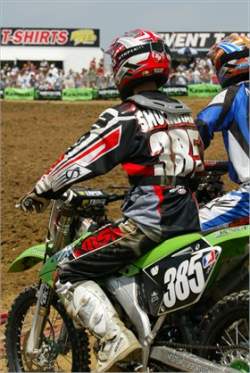 In his first-ever attempt, Brian Shuckhart qualified for the 250F class at the Monster Energy High Point National

photo: Zak Lowery

definitely one for the books. Fans were treated to great weather and great racing all weekend long, but the great racing just wasn't at the front of the pack. Local District 5 racer Brian Shuckhart—in his first pro national—made the cut and qualified for the 250F class on his Mosites Motorsports/Pro Action-backed KX250F and finished 31-26 for 29th overall. Qualifying for a first national is always a special event, especially in front of your hometown crowd. We caught up with Brian for today's edition of the Sponsorhouse.com Privateer Profile. Be sure to show Brian and his sponsors some support by clicking on the links at the bottom of the page.
Racer X: Brian, first of all, congratulations on qualifying at High Point!

Brian Shuckhart: Thanks a lot!
Tell us how it went out there.

Well, the first moto—I thought I was prepared for it, but I went all out the first few laps and got too tired too fast. But then the second moto, I calmed down and did a lot better and didn't get tired.
You've been racing locally in District 5 all of your life, and you've finally made it to the professional level. How does it feel to qualify in your first attempt at your hometown race?

In the qualifier, I wrecked and hurt my leg, but I came back out in the LCQ and made the main, and it was just the best feeling ever.
Did you have a lot of your family and friends there cheering you on?

Oh, yeah. Probably the best part of the race was taking the parade lap with all of my family and friends cheering for me.
That had to be a great feeling. As far as the racing, you rode the 250F class, which is arguably the tougher of the two classes. What was your first major observation after you were out there for a few laps in the first moto? Was it the speed that the 39 other guys were going, or was it the roughness of the track?

It was probably the pace those guys set. They're going so fast and you just have to get used to it. You have to go that speed for 35 minutes straight, and I'll admit, it's not easy.
Do you feel you were prepared for that race? If not, what do you have to work on?

I thought I was, but after seeing how rough and rutted the track was, it's a totally different world compared to amateur racing.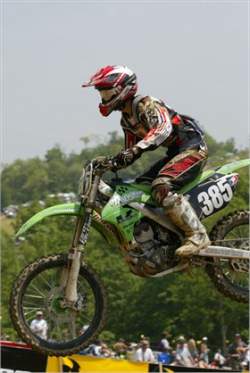 Shuckhart finished 29th overall on his Mosites Motorsports-sponsored Kawasaki

photo: Zak Lowery

Give us some background about yourself. How old are you and where are you from?

I'm 17 years old, and I live in White Oak, PA.
Are you in high school, or are you homeschooled?

I've actually been homeschooled for the past six years now. I'll be a senior next year.
How did you get started in racing?

My brother rode before me and I've been hooked ever since then.
How far do you see yourself going in racing?

I'm planning on this being my life. I do it every day, all day. Everything from when I wake up till I go to sleep revolves around motocross.
Where will we see you trying to qualify next?

The next race I'll be at is Budds Creek. I plan on doing like six or seven nationals this summer—most of the East Coast ones.
Have you set any goals for yourself?

This weekend,. I hope to finish in the top 20 both motos. And not getting tired.
Have you stepped up your training routine since High Point?

Oh, yeah, a lot!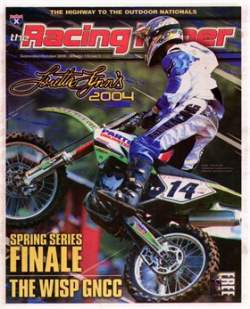 Brian nabbed the cover of The Racing Paper back in 2004 as an intermediate rider
You have anyone you want to thank, Brian?

Yeah, I'd like to thank my mom and dad, Mosites Motorsports, Creekside Motocross, Ten Racing, and Pro Action suspension.
Brian Shuckhart's Sponsors: