Hello, race fans! Welcome to the Number Cruncher, brought to you by Shift MX. Man, the Cruncher just seems to keep getting hotter and hotter, so we here at the Racer X office have been digging deeper and deeper into the vaults to keep the heat on. Flying your way this week is a very special number. While this number in particular might tend to hit a little closer to home for you NASCAR fans out there, the it also has a lot of great motocross history, and some of the fastest and most intriguing riders of all-time have worn it. We'll start with the letter:
Hey, would it be possible for you guys to do an article on the number 43? It's been my racing number since I started, and I could think of a few riders who had it such as Hannah, Bobby Bonds, Evans, and Richard Petty ran it in NASCAR. Thanks!
Kyle Murphy. NEMA #43
Now, I promise this will be the last time I talk NASCAR to you for a long time, but when my friend Kyle Murphy e-mailed us and requested us to Crunch #43, I had to mention the obvious, which means recognizing "The King" Richard Petty and his nostalgic #43. Petty was one of the most charismatic and quotable racers in the history of motor sports.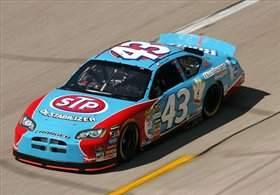 photo: Courtesy of Nascar.com
Richard's most famous quote was "I'd rather be lucky than good any day." But my favorite Richard Petty quote by far is when he said, "There is no question about when racing automobiles began. It began when they made the
second
automobile." Switch "automobiles" with "motorcycles" and it makes the hair on my neck stand up. The King took over 200 wins through a staggering span of 1,184 races. The first came in 1958 when he was only 20 years old, and his last in 1992, at the ripe old age of 54. His legend remains one of the most steadfast and respected stories in the history of motorized competition. The reason they have 43 cars in a Cup race? Take a guess. Today, the #43 continues to live on in NASCAR. Petty owns the number and the race team, but Bobby Labonte handles the wheel. Ah, but of course, this is a motocross website, with motocross sponsors and motocross fanatics. Don't worry, I have your back. I feel like we covered the motocross history of 43 pretty well. Enjoy.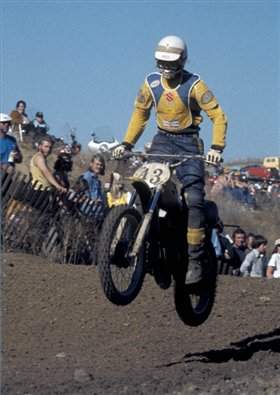 photo: Dick Miller Archives
Our oldest recollection of this number in motocross comes from Mike Runyard, shown here in what looks like the 1974 Trans-AMA Series. Runyard was an American motocross pioneer, and his time in the sport almost predated even supercross. He was a Suzuki factory rider who stuck around until the mid-1970s.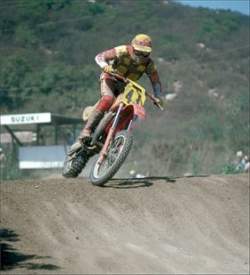 That's Andy Stacy, wearing his first two-digit AMA Pro plate in '82
photo: Dick Miller Archives
One of the early 1980s motocross warriors was Andy Stacy, younger brother of the also-fast Frank Stacy. They hailed from New York, and they were both fast. Andy ended up with a Maico factory ride after notching himself 1981 AMA Rookie of the Year honors. He enjoyed a long career that spanned more than a decade. He now runs Tuf Powersports in DeKalb, Illinois, and he's a very fast regular on the Racer X Vet Series circuit.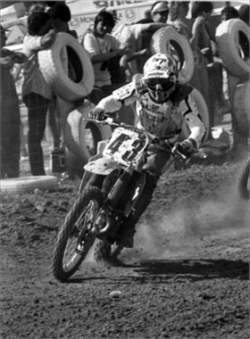 The Hurricane hits Gatorback
photo: Paul Buckley
While the aforementioned Petty was building his legend in stock cars, Bob Hannah was building his own legend on two wheels. Bob will always be known as one of the meanest, toughest, hardest-working and fastest riders of all time. If you tried to take Hannah out, he would try to break your leg (and actually admit to doing so). If you had a problem with him, "The Hurricane" would tell you to meet him at the back of the pits. The man was never afraid to speak his mind, yet it was his racing that did most of the talking. Bob wore a lot of numbers in his career, but 43 is a special one for him because it marked his last truly competitive year of racing on the pro tour in 1987. There will never be another Bob Hannah.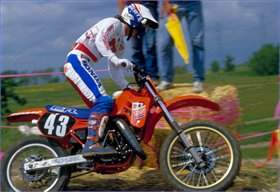 Micky Dymond leads the '86 Hangtown National
photo: Kinney Jones
The year before Hannah took over the digits, Team Honda's newcomer Micky Dymond rode them to their biggest success in our sport: the 1986 AMA 125cc National MX Championship. Dymond is one of my all-time favorite riders. I first met Micky at the 1989 Oklahoma City SX. I was playing video games—Altered Beast—and he walked in the game room and joined in. At first the super-long rocker hair threw me off, but when I glanced over and saw the Wolf Head tattoo on his right shoulder, I knew it was him! We burned through the better part of an hour and almost beat the game together, when he finally gave up he looked over and said, "Thanks, kid, that was fun." Of course, I was speechless. I screamed as loud as I could for him that afternoon, but he ended up going down on the start and pulling out of the main, but he was my favorite rider. Micky still twists the throttle hard to this very day and is actually the reining Supermoto Unlimited National Champion.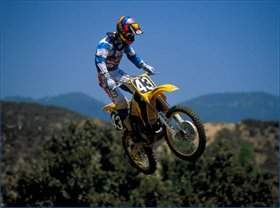 The young Yogi at Glen Helen's one-moto national race in 1993
photo: Davey Coombs
This was when Ezra Lusk had the world by the short-and-curlies. Lusk was one of the most anticipated and intimidating amateurs ever to make his way to the pro ranks. Fast, fearless, and unpredictable, Ezra always kept his fans on their toes. Think back to this time period – remember how many fast guys during this time were riding RM125s and wearing MSR gear? Denny Stephenson? Ty Davis? Jeff Dement? Todd DeHoop? Well, maybe DeHoop had Hi-Point gear, but man, it seemed like there was a never-ending line up of factory Suzuki Pilots during this time period. Ezra was one of the fastest.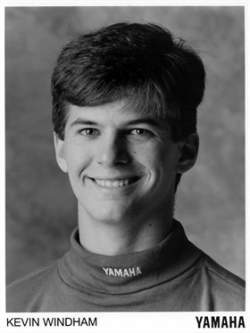 Think of these Yamaha press-kit photos as Kevin Windham's rookie card
Remember when
Kevin Windham
switched from Team Green to Yamaha for the 1995 season? He wore the #43 because he had that great
High Point
ride the year before on the #510 KX125. But he had some problems in '95 and only finished fifth in the 125 East Region SX Series, leading some to think the move to Yamaha was not a good one. Well, Windham ended all of that speculation with a stellar '96 season, winning the East and finishing second in the 125 Nationals.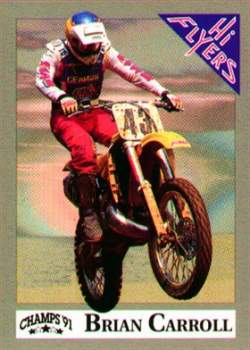 New Jersey "Hi-Flyer" Brian Carroll
Brian Carroll came out of retirement a few years ago and raced his way to the Four-Stroke class title at Loretta Lynn's AMA Amateur National Motocross Championships in 2001. What was cool was that Brian would always race as a vet with an American flag over his gear—and this was way before September 11, 2001. He was one of the top prospects ever out of New Jersey, and he and his father made a great team.
If charisma won championships,
Travis Preston
would be The GOAT. You know how Kevin Windham barley looks like is trying when he is riding his fastest? Well, In Preston's case, he is the funniest when he is just talking normally. Both instances make little sense, but are equally effective. But I digress. Preston has made a name for himself with his riding. Before he became the 2002 West Region Champion, Travis worked his way to Team Honda by riding hard for teams like Fast by Ferracci Husqvarna and, as shown here, the Moto XXX team. Travis has been on a long road, one that has been fraught with peril, but he now holds one of the best rides in the industry, riding the mighty CRF450R. Travis hasn't set reached his full potential in his brief tenure in the premier class, but he is doing the best job he can and is one guy you can always count on to have a smile.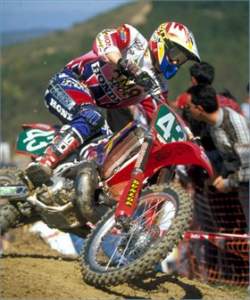 German star Pit Beirer in Talavera, Spain, in 1995
photo: Davey Coombs
Talk about charisma, one of the best riders in the history of Grand Prix motocross never to win a world title must be Germany's Pit Beirer. He was also a fierce motocross rider but a friendly person in the pits. He gave the Americans hell at the MXdN through the 1990s, but he was tragically hurt a few years back with a massive crash. He sits in a wheelchair now, but you would never know it by his energy and tenacity in working with KTM's Grand Prix squad. Come to think of it, he's a champion after all!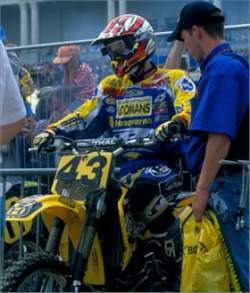 That's the well-sponsored Willie Van Wessels, says MXGeoff
photo: Eric Johnson
Now, I don't know a lot about the cat shown here, other than the fact that his name is Willie Van Wessel. The photo was snapped off by non other that Eric Johnson at the Citadel at Namur in 1999. But he must be good, because those are a lot of sponsors!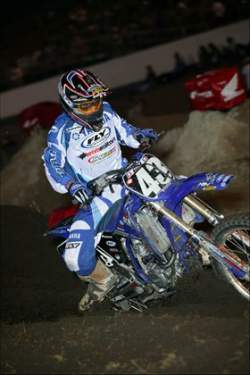 The very fast, very smart, and very dedicated Ryan Clark
photo: Simon Cudby
Ryan Clark is the man. Ryan was not a minicycle standout or even a 125 standout or not much of a standout of anything, actually, as the Albuquerque prospect tried to make a name for himself on the circuit. He struggled, he had failures, and he never got the "big break." I grew up racing against Ryan all the way from 60s to the 250A Mod class at Loretta Lynn's. Now, when I attend a supercross and see the Team Solitaire 18-wheeler, with four sano Hondas under the awning and Ryan himself out there knocking down seventh place (like Detroit) in the 450 main event, it makes me smile big. It's crazy to imagine what a tiny little column in
Racer X
, the right amount of work ethic, and a little luck will get a man now a days. Clarkstar is definitely one of the good guys.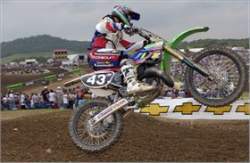 A rare photo of Bobby Bonds, very fast but terribly unlucky
photo: Steve Bruhn
This is a kid that should have made it. There was a time when
Bobby Bonds
was arguably one of the fastest riders in the country. He was easily the fastest amateur and was winning the pro classes at the amateur nationals by astonishing margins. Sadly, he would suffer one broken arm after the other. Then he ran into Grant Langston – actually, Grant practically backed into
him
at the bottom of a fourth-gear downhill at
Hangtown
in a move that to this day I say ended Bobby's career. Then he had a really bad crash at the Anaheim opener in 2001, broke his shoulder and his neck, and almost lost his life. Bobby has been seen doing some WORCS races out West but has otherwise dropped off the motocross radar. Bonds' story is an unfortunate one, and I wish things had turned out better for the kid.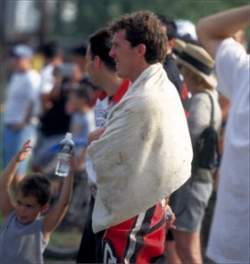 Suzuki's Barry Carsten ran #43 ... along with a lot of other numbers!
photo: Davey Coombs
I was just thinking, every time we Crunch a number between, say, 31 and 96 or so, chances are almost even that Barry Carsten will have worn that number! That's certainly the case here, as Barry wore the number 43 a half-dozen years ago.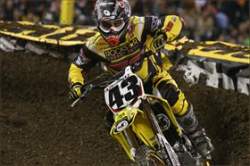 Mr. One Punch, Tyler Evans
photo: Matt Ware
The current residence for number 43 lies with none other than Tyler Evans. The, uh, notorious privateer they call "One Punch" is a former winner of the Top Privateer award and has made more supercross mains than he has tattoos, and that's a bunch. Hailing from the mean streets of Salinas, CA, Evans enjoyed little success in the 125 ranks and actually stepped away from the sport altogether for a while. Tyler went and rode freestyle with the Metal Mulisha and proved that he was quite good as an FMX guy. When Tyler returned to racing, he had some newfound speed and confidence. He didn't waste much time getting on Duke Finch's bad side, as Tyler began pulling tricks during practice and sighting laps. The drama and controversy has only picked up speed and magnitude from there. Evans has fed off of this noise and, with some decent results and a little help from Clear Channel, is actually a pretty cool part of opening ceremonies. One thing is for certain: Tyler is one of the most
interesting
riders to ever wear the number 43.
We can even dip down in the amateur ranks and find a familiar number on the plates of one of the kids in the country.
Eli Tomac
wears #43 on his factory Suzooks, and he often takes the digit right into the winner's circle. Not sure what the significance is for him, but it's working. Look for him in a supercross near you within three or four years.
Stop the neon presses! Check out this
Dirt Rider
cover from back in the day featuring the #43 test bike of Rich Taylor. We remember Rich running a lot of numbers out on the racetrack, though #43 doesn't seem familiar.…
That's it—did I leave anyone out? What number do you want to see next in the Shift MX Number Cruncher? E-mail letters@racerxill.com.