Between the Motos: Andy Leisner
If Andy Leisner hasn't been the busiest man in motorcycle racing, he is about to become that—at least for the next six weeks, anyway. Leisner is the vice president of sales and marketing of Mazda Raceway Laguna Seca, which will host the 2006 Red Bull United States Grand Prix on July 22-23. Leisner and the whole Mazda Raceway Laguna Seca crew have been burning the midnight oil (and probably more than a few cases of Red Bull) getting ready to stage the biggest motorcycle race of the year. We got him to slow down just enough to talk to us about the race, the stars, Jeremy McGrath, and even Brad Pitt!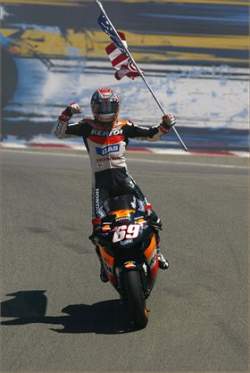 Repsol Honda's Nicky Hayden won the 2005 Red Bull USGP

Racer X: The motocross world right now is talking about the end of the Perfect Storm 2, the outdoor nationals and Ricky-versus-James and everything, but arguably the biggest race on the calendar for the entire nation is coming up in about a month, and that's the Red Bull USGP at Laguna Seca. You have to be busy right now.
Andy Leisner: Yeah, we're really, really busy. I'm looking out my window right now at the track and I'm watching it get repaved, with a lot of dirt being moved. We got about $5.5 million worth of work going into the track to get it ready, and we're just scrambling to get this race set up. Last year was the biggest event ever in the 50-year history of our track. We had a three-day attendance of over 153,000 people, and it's a lot of work. The day after the GP last year we went to work and it's going full steam ahead right now.
You came to this job after working at AMA Pro Racing, and before that you were an ad rep at Cycle World. And a long time ago you were actually a Grand Prix road racer yourself….
Yeah, I actually raced in the first World Championship round that ever visited here back in 1988, when the World Championship came here for the first time, back in the days of 500s and 250s. I raced in that event and the '89 event, as well. I spent the '89 season traveling the Grand Prix circuit. I raced that series pretty unsuccessfully. I think I set a new GP record for the number of crashes in one season--I crashed 23 times that year, but it was a great education and a fun year.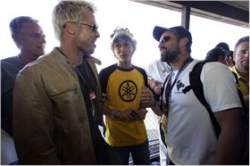 Brad Pitt and Matt LeBlanc were a few of the celebrities to come out and watch Valentino Rossi

Well, futility has a champion, too—that was me in supercross! But with all of your experience in the industry, did any of that prepare you for the wonderful madness that was the first Red Bull USGP?
[Laughs] I would like to say that it did, but to be honest, it didn't. We knew that we had a lot of people coming here. We saw the numbers on paper and knew our tickets sales, and we had to stop sales two weeks prior to the event because it was so big. But when that large number of people showed up here, it really impacted us hard and we got caught behind in a couple areas, which we have completely fixed for this year. Traffic, parking, restrooms and concessions stands—every place where we came up short last year, we had fixed for this year. It was a tough weekend, but I'll tell you what, the two big moments for me were the first time the MotoGP bikes rolled out on to the racetrack…. There's absolutely no sound in the all of the world like a MotoGP bike. No motorcycle, car, or engine sounds like a MotoGP bike. It was fabulous. And then Nicky [Hayden] on his cool down lap with the American flag; that made it all worthwhile.
We had several members of both the Road Racer X and Racer X crew out there, and I know that Langers' highlight was when he was standing at the Red Bull party and next to him on one side was Jeremy McGrath, and the other side was Valentino Rossi and Brad Pitt. So Langers had to get a photo, he looks around and then hands McGrath the camera [laughs]! And Jeremy went ahead and took the photo for him.
I had a similar incident earlier in that day when I was with Brad, escorting him around, and Jeremy ran up to me and like a little kid and said, "Andy, Andy, do you think I could meet Brad?" Here's a guy who can't walk in public without getting assaulted for autographs—a genuine hero—and he was wanting to meet Brad Pitt, so that was pretty neat.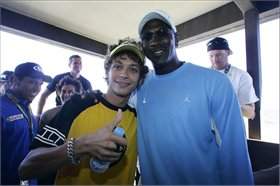 Michael Jordan is a regular in the AMA road racing paddock

Looking ahead, I saw recently in some of the media for the event that they're going to have a dedicated motorcycles-only entrance.
Yes we are. We have one road, Barlay Canyon, it's a road that comes in off or Reservation Road through the backside of our property. That will be motorcycles-only, so they won't have to deal with cars and splitting lanes or anything like that. They can come on their own, and vice versa. All of the general car parking will be handled off site, and we'll use shuttle buses to bring them in. We've never done it, but we've taken a page out of the AT&T PGA Tournament playbook here—they've been doing it for years, using the same lot and the same shuttle buses to bring all of their spectators into Pebble Beach for the PGA Tournament. It's something that works really well and it will save people a couple hours of their day.
Now last year, as you mentioned, one of your highlights—and certainly any red-blooded, Red Bull-drinking American fan—was seeing Nicky Hayden win the event. But this year you have Hayden, a bona fide World Championship contender. In fact, he's tied as we speak with Loris Capirossi in the championship, and that would certainly be one of the greatest upsets in MotoGP history. So this time Nicky is not only going for the win, he's going for the world title as well.
Yeah, it's great to see Nicky right there. He's been so consistent—I think he's been on the podium nine out of the last 10 races, but he hasn't won since our race last year, and he's desperate for a win. I know he really wants to win here and Colin Edwards really wants to win. It's Yamaha's home track, so he and Valentino will really be fighting for it. Plus, this is the largest market for Ducati motorcycles in the United States and Ducati really wants to see their bikes up front as well. Plus Marco Melandri, who struggled here last year, is going to be out for blood as well. There's going to be over half a dozen guys that could win this race.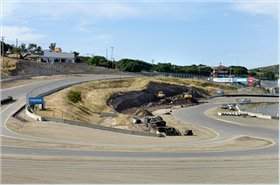 Turn 2
photo: Courtesy of Laguna Seca

Well, after watching the GP from Mugello on Speed TV on Sunday, wow, I've seen a lot of wonderful supercross and motocross races, but seeing Valentino Rossi slip back to fifth and race back to first, dicing the whole way with Capirossi and Nicky and more, anyone who has watched that race has to be calling you for a ticket right now.
Yeah, that was amazing. It was absolutely one of the best modern-day GP races I've seen. If we can have half that battle here, it would be fantastic. And we talk about motocross a lot—and obviously your readers are motocross fans—but what I really like about this track and what Nicky likes about this track is on the MotoGP scale, this really is a motocross track here. Most European circuits are long and fast and flowing and smooth, whereas this track has elevation changes, blind corners, off-cambered corners—we even have a little part of the track where bikes were getting airborne last year. The Europeans don't like the track so much, but the Americans like Hopper [John Hopkins] and Nicky, who ride motocross to train, they love this place.
And speaking of the Americans, you'll also have a round of the AMA Superbike series, right?
Yes, we do.
And you have Ben Spies all over Mat Mladin, which is like Ryan Villopoto suddenly challenging Ricky in the 450 class.
[Laughs] Exactly, and the way Spies is riding this year, he's just a step above everyone. He looks like a MotoGP rider at this point, and I know he lost to Mat last weekend at Road America, but he made an interesting comment on the podium there. He said, "Just wait till we get back to some of the physical tracks." And this is probably the most physical track on their schedule as well, so I think Spies will be a real fun guy to watch here.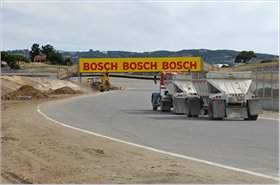 Turn 4
photo: Courtesy of Laguna Seca

I've learned over the years not to believe everything I read on the internet, but there was a post on the well-worn and sometimes well-imagined MotoTalk message board a couple weeks ago that Ben Spies was thinking about racing supercross. Do you have any idea where that came from or what they might be about?
[Laughs] Really? I don't at all, but I wish I did. That's a great rumor and I think he'd do really well at it.
But he'd be throwing an awful good thing away. That'd be like Reggie Bush saying, "To hell with this, I want to play soccer." Okay, another question: Is Brad Pitt or Matt LeBlanc coming back?
All I can say is that we have a lot of celebrities who are very interested in coming and have inquired about tickets. I think we can help them out on that, but their schedules are so fluid and change so much that, like Brad, we talked with him for six months, and we really didn't know if he was coming or not.
So who was the biggest star there last year? Was it Brad Pitt, Michael Jordan, or was it Valentino Rossi? Or does it just depend on where you were as a fan?
Well, I got the opportunity to walk around with Brad quite a bit, and it was amazing to see grown men and women completely become children and push through crowds just to touch him or get a picture with him. It made me finally appreciate why a celebrity would rent a whole hotel or island to get away.
Or go and have a baby in Namibia.…
Exactly. But I then had the opportunity of driving around a little bit with Valentino and drove him up to the Red Bull party that evening, and what I saw with Brad and the fanaticism with driving him around, it was even more so with Valentino. We had people climbing on top of cars to try and get a picture or view of him. It was insane. So I think the biggest celebrity there that weekend had to be Valentino.
I'm sure Michael will be back, because he has a few riders coming, but if anyone else wants to come and they're not a VIP, how do you go about getting tickets for the event?
Call us up. We still have a lot of tickets available, but we'll probably sell out again as we get close to the event. You get them by calling 800-327-SECA.
What about a website for the event and facility?
It's www.redbullusgrandprix.com, and you can get all kinds of cool information there. You can order tickets there, too, and find out where to stay. We had a situation last year with a lot of hotel shortages, but there are still some hotels available in town and you can locate them via that website.
Well, I know that you're getting ready to grab another gear after you hit the front stretch here. Thankfully, you probably have some Red Bull handy.
[Laughs] I'll tell you what, if we didn't have a good supply of Red Bull here, we couldn't get this thing in, because we're working some long hours.
It's like Anaheim 1, 2, and 3 and Atlanta and Vegas, all wrapped into one.
That's right. The energy that's at Anaheim 1—that's really what we had here, it's just in the air. It's pretty neat.
Well, good luck getting to the finish line, and I wish you good weather and safe racing.
Thanks, Davey.