Monday Conversation: Brett Metcalfe
What do Mike Alessi, Brett Metcalfe, Andrew McFarlane, and Josh Grant all have in common, besides being the top four finishers at the Hangtown 250F National two weeks ago? Turns out that all four of them were in New England this past "off" weekend to race the invitational at Southwick. The winner? Yamaha of Troy's Brett Metcalfe, runner-up two weeks ago at Hangtown and now a bona fide Toyota AMA Motocross Series contender. For this week's Alpinestars Monday Conversation, we caught up with Brett at his home for the week—the parking lot of Mototown USA.

Racer X: Usually on Monday I have to track you down in California, but not this weekend. Are you in Massachusetts or Connecticut, or do you know?
Brett Metcalfe: [Laughs] Um, that's a good question! I think it's Connecticut – Windsor Locks.

You were up there for the Southwick Invitational, and from all the reports I've seen, it sounds like you had a heck of a day.
Yeah, it was a pretty awesome day. I won all four motos. I don't think I've won four motos straight since I was back in amateurs in Australia! It was pretty cool, man. I had a great day and everything worked out good.

So did you win all of them on a YZ250F or did you ride a 450, too?
I rode the 450 in the first 450 moto, which is called the 200 Plus class, and me and Andrew [McFarlane] had a pretty good battle. And in the last moto, I didn't ride it because it's too much of a beast. And then I rode the 250F class in the 125 class. I think I go faster on the 250F.

Let's start with the race itself. It sounds like it was a pro national with all of the talent that was up there.
For sure. It was myself, my teammate Andrew McFarlane, Mike Alessi, and Josh Grant. And in the 450 class it was Davi Millsaps and Jeff Dement, who had a big crash and knocked himself out. There was also Bryan Johnson, Martin Davalos, and a couple local guys who were going really fast.

This is the first time that you've probably been on that track when they ran it backward. How did you like it?
In practice I was kind of skeptical because the old track was so cool. But at the end of the day, I thought the track was kind of cool. I like it and it got rough as hell. All week I've been hearing, "It's going to be rougher backwards." I don't know, it was pretty rough, but I can't wait for the national.

A couple years ago, I went up there between amateur day and the national, and they had let it be after the amateur racing, and it was the roughest track I've ever ridden! It was as rough as Cocoa Beach used to get down in Florida. That's where RC and Stewart were raised.
Yeah, it was rough, but it was pretty good.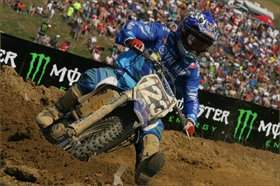 Metcalfe had his bars bent at High Point after colliding with Kelly Smith
photo: Matt Ware

What are you going to do for the rest of the week?
I'm just going to ride around this area. I'm actually staying at Mototown U.S.A. It's pretty cool. It's an awesome facility and they have a really good sand track in the back, so we're just riding here and around the area. There seems to be a lot of tracks all hidden in the trees and stuff.

Have you ever seen a place like Mototown?
No, never. It's insane!

Once they get that place going, I think it's going to be a great destination, not only for amateurs in New England but just anyone who wants to spend a week in the winter just training and riding.
Oh yeah, it's perfect for the winter here.

Let's go back two weeks. What happened at High Point? You were coming off that great race at Hangtown, but it seemed like you couldn't catch a break in Pennsylvania.
No, I didn't. The first moto was just me: I started off okay but I didn't have the right bike setup, and I started making mistakes and riding tight and I blew it myself and crashed. In the last moto we changed the setup and everything was going good, and then I went for the pass on the downhill staircase and I went inside Kelly Smith and he went outside, then he doubled in and just landed straight on top of my arm. It wasn't his fault—we just came together. But he landed on my handlebars and they bent straight down. Luckily, neither of us crashed or got hurt, but unfortunately, my bars looked like Ricky's bars or something. They were all tweaked, so it took me a few laps to kind of get dialed in riding with my right arm way down. So I just did as good as I could, and that's about it.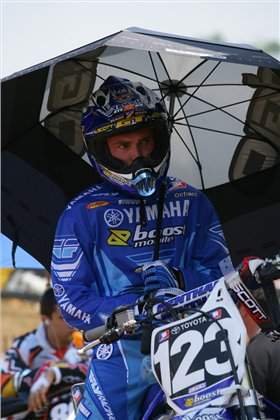 Metcalfe hopes he and McFarlane have a good time in the sand this Sunday
photo: Simon Cudby

The day you and Andrew had at Hangotwn was probably the second greatest day in AMA motocross for Australia, the first being all the way back in 2003 when Craig Anderson and Michael Byrne went 1-2 at Southwick. Is that a possibility this season? Can we possibly see two more Aussies on the podium at Southwick this weekend?
I think there is definitely a good chance. Andrew is a strong rider in the sand and I love it – it's one of my strong points. If all goes well and we get good starts and ride smooth, I think we can do it.

Is getting out of the first turn harder at Southwick when you go left, like it's going this year, or when you go right?
I don't know. Once again, I heard all week that the left-hander really sucks, but I thought that the old first corner sucked anyways. I didn't mind it; I thought it was okay. I really didn't see too many pileups or anything in the first turn.

That old first turn, you'd have to take your foot off the brake and do a 180, and then it was long, fast, and scary going up through there.
Yeah, it kind of bunches up now, but everyone funnels through. I think it's a little bit cleaner.

Good deal. Well hey, congratulations. I know MotoDude on Mototalk and Coach Ryno will both be proud of how you and Andrew did, and they'll be pulling for you this weekend.
All right, thanks a lot, Davey. I also just want to thank my mechanic, Keith - he busted his ass all week to get my bike ready. I want to thank Yamaha of Troy, Boost Mobile, Pirelli tires, Fly Racing, Scott goggles, M2R helmets, Alpinestars boots, DonJoy Knee Braces and Living Fuel.

See you at Southwick, Brett.
Thanks, Davey.