Great Races: The 1993 Motocross des Nations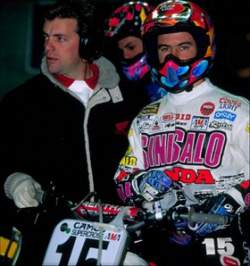 Jeremy McGrath and Skip Norfolk
"That was one intimidating day," said Skip Norfolk looking at the "Team USA — as Usual in Austria" article in
Cycle News
. With a dateline of Schawnenstadt, Austria, September 12 was about Team USA's 13th consecutive victory in the Motocross des Nations. That afternoon on the fairy tale-like lush green hillsides of the Central European nation, the American team, consisting of Jeff Emig (125cc), Jeremy McGrath (250cc) and Mike Kiedrowski (500cc), narrowly defeated team Belgium by a single point. And while all is well that ends well, for one particular U.S. rider — namely Jeremy McGrath — the 1993 Motocross des Nations was actually more gut-wrenching than it was heartwarming.
On January 23 of that same year, at the then-named Anaheim Stadium, the 250-class rookie McGrath won his first 250cc Supercross. For all intents and purposes, he never looked back, winning nine of the next 13 races and the 1993 Supercross Championship. Team Honda sent McGrath out on the 125 in the 1993 National Motocross Championship Series. And while he won the opening won a couple of rounds, McGrath was not on the same pace as class leaders Doug Henry and Jeff Emig.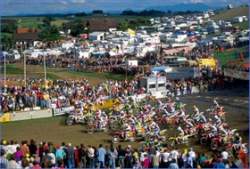 Two-row starts are no longer used at the Motocross des Nations
But for the first time ever. a fan voting process was utilized to choose the 1993 U.S. Motocross des Nations team. McGrath, the sport's new superstar, was voted to represent Team USA on the 250. All well and fine, but the truth of the matter was that McGrath was a great 250cc supercross rider, not necessarily (at least at the time) a world-class 250cc outdoor rider. Painted into a corner and realizing that McGrath might be in over his head come September and Motocross des Nations time in Europe, the American powers that be suggested that McGrath ride the 250cc U.S. Grand Prix at
Budds Creek
. And while a young Belgian rider named Stefan Everts won the race, McGrath ran towards the front and acquitted himself as the people's choice for the 250cc seat in Austria.
"I remember being at
Budds Creek
that day," reflected Skip Norfolk who served as McGrath's mechanic at the time. "After the race, Dave Arnold [Team Honda manager] and Roy Janson [now a Vice President at Live Nation] approached us and told us that Jeremy was going to be the 250 guy for the Motocross des Nations. Even though Jeremy was a 125cc guy that season, we worked hard on the 250 when we could and got him comfortable on the bike"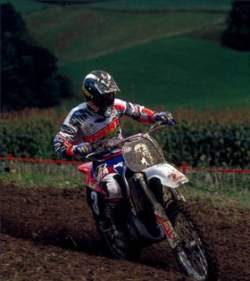 Jeff Emig's MXdN experience helped him to solid rides in Austria in 1993
On Saturday, September 11, Team USA rolled into Schawnenstadt. A classic, 1.2-mile natural terrain motocross circuit consisting of steep, power-robbing uphills, treacherous downhill ski jumps, several greasy off-camber corners and high speed straights, it was about as far away from, say, Qualcomm Stadium that one could possibly get. And when McGrath took to the bright green grass for timed practice reality set in.
"That was when it got really intense," Norfolk remembered. "Jeremy was in a bundle of nerves, and rightfully so. Here he was in Europe, riding in the premier class against the best guys in the world. There was so much pressure. This wasn't Jeremy's backyard or Jeremy's country.
"And then there was 'The Streak,'" Norfolk added of Team USA's miraculous run of 12 straight MXdN victories to that point. "The Streak. Nobody wanted to be a part of the team that lost.
"During timed practice, I ran around looking for a timing monitor," Norfolk continued. "When I finally got to one I looked at it and we were not even on the page. I was like, 'Huh? This isn't a good sign.' Things started to come around, though, and Jeremy worked through the nerves and started putting some serious laps down. Still, the very best we did was ninth. We were way out of the top five. The only good thing about that was that seven of the guys ahead of us, and I don't mean any disrespect here, were guys we had never heard of before!"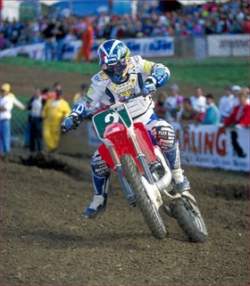 McGrath still thinks of the '93 MXdN as his most nerve-racking race
On numerous occasions, McGrath has claimed that the Sunday morning of the 1993 Motocross des Nations was the most nervous he has ever been in his life. Norfolk, who was right by his side, added, "Were we nervous that morning? Tight? Man, that's an understatement. Jeremy was so nervous. Everyone was so nervous."
But in the opening 500/125 moto, Kiedrowski rode to his victory on his big Kawasaki KX500 while Jeff Emig narrowly missed nipping Italian rider Andrea Bartolini at the finish line for the 125 class win after battling with Frenchman Yves DeMaria, taking second after making up six seconds on the last lap.
Next up came the 250/125 moto. "The gate dropped and guy who never ceased to amaze me became a racer," said Norfolk. "Jeremy dealt with the nerves and everything else thrown at him and went out and finished fourth in the moto, behind some pretty stellar individuals: Stefan Everts, Alex Puzar—who was the fastest guy in practice—and Kurt Nicoll. Jeremy rode great. Really well. Looking back, fourth was nothing near his potential, but considering the nerves and pressure and all, he rode an awesome moto."
Meanwhile, in the 125cc class, Emig had done the American motocross way of life proud by racing away to a clean-cut moto victory aboard his YZ125. With the best five of six motos counting toward the overall victory, things were tight. Tight enough that certain members of Team USA started counting numbers on fingers, toes, and calculators.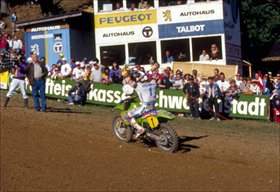 The hero of the last moto for Team USA was Mike Kiedrowski
Said Team USA representative Roy Janson in
Cycle News
: "The best of three scores are really all that matters right now. We have four points, Italy has seven, Sweden has seven and Belgium nine. If Italy or Sweden wins both classes, we would lose even if we took two seconds. And we can't forget about Belgium."
America's plight was eased somewhat when Italian rider Puzar and his Chesterfield Rinaldi Yamaha YZ250 arrived at the parc ferme 15 second late due to a mass of fans that had gather at the gate. Time had run out and Puzar was not allowed to race—Italy was out of it. When the gate dropped for the final 30-minute, plus two lap moto, Team USA found itself in dire straits. "We though Jeremy was a better starter, but the team decided to put Kiedrowski on the front row for the final 500/250 moto — this was back when they ran a two row start at the des Nations—and when the gate dropped, Kiedrowski didn't get the jump, Jeremy ran into the back of him, and they both started from WAY back. Jeremy was buried in the back. But when Jeremy came around to complete the first lap, I could see it in his eyes. He knew we were in trouble. He was going around the track and knew what was happening. He was so far back, I thought, Okay, we're throwing away our moto.'"
Meanwhile, Kiedrowski, who fell on three separate occasions during the opening phase of the race, desperately picked off any rider that he could, fighting his way to ninth before finding his rhythm.
"We were sitting there watching Mike and Jeremy and saying, 'Okay, we're going to lose. We're going to lose to Belgium,'" Norfolk said. "Up front, Belgian Marnicq Bervoets led on the 500 class, while Everts closed in on 250-class leaders Kurt Nicoll [England] and Frederic Bolley [France]. Kiedrowski kept charging, though, passing Sigi Bauer [Austria], Colin Dugmore [South Africa] and Soren Mortenson [Denmark]. The three positions Kiedrowski gained put Team USA over the top. The Americans had won it again.
"Kiedrowski was absolutely amazing," Norfolk said. "Kiedrowski was the man. He finished it and took care of business for us. When Jeremy came by on the last lap, we knew we had won. I wrote something on the board to the effect of. 'We're okay. We still won.' After the race, Jeremy was super humble. He said, 'I know I didn't win it.' Still, he was happy his fourth place contributed to the win. He was also extremely relived that the team had won it. It just goes back to nobody wanted to be on the team that broke the Motocross des Nations streak."
Norfolk, who today works as the general manager of product development for No Fear Motocross, looks back at the 1993 Motocross des Nations fondly: "The thing that sticks out the most about that race was how three extremely competitive athletes working for three different, highly competitive manufacturers came together as a team. There were no secrets. There were no agendas. We were there working as a team. I have to say that, personally, for me, I feel that I was very fortunate to be a part of that team. To represent your country at that point in history was incredible. It was a very, very big event."
The next year, 1994, Team USA finally lost. The win in Austria—the thirteenth in a row—was the last.