Thursday Rev-Up: Imperfection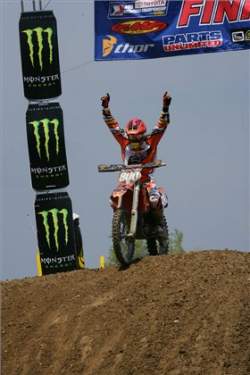 He was 3-3 at this point
photo: Simon Cudby
Hello, everyone, and welcome to the Rev-Up. Its break time again. And if there is one person on the planet that is the happiest about that, it has to be
James Stewart
. I know, I know, we've been talking about it all week and it's old news, but I haven't gotten
my
shot at that particular issue, or the weekend itself. And now it's Thursday—wait a tick, Friday—and I have a lot to say about both. Attending an outdoor national that is 10 miles from your front door is incredible. Actually, it was perfect.
I peeled my face off the pillow Sunday morning around 9:30 when the morning sun finally cooked me into consciousness. It was a rather groggy morning. Clint had wrecked really badly the night before at Charlotte and I proceeded to hose my anger and disappointment down with beverages. Man, I was pissed off. But now it was a new day and the delicious knowledge that it was High Point race day obliterated my sorrow and hangover in one fell swoop. So I grabbed my Racer X "174" T-shirt and my wallet and headed out the door with a skip in my step. I was only two feet outside when the first invigorating rays of sunshine hit me. Another two steps had the smell of the neighbor's freshly cut grass floating up my nostrils. It was perfect.
It was big smiles for me as I sped down I-68 with 10,000 Days blasting on the radio and the windows rolled down. As the exit sign reading "Mt. Morris" came into view, my left foot began matching the beat of the drums on my stereo. My right foot pressed the gas a little harder. I pulled my beloved black Nissan Frontier into the free parking section, and before I could shut off the motor, I noticed it was being drowned out by the thunder of the morning qualifiers. The skin on my arms immediately shredded into goosebumps. It was perfect.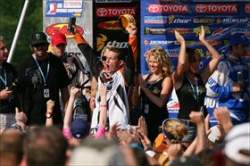 Still "The Man"
photo: Simon Cudby
Upon my arrival at the track, I made my way over to the Racer X tent to say hello to Mike "Fubar" Farber. He had watched the Busch race with me the night before and I was curious to see how he was wearing his smile in lieu of the previous night's drama. As per the norm, Mike was running around the tent like a madman, passing out stickers and "zelling suzcriptions." A nod and a high-five later, I left Mike alone to continue doing what he does best.
Soon after, I joined "Bad" Billy Ursic and the rest of the usual RX suspects in the suites to escape the sun and watch the vintage guys ride a lap on the track. Glover, Stanton, Chuck Sun, and more, all on their old-school steeds. Glover had a JLS-1 with a fresh paint job, Stanton was riding with that distinguishable style he always had, and Ryno was cutting a lap on a 1981 YZ400 that would have matched some of the guys in the 250F class. It was perfect.
Soon, the first motos were lining up at the gate and stomping their dirt launch pads into submission. I looked over at Bad Billy and said, "Wanna bet $1,000 Alessi doesn't get the holeshot?" He replied by just coolly staring ahead and responding with a slow shake of the head. In an instant, the gate went down and the thunder of the 250F riders met the air - quickly followed by Andrew Short hitting the deck! And rounding the first turn was not an orange fender, but Josh Grant (though it turns out that Alessi did lead past the Racer X Holeshot line, only to be passed by Little Goose on the outside and then Josh Grant, but since we didn't say or see the holeshot line, the bet is a push). Grant went to work and did his best to put the pack in the hurt locker. Meanwhile, Alessi and Grant Langston were locked in a battle for second that was pretty spicy. Mike seemed to be letting Grant have some room, while the Zulu Warrior was showing some surprising staying power, what with that bum arm and all.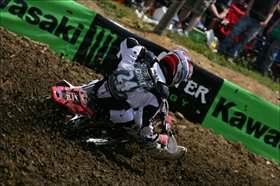 As soon as this guy stops crashing, he'll start winning
photo: Simon Cudby
While all of this was going on up front,
Ryan Villopoto
was on a mission. Number 51 made his way to fourth, but it looked like that was as far as he would make it. Then the shit hit the fan: Grant dumped it and gave up the lead to Langston, who then dumped it himself and turned it over to Mikey Boy. I picked Mike and Ryan to go 1-2 in last week's Rev-Up, so I was stoked.
After an incredible first 250F moto, the stage was set for fisticuffs between the two men, one of whom is the king and the other who will surely one day be king. It was perfect. The moment I had been waiting for was finally upon me. Ricky Carmichael and James Stewart were pushing their bikes to the line and preparing themselves to enter the six-sided ring of fire. I was stoked beyond all recognition, but something was wrong. I was in the suite checking out James' bad-ass green gear through a pane of glass; I was hearing Tim Cotter whooping up the crowd through a speaker, and I had an empty bottle of water in my hand. Now wearing a frown, I looked down into the sea of quickly-becoming-sunburned fans and noticed a rather tall one standing by the fence, wearing a black Racer X Films shirt, carrying a cooler of beer. It was Dave Brozik.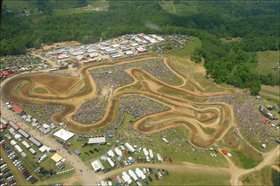 It was perfect
photo: Matt Ware
With the drone of a dozen
Racer X
"kids" who were stuffed in the suite with us beginning to wear me down, I decided to exit stage left and see if Dave needed any help carrying his cooler. As the 450 machines completed their sighting lap and lined back up at the gate, I made my down to Brozik – and his cooler. I was smiling again: 25,000 motocross fans, the bright colors of the track banners, the incredible track conditions, and the more incredible weather conditions now surrounded me. There was a 30-foot-tall speaker system pounding out music and bikini tops as far as the eye could see. In addition, the empty water bottle in my hand had been replaced by a coozie-covered Miller Lite. It was perfect.
Spielberg couldn't have scripted it better. Carmichael and Stewart got out one and two. Ricky tried to get away but James was just too strong. With the GOAT riding (comfortably) about three seconds back, I overheard some fans saying, "What's wrong with Ricky?" "He's just saving it for moto two." "I guess James is better." This was four laps in to the 30-minute-plus-2 moto. I just smiled with the knowledge of the inevitable shit storm that I predicted would go down a little past the halfway mark.
I was right.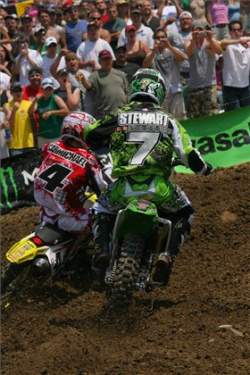 Battle for the ages
photo: Matt Ware
With the mid-afternoon sun beating down and lappers becoming more and more abundant, the thunder began to roll. Carmichael picked up the wick, and he was a-comin'. This was it. The moment everyone wanted to see. And it was scary. James was flipping his KX450 pancake-flat on the triple and RC was dragging the radiators off his RM-Z in the turns. They were pushing it
hard
. The two were riding so hard and going so fast, it seemed surreal. But the noise of the crowd and the adrenaline in my veins was very real. As RC drew to the rear fender of Stewart, I was jumping up and down and slapping high fives with anyone that would square up with me. Brozik and I were screaming, but it was so loud, he looked like a mime when he looked at me and said, "This is @#!%ing awesome!" The house was on fire. It was perfect.
All of a sudden, the crowd gasped so hard it almost sucked the banners off the fences. Carmichael got squirrelly in a rhythm section and hit everything but the kitchen sink as he tried to get back on the track. I thought to myself, Easy, boys—it's hot, it's rough, and it's going to be a long summer.…
James now had a comfortable lead again. Ah, but it wasn't over. Ricky dug back into the bottomless pit of determination he has in his guts, brought out the fishing pole, and started reeling him in again. I looked down at my watch and thought, Okay, 29 minutes in, maybe we'll see the 2-card. I looked back up and what met my eyes made my jaw and the Miller Lite in my hand hit the ground at the same time. Stewart's KX450 was 20 feet in the air, spinning like a seahorse in a tidal wave, sans James Stewart. It wasn't perfect.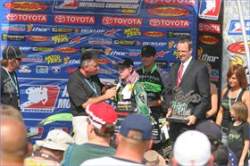 He'll remember his first outdoor victory for a long time
photo: Matt Ware
It was bad. I was a racer for a long, long time, and I have taken a crash at the end of a long moto on a hot day. It delivers unimaginable and unprecedented discomfort and pain. Imagine running as fast as you can in 90-degree weather, almost to the point of complete physical breakdown, then jumping in a scalding-hot shower and asking Royce Gracie to punch you in the face. It's like that. Only worse. I hated it for the fans, I hated it for the championship, but most of all, I hated it for James. Still hate it. Damn kid was going for it and was this close to doing what has not been done since RC climbed on a four-stroke. If he was going to do it, he had to be perfect. And he was everything but perfect. He had heart, he had style, and he had speed. But if you are going be beat RC, there is no room for imperfection.
James has a week now to get it all back. After a crash like that, he will need every hour. But he isn't done. He'll stand up, flip the bird to Ricky's face (figuratively speaking), and give it another shot. Next week is Southwick, guys. Oh dear.
Thanks for reading, see you next week.