Privateer Profile: Andy Bakken
Motoworld Yamaha's Andy Bakken has racing in his blood. His father, A.C. Bakken, was a top-level desert racer in his day and Andy is a chip off the old block. He's also a great guy and one of the young privateer guns aiming to make it in professional motocross racing. Andy had a rough start to the outdoor season in Sacramento, but he will undoubtedly put in some impressive rides before the end of the season. I sat "Bacon" down for this interview before he took off training on his road bike to find out his plans for the summer.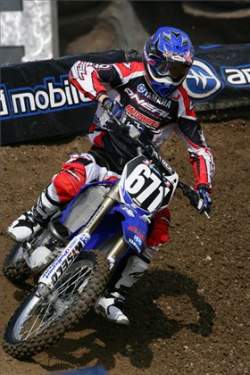 Motoworldracing.com's Andy Bakken

Racer X: How did you get involved with Motoworld Racing?
Andy Bakken: I've known Paul Lindsey for quite a while. I'm good friends with Andrew Short, and he and Paul are close, so that's how we met. I've been a Yamaha support guy for a while, and when Paul's team switched to Yamahas, we put something together.

Are you signed on to compete in the whole outdoor series?
My deal is kind of different. They basically just take my bike to the races and I ride out of their truck. I have to cover my expenses and my dad comes along to help out as my mechanic, so I can do all of them or just do the ones I want. It's up to me, really. I'm planning on saving up some money and then trying to do all of them from Budds Creek on.

I've heard that your dad used to be a desert racing champion. Is that true?
Back in the 1970s is when he raced. He's won the Baja 1000, the Baja 500, Barstow to Vegas, and he's won gold and silver medals in the ISDE.

Did he start you on a bike when you were little?
Actually, I had a bike when I was young, but my dad said I complained too much. I guess I would whine about how hard it was to ride it in the sand. He sold the bikes and bought a sand rail that we would take to Glamis. A few years later, I saw some guys on bikes jumping out there and I got pumped up on motorcycles again. I told my dad that I wanted to start riding again.

Was it Jeff Emig out at Glamis? He was a Glamis regular back in the day.
I don't know [laughs]. But I got a bike again when I was 14 and started racing when I was 16.

You were a late starter like John Dowd. That means you could race until you're almost 50 if you wanted.
That's good to know.

How did your first supercross season go this year?
Not that great. It was gnarly. I wanted to make the mains, and I never made one. It was hard for me to learn the track in such a short time. They don't have Friday practice anymore, and that would have been good for me.

What was your best race?
Dallas was going well until I crashed. I was in qualifying position in the heat race and then just went down. I was bummed, because I had it.

How about your first national at Hangtown a couple weeks ago?
It could have been better also. My lap times were decent but I crashed in my heat again and then got a bad start in the LCQ. That's not how you make it to the main events.

What is your plan for the rest of the summer?
I just want to be ready for Budds Creek and qualify for the races. I just want to get into the motos and get some experience.

Next year, are you staying with Paul? I know you have a great job offer from Yamaha, but it wouldn't allow you to race professionally.
I really want to race again. I feel like I'm still young, and I want to give myself a chance at this. The problem is that the job at Yamaha isn't going to be there forever, so it's a hard decision. I love racing, though, and I want to see what I can do next year with a little experience under my belt.

You live in a house with Nate Adams, Jiri Dostal, Jimmy McGuire, Logan Darien, and Ryan Morais. It's like a motocross frat house. What's that like?
It's cool. It can get hectic at times, especially in the driveway. We all have trucks, and we constantly have to shuffle them around so someone can get out. But they are all my closest friends, so it couldn't be any better. It's awesome to ride and train together.

What's the worst part about it?
Nate's farts.

Nice. Who do you want to thank?
My parents, for sure. They help me so much. Also, I want to thank Paul Lindsey and everyone at Motoworld Racing. Glen and all the guys are really cool to work with.

Good Luck, Andy.
Thanks.

Andy Bakken's sponsors: