Between the Motos: Joe McKeon
Joe McKeon, 32, a huge fan of motocross and supercross, recently launched www.visuwalls.com, which is based out of Roseville, CA. The website went online and was fully operational the weekend of Hangtown, and they specialize in interior wall graphics for supercross and motocross. The concept is very similar to Fathead, which focuses on stick- and ball-sport athletes. We talked to Joe today about his new venture.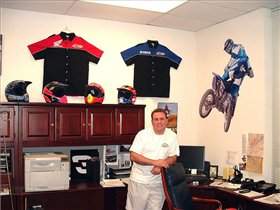 Visuwalls founder Joe McKeon

Racer X: Joe, first of all, tell us how you're involved with the motocross industry.
Joe McKeon: Well, other than being a fan, it would be mainly through this product that we're now producing. But I've grown up a fan of the sport. My dad grew up racing desert, so he's always been a huge fan. And it's a family thing. I've been going down to Glamis with my family since I was 6 years old, and we've been going to races since the Superbowl of Motocross down in the L.A. Coliseum. I've also worked within the sport doing freelance artwork for different companies, including Answer products and AXO. I'm also friends with Eddie Cole at 661. My dad has known the Coles for many years, and with our business in the past we kind of traded products with them.
So I'm assuming you're a graphic designer.
Yes, and I mainly just do freelance stuff.
How did you learn the trade?
I actually did a little bit of school – I got an Associate's Degree in Graphic Design – and a lot of it I'm just self-taught.
Now you're the creator of Visuwalls, which is an interior wall graphic specializing in cool photos and all of supercross and motocross. But where did the idea come from? Did you see a Fathead commercial and say, Hey, those would be even cooler if they were supercross racers?
You know what? That was it right there – you hit the nail on the head. We were watching television and those commercials are the most annoying things in the world. I was watching and it just hit me, because I'm always making stuff. I make my own graphics for my own bikes and everything, and I do a lot of illustration and stuff, so I figured there has to be something we could do with motocross and supercross along those same lines.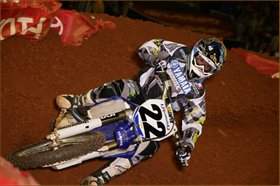 Team Yamaha's Chad Reed was the first rider to sign on with Visuwalls
photo: Simon Cudby
One thing that irritated me was, I called up to get my own Fathead, and it was at least 15 days before it would ship. So I was like, no way. I had told them that I would pay extra to get it shipped faster – I'd do whatever I could. But I couldn't do anything; it was a minimum of 15 days before this thing would ship. So I really started thinking about this and just e-mailed Clear Channel [now Live Nation] and Mark Abernethy responded to me. I just wanted to find out who I had to go through to get the ball rolling with this. But in the back of my mind, I was thinking that someone was already doing something like this. But the more I dug into this, well, nothing was going on. I put in a phone call to Eddie Cole and he loved the idea, so I shot him off a few samples. We then put some letters together and sent them off to some different managers. The first one that I heard back was from Bob Moore over at The Familie. We spoke and he loved the product, so we were able to get Chad Reed on board. They knew we were a start-up company, and they were willing to work with us. Following Reed, we were able to get Jeremy McGrath and Travis Pastrana on board.
So you went right for the heavy hitters!
[Laughs] Yes, exactly, that was our idea. We want to get the biggest names, but we'd love to have everybody. It's kind of unique the way that we print, they're digital prints – they're not screen prints – so we can do one-offs. We can do one, we can do 1,000 – there's no difference in price between them because of how we print. So even if there is an unknown rider out there that somebody wants a graphic out of, if we can get the image, we can make the graphic. So we want to do these of everyone, and that's what we're hoping for. We also want to expand into other extreme sports like snowboarding, skateboarding, and BMX. Our goal is to do all action sports. That's what I and everyone involved with this is in to, so that's what we want to do.
So is your product only available through your website, www.visuwalls.com?
Our products are available online, but that's not the way that we want to mainly retail our products. We want them to be available in dealerships, and we have the ability to do that. Now it's just a question of getting out there and getting it known and getting it in those shops. We want people to be able to walk out of the dealership that day with the product, and at a great price.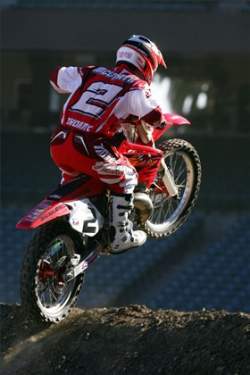 Visuwall graphics of Jeremy McGrath are also available
photo: Simon Cudby

One thing I'm curious about is this: Once you adhere this to the wall, can you move it or is it on the wall for good?
You can move it. They advertise that it's basically reusable, many times over. I'm a little skeptical about that just because of my familiarity with the materials, but anytime you stick something to a wall, they're not perfectly clean, and they gather dust. But the product is designed so you can take it on and off. But I would caution people against putting it up in their garage without putting some type of extra enforcement – even a spray adhesive on the back – to make it stick even more. It's a sensitive adhesive and garages aren't necessarily climate-controlled, so when it gets hot, the glue could soften up and peel off.
Is your house plastered with these things right now? Be honest!
Yeah, I have them all over the place [laughs]. I've got them for riders that we don't even have contracts with yet! I'm just testing different pictures to see which ones turn out the best. But there's a lot more that we're doing with the product beyond this. We're doing generic graphics, wallpaper trims that you can put up in 10 minutes. There is a lot of potential with it. We're even contacting different manufacturers and companies to see if we can produce their logos. Another cool feature that's going to be online here hopefully within a week is a feature on our website that enables you to upload your own photo to us and we'll be able to print it and ship it to you.
That's awesome. I know from our office alone that you'd get a ton of requests for custom wall graphics. In fact, our brand manager, Mike Farber, brags pretty much every day about his one Gate Pic that he got in the magazine like three years ago. So he'd definitely be a customer.
Yeah, the nice thing about it is, all the work involved is cropping the image. After that, we just set them out on the material and I can print one, unlike with a screen press where you have to print quantities over and over to reach a good value. That's definitely the beauty with digital. We'd like to also do sponsorship deals where if there is an empty space, we could put in sponsor logos.
Well, it seems that your target market of extreme sports is one that is relatively untapped.
It is. Our main focus is supercross and motocross right now, but we want all action sports in the future.
Finally, here's the million-dollar question: How much do one of these Visuwalls cost?
Currently online, we have them priced at $85. That's just a flat price including shipping, so anywhere they're going – two blocks down the street or across the country – that's the price. But we're planning on bringing the price down, probably to around $65 or $75, and then we're going to put shipping options on there. We print on demand and can generally ship them the next business day, so we're going to let the consumer decide how fast they want it.
How does that pricing compare to Fatheads?
They kind of go back and forth. If you do the life-size graphics of an athlete, they're generally $149.90, plus shipping.
Are Visuwalls life-size, and is the quality comparable to the Fathead?
It's the same exact material, but ours are not life-size. The reason for that is because ours are action shots of riders and motorcycles, not just a ball player, and it's tricky trying to fit the life-sized image on the material and on a wall. Imagine taking a full-size motorcycle with a rider doing a nac-nac on a wall. Putting a life-size image of a basketball player is easy because the image is thin. So the average size of these is about 60" long by 50" tall. The detail of the images are fantastic, so I think fans will really dig these.
Well, I really look forward to getting one for myself once that feature is launched on your site. But thanks for taking time out to talk to us, and good luck with Visuwalls.
Thanks a lot, Billy.