Monday Conversation with Ricky Carmichael
Mount Morris, May 28, 2006
Ricky Carmichael's battle with James Stewart in moto one of Sunday's 30th Annual Kawasaki/Monster Energy High Point National may have been one of the most intense in the outdoor nationals in years. But, unfortunately it ended badly for Stewart with a spectacular downhill crash off some step-down jumps, which ended up making it a zero-points day for him.
As a result, Stewart DNF'd the moto and was being checked out for a concussion in the second, which gave Carmichael the chance to run off with both motos and take the series points lead.
Carmichael has never lost an outdoor motocross championship, and this one in 2006 will be his last attempt. Stewart's mishap gave Carmichael a clear advantage. We stopped Carmichael after the Mount Morris press conference to get his thoughts on that one incredible moto, and what changes as far as series strategy at the point.
Ricky you were out of the points lead for the first week but you got it back, how does it feel?
It's good. It's great to be talking to you. I haven't talked to you in a while for a Monday Conversation. It's been a while. I know we don't talk when I don't win-which is deserved I guess. You don't win, you don't get a Monday Conversation!
I don't like the way that I got it though. (James) took a pretty hard hit. We were running an unbelievable pace. I answered everything that he had. I have been working hard every weekend to keep it good.
Let's talk about that first moto race. That was unreal. It must have been intense.
I had some great sections. I had some good sections. It was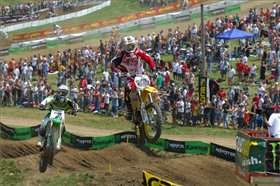 RC and Stewart had one of the greatest battles ever!
cat and mouse. We were trading positions. He got by and put in one good spurt. I kind of kept it there, kept it there, kept it there, then he got tangled with some lappers and I was able to pull in. It seemed about about halfway I could keep up with him no problem.
Any strategy there, like waiting till near the end until you make a move or anything?

Yeah there was some strategy there for sure. It ended up it was working out pretty good. I could see he was getting a little, little tired. I was hot too, but I was able to keep up with him. I tried to make some moves but he closed the door, no big deal. I would have done the same thing. I made a mistake through the triple-triple section and he got by me. I had to buckle down and as soon as I did that I started to catch him a little bit. Then the poor guy crashed so bad. I felt bad for him. That is a nasty place to go down.
For a battle like that with you two, what is your limiting factor? Are you maxing out your skills and abilities, or your endurance?
It's a little of both actually. I think you are riding to the limit, and riding to how far you can go without tiring out. There is only a certain speed that you can go, and I think we are on that limit. I really do. I am not going to do anything to jeopardize my health, so I try to be strong in the places that are going to help me. I don't want to go out there and jeopardize it by getting hurt. I try and be stronger everywhere else.
Just one question on the first moto last weekend, second turn, did you feel a little like James in a few of those supercrosses when he wiped out in the first turn?
No I didn't. Heck, I was just on the side of the track and dodging bikes. I just kind of hid under my bike because I had 40 guys coming by I didn't want to get tagged.
That second moto was unreal. I ever asked Goose did he believe the lap times he was putting on the pitboard and he said no!

I didn't believe it. I knew as soon as James got by Villy, he was going to try and lay the wood down, so I tried to do the same thing. I just really had my setup right on the bike so it was pretty simple.
As far as the series situation now, isn't this a little too much like how things ended for James at
Phoenix
?
No, it is still going to be tough. There is a little bit of pressure off due to points, but I want to win, straight up. I have some goals I want to accomplish and I hope James a speedy recovery and I hope he's at Southwick in 2 weeks.
So halfway through this summer, if you have enough points you only need a second, we are still going to do some Monday Conversations?
[
Smiles
] That is the plan, hell yeah.
Thanks Ricky, see you in 2 weeks.
Thanks Steve.