Kawasaki/Racer X Race Report
The 2006 edition of the Kawasaki/Monster Energy Pro National at
High Point
presented by Anderson and Strudwick presented plenty of changes from
High Point
in years past: a redesigned track layout, a cool vintage parade lap featuring top riders from
High Point
's past, and plenty of other tricks to make the race better than ever. But to any of the fans on hand, it's the racing that really counts, and it was the rematch of last year's Carmichael/Stewart battle that had the people pumped up.
Of course, last year's battle only lasted half way through each moto. By then, it looked like Stewart had tired from riding his KX250 fast enough to keep up with
Carmichael
. But this time James had a KX450, and that weapon let him take it to
Carmichael
nearly all the way to the finish. Nearly.
In the first moto Stewart collected the Racer X Holeshot, but he picked a bad line in the second turn and lost a few positions. Soon he was up to second and hounding
Carmichael
, and before long he made a pass and tried to take off. For a few laps, James pulled away, with his gap maxing out at about three seconds. But before long,
Carmichael
had settled in, figured out the right lines, and started closing the gap back up.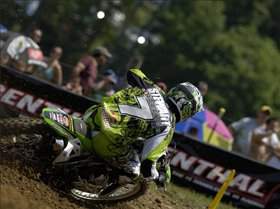 Stewart was on fire in the first moto, until a huge crash knocked him out of the race.
Trevor Hawk photo

Then Stewart got held up big time by lapped traffic – the duo was going so fast that they caught traffic very early in the moto. This put RC right on him, and the battle raged after that, with the
High Point
fans going nuts, the cheers chasing the battle around the track like a giant wave. Finally, with only bout three laps to go,
Carmichael
made a mistake and went off the track. Stewart opened up a few bike lengths, but
Carmichael
appeared to be closing when all of a sudden … Stewart endoed off of the step-down double past the finish line. He went down hard – head first, too. It was a scary, violent wreck, and James appeared to be knocked out momentarily. Amazingly, he was able to walk off under his own power a few minutes later, although he took a seat in the Asterisk medic mule.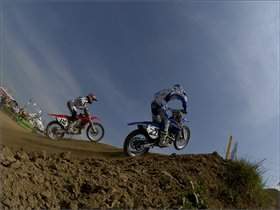 Davi Millsaps challenged Chad Reed at the beginning of each moto, but arm pump set in and dropped him off the pace.
Trevor Hawk photo

Carmichael
won big with Chad Reed second and
Davi Millsaps
in a solid third.
With Stewart out for moto two, everyone knew what would happen in that race, and predictably
Carmichael
pulled away to an easy win. Reed had to deal with pressure from Millsaps again before Millsaps admittedly pumped up and dropped off to finish a distant third.
And once again the series and the point standings appear to be all
Carmichael
.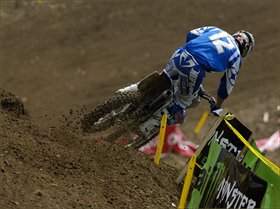 David Vuillemin took top privateer honors again with another great ride for Team Motoworldracing.com
Trevor Hawk photo

In the AMA Motocross Lites class, a tremendous battle broke out in moto one.
Mike Alessi
just edged out
Chris Gosselaar
for the holeshot, but L'il Goose knifed inside and took the lead. Unfortunately, Gosselaar twisted his sore ankle in a rut and had to pull off. Alessi had made a mistake, and this put
Josh Grant
out front by himself. Meanwhile
Grant Langston
had hooked up his rejuvenation machine and was charging in second with Alessi behind him and
Ryan Villopoto
making up time from the back.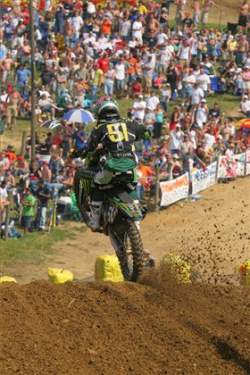 Ryan Villopoto overcame bad starts to go 2-1 and take his first-ever AMA Motocross victory.

Matt Ware Photo

Then things unraveled in a hurry. Grant washed out in a turn and hooked his ankle. The crash put Langston into the lead with Alessi right behind him. Langston held Alessi back until he washed out in a corner, also, which finally put Mike into the number one spot. Grant was in second after the Langston fall, but he was suffering with that ankle and dropped second to Villopoto.
Alessi's moto win put him in position for another overall win, but it was not to be when he crashed in the second turn of moto two. He charged from the back, but it was way too late to preserve the overall. Out front, Honda's
Andrew Short
was trying to make up for a first turn crash in moto one by pulling the lead, but Villopoto's charge from the back was most impressive. He passed the ailing Langston and Grant and then went to work on Short, finally catching him and passing. From there, the young rookie cruised to his first overall win.
So after all the changes at
High Point
, in the end
Carmichael
won the battle to leave with a solid points lead in the 450 division, and the Lites class is anyone's game. Sometimes the more things change, the more they stay the same.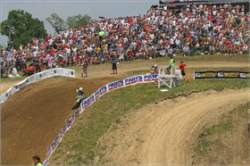 The Stewart and Carmichael battle in moto one was an absolute classic. And plenty of fans were on hand to cheer them on.
Matt Ware photo