Privateer Profile: Casey Clark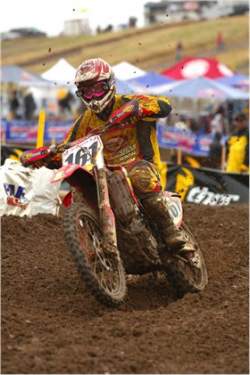 Casey finished 16th in the second moto at Hangtown in the 450 class

photo: Steve Bruhn

This weekend is huge for us here Racer X, as it's the 30th running of the High Point National, an event that brings all of our industry friends from across the country to our little corner of the world. And since the race takes place in Mt. Morris, PA, we've decided to interview the only Pennsylvanian to make it into the main program at the first round of the AMA Toyota Motocross Championship Series last weekend at Hangtown: Casey Clark. Although Casey's hometown of Pine Grove, PA, is a few hours from Mt. Morris, Casey still refers to the High Point National as his "hometown" race. And coming off a 19th-place overall finish in the 450 class, Casey is feeling confident coming into the first round of the Kawasaki/Monster Energy Triple Crown of Motocross this weekend. Casey is a member of a brand-new team, PDL Racing, so be sure to show them support by clicking on the links at the bottom of the page.
Racer X: Casey, I believe you're coming off your first moto finishing in the top 20. Congratulations!

Casey Clark: Well, last year at Mt. Morris I got 20th, but 16th was awesome, thanks!
You have to be excited about the series coming back to that track where you finished 20th last season.

Yeah, I'm feeling very confident coming back to a track where I've done well in the past. I think it will be good.
Recently on the MotoTalk message board, there has been a big discussion about riders earning points. How important is it to a privateer like yourself to finally earn points toward that national number?

It's definitely a big relief, especially being at a track on the West Coast which I was never at. So it's nice going into a race at a hometown track. But earning points for a national number is a lifetime goal for me.
Since it was your first time to Hangtown, what did you think of the West Coast?

Well, the weather was good and it wasn't as humid as it is back here. But the track was brutal. It was rough and it took a lot of physical conditioning. I'm coming back here and I'm looking to pull a couple better finishes in these East Coast races.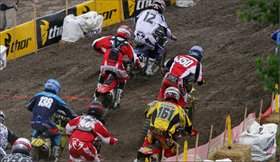 A good start is very important in securing a good moto finish. Casey Clark demonstrates in the second moto at Hangtown

photo: Simon Cudby

Tell us about the race, especially the second moto, where you finished 16th.

I got a fifth- or sixth-place start and was riding pretty well. I dropped to maybe ninth around halfway and then kind of had a mental block and wore myself out for a few laps and lost some positions. But I got it together quick and ended up coming out 16th.
Starts seem to be one of your strengths.

Oh, definitely. In '03 I got two second-place starts in motos, so it's been good.
What's it like running with those factory guys?

I get a little excited and have a lot of things going through my head, but I'm trying to work on that.
What happened in the first moto at Hangtown?

I started in the 30s and worked up to 25th. It's a lot easier when you start up front.
So did you drive back to PA from California, or did you fly?

We flew back and got back early Monday morning. It was a lot better than driving back.
You're now on Hondas. Is this the first time you've been on a red bike?

Well, I was on for, like, a month but that's it. I was never on them for a full season.
Tell us about this new team you're on this year.

Chad Willard is the team owner and approached me about riding for this new team. It was a great offer to begin with, and it keeps getting better and better. He committed to more than what he said he was going to do, and it really helps to have that support.
We see new teams like this pop up quite often. Do you know what his goals are for this team?

Yeah, he was just saying that he'd like to sign more riders, and he wants to keep going with it and wants to try and get his name out there. This is new to him and for all of us. We just want to try and do the best we can for him this year.
Where is the team based?

Coatesville, PA.
Who are the main sponsors?

PDL racing, MXPayday, MXSponsor.com, Answer, Works Connection, TBT, ECS Honda, Keeney Motorsports, Scott goggles, Dunlop Tires, Liquid Performance, Renthal, Twin Air, Moto Graphx, Yoshimura, VP Racing Fuels, Doublin Gap, and Rausch Creek.… I think that's it.
What exactly is PDL Racing?

PDL Racing is actually a brainchild of Chad Willard and Matt Spangler, the owners of PDL. It's a subsidiary of another business that they own. PDL stands for the "perseverance, determination and longevity" of the team. Chad has a passion for motocross, and he's willing to do whatever he has to do to bring good results to PDL.
Although you're still a privateer, this year it's a huge difference from where you were last year at this time. Now you're coming to the race with a teammate in a huge transporter with a mechanic and a team staff, whereas last year you were probably in your family's RV.

Yeah, stuff is happening really fast. I've been busting my butt and felt like I was going nowhere for so long, but now I have confidence, and I just want to keep going with it and want to do better.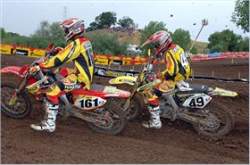 Casey battles Joe Oehlhof in the morning qualifier

photo: Carl Stone

Is the team doing all of the rounds of the AMA Toyota Nationals?

Yes, we're signed up for all of them. That's a big help, doing all of them.
You proved you could run top-20 in the first race of the year, so what's your goal for the rest of the season?

I just want to get in better physical shape, and I'd like to get some top-10s this year.
It seems like this may just be your breakout year, Casey. Good luck this weekend at High Point.

Thank you, Billy.
Casey Clark's sponsors: