Monday Conversation: Mike Alessi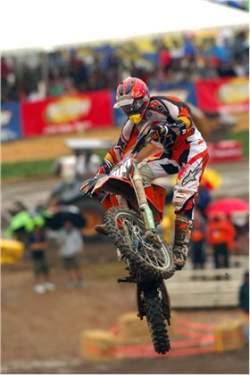 Alessi got the starts at Hangtown and just tried to ride smooth on a wet track

KTM's Mike Alessi started his second full season in outdoor motocross right with a convincing 1-1 win at the Toyota AMA Motocross Championship opener at Hangtown. Just one year after a last-lap tangle with Grant Langston that cost him the overall, Mike was in charge this time. The track was wet from rain but held up well, and Mike got the starts he is known for and took off in both motos. His rival from amateur days, Ryan Villopoto, was the only one to really challenge him in moto 1. Mike turned 18 just before the event re-signed with KTM.

Racer X: Happy Birthday! Mike, two great starts and two runaways at Hangtown—are you going to do this all summer?
Mike Alessi: All I can say is I did way better then I hoped for. I was thinking two fourths would be great. I never expected to win both motos like this. It was a perfect birthday present.

How important was it to get a win like this one?
Well, it's good because now if I don't get wins at the tracks I know I'm good at, I have a buffer.

Did you have to do anything different for the wet conditions?
I just rode smooth as I could and looked for the good lines.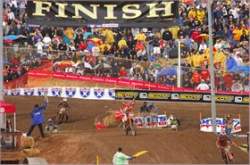 Mike celebrates winning the first moto

It looks like your rivalry with Villopoto from the amateur days has followed you to the pros. Where do you think he will finish this summer?
You know, he's a great racer, and he has a really good family. He'll be solid all year long.

About this KTM contract thing, I take you can confirm you re-signed with KTM. Did you need to hold off until you turned 18? Any major changes?
Yes, I had to wait till until 18 because all contracts are void and need to be redone.

You're from California. Where did your mud skills come from?
[Laughs] My dad made us ride the muddy tracks in the East Coast like in Maryland, places like Budds Creek and those kinds of tracks, when we were little.

When you were on the last lap of the second moto and getting near the end, did you have flashbacks from last year when you and Langston tangled? Also, since he got no points this weekend, do you think it's possible to make up a 0-0 points day by Glen Helen?
Oh, never count out Grant. He is by far the best guy in the Lites class, and I did think about last year a little!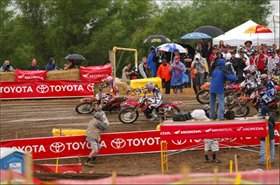 Alessi turned 18 just before the race and re-signed his KTM contract as an adult

What are your 450-class plans in both SX and outdoors?
I plan on racing the 450 class on the new, very awesome 2007 KTM 450 SX outdoors. I'm so excited about that, and supercross indoors on the 250F in the Lites class.

Are your going to win this Lites championship this summer? If so, what would you do to celebrate?
There are still 22 motos left, so that's way too early to predict.

This is the first time you've led a professional series. How does it feel?
I feel confident leading this series and just want to ride smart all year.