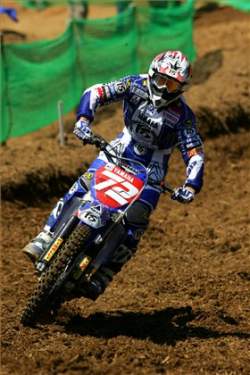 Stefan Everts
Stefan Everts collected his fifth win in a row after pole position, two holeshots, and two complete victories in front of 17,400 spectators at a sun-bathed Sugo circuit for the Grand Prix of Japan and the fifth round of the 2006 FIM MX1 Motocross World Championship. The Belgian guided his YZ450FM to both checkered flags to extend his 100 percent record this season and walk away with a 92nd career success. After his seventh consecutive moto triumph, Everts is now controlling the series by 61 points at the top of the standings. The Sugo circuit had been meticulously prepared; the natural terrain was carefully mixed with sandy soil and wood chippings to maintain a soft texture. The surface created various racing lines but became rough and bumpy very quickly, meaning that the smallest of errors would prove costly. The 33-year-old gained his second pole position of the season on Saturday with a lap time a second faster than Kawasaki's Tanel Leok. Fine weather conditions blessed race day for the fourth consecutive Grand Prix.
"I won my first championship in 1991," Everts said. "To win here in Japan in my final year feels very nice. I have had a long career and a lot of support from many people and manufacturers, so I must say thank you to the Japanese people for the memories. We have a lot of wins now, but I am looking ahead, not behind, and I have to try and keep this form. I would like to win everything, so we will keep on working hard and see what happens. It was special to win here for Yamaha. They have given us a lot of support and it has been great to be a part of the family. I hope we can do many things together in the future."
In the MX2 class, Bike it Yamaha UK Dixon Racing rider Billy Mackenzie remains undefeated at the Japanese Sugo circuit as the Scot went 1-3 on his YZ250FM in the two MX2 motos to claim his second career Grand Prix success and Yamaha's first of 2006. The second race was won by World Champion Antonio Cairoli, giving the manufacturer a perfect 4-4 score at their home event. The track was dry, bumpy, and technical as the organisers at the Sugo circuit again excelled in presenting a tough and interesting layout for the riders. The warm conditions made for a hard day's work for the stars of the MX2 class as 17,400 spectators looked on. Mackenzie, 22, who celebrated his maiden triumph at Sugo in 2005, passed Ricci Racing's Kenneth Gundersen on the second lap of the first race to control the rest of the pack. Kawasaki's
Christophe Pourcel
was closing at one stage but Mac kept a steady three-second advantage to notch his first 25-point haul of the season and the fourth of his career.
Race Classification MX1
1 S. Everts Yamaha BEL 40' 42.166
2 K. De Dycker Honda BEL +14.150
3 T. Leok Kawasaki EST +15.944
4 S. Ramon Suzuki BEL +23.606
5 B. Jorgensen Honda DNK +29.783
6 C. Melotte Yamaha BEL +42.607
7 J. Noble Honda GBR +48.686
8 J. Barragan KTM ESP +54.238
9 M. Priem Yamaha BEL +55.718
10 M. Van Daele Honda BEL +57.720
Race 2
1 S. Everts Yamaha BEL 39' 44.664
2 S. Ramon Suzuki BEL +23.136
3 J. Barragan KTM ESP +30.861
4 K. Strijbos Suzuki BEL +37.393
5 M. Van Daele Honda BEL +40.505
6 M. Priem Yamaha BEL +46.230
7 J. Noble Honda GBR +49.265
8 K. De Dycker Honda BEL +54.644
9 A. Narita Yamaha JPN +58.827
10 D. Theybers Suzuki BEL +1' 2.228
Championship Standings MX1
Pos. Rider Manufacturer Nat. Points
1 Stefan Everts Yamaha BEL 242
2 Tanel Leok Kawasaki EST 181
3 Ken De Dycker Honda BEL 168
4 Kevin Strijbos Suzuki BEL 165
5 Steve Ramon Suzuki BEL 151
6 Jonathan Barragan KTM ESP 150
7 Cedric Melotte Yamaha BEL 105
8 Manuel Priem Yamaha BEL 99
9 Sebastien Tortelli KTM FRA 99
10 Pascal Leuret Honda FRA 93
Race 1 MX2
1 B. MacKenzie Yamaha GBR 40' 27.246
2 C. Pourcel Kawasaki FRA +12.249
3 M. De Reuver KTM NED +22.606
4 A. Cairoli Yamaha ITA +26.790
5 D. Philippaerts KTM ITA +28.677
6 T. Rattray KTM RSA +38.296
7 G. Swanepoel Kawasaki RSA +41.888
8 T. Searle Kawasaki GBR +52.492
9 K. Gundersen Yamaha NOR +54.515
10 S. Pourcel Kawasaki FRA +55.594
Race 2 MX2
1 A. Cairoli Yamaha ITA 40' 1.774
2 M. De Reuver KTM NED +5.927
3 B. MacKenzie Yamaha GBR +10.002
4 G. Swanepoel Kawasaki RSA +13.618
5 C. Pourcel Kawasaki FRA +33.536
6 C. Nunn KTM GBR +36.838
7 T. Searle Kawasaki GBR +41.246
8 A. Leok Yamaha EST +43.951
9 R. Goncalves KTM POR +44.995
10 D. Guarneri Yamaha ITA +54.406
Championship Standings MX2
1
Christophe Pourcel
Kawasaki FRA 196
2 Marc De Reuver KTM NED 194
3
Tyla Rattray
KTM RSA 181
4 Antonio Cairoli Yamaha ITA 162
5 Billy MacKenzie Yamaha GBR 150
6 David Philippaerts KTM ITA 120
7 Carl Nunn KTM GBR 119
8 Alessio Chiodi Yamaha ITA 111
9 Kenneth Gundersen Yamaha NOR 111
10
Tommy Searle
Kawasaki GBR 105