Great Races: The 1984 Hangtown National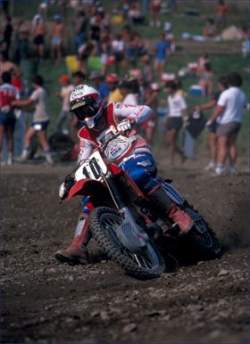 Alan King, shown here at Unadilla, was a title contender even as a privateer in 1984
photo: Fran Kuhn
In 1983, after spending over half a million dollars of his own money to field a new, state-of-the-art motocross outfit called Team Tamm, Bob Tamm sold off the majority share of his auto-parts company, United Imports and Exports, and went racing. He had struck a major support deal with American Honda and would take on all of the factory teams and their then-legal works bikes in the 1984 AMA National Motocross Championship Series. Team Tamm started the season with six riders—including ex-factory riders Jeff Hicks and Alan King—six mechanics, and six identically painted red-white-and-blue box vans, as well as an extra van that served as a mobile press office. The manager of the whole program was longtime East Coast motocross fixture George Quay, founder of Keystone Motocross Works and, later, Pro-Action Suspension.
The '84 outdoor tour opened at Gainesville, FL, on March 4, with Team Honda rider Bob Hannah winning the overall. Round two was the first day of April at Saddleback Park in Orange County, CA, and was won by Ron Lechien, another Honda factory rider. Round three would be the
Hangtown
Classic, set the following Sunday outside Sacramento.
Although Team Tamm's mission was to take on the factories and beat them at the their own game, four months into the '84 season, the underdog effort was already beginning to become unglued. Infighting, a wobbly business plan, bounced checks, and several unpaid expenses began to haunt and sabotage the operation. Friction between team members was also beginning to bubble to the surface, as Sunday morning at
Hangtown
began with a tool-throwing screaming match.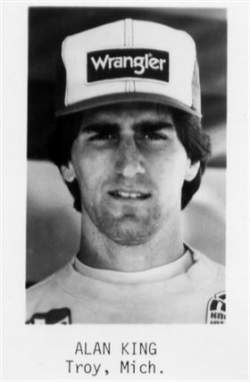 This is what King looked like in the supercross press kit of the day
"Jimmy Ray Anderson was wrenching for Alan King, and one of his responsibilities was to carry water for the whole team," George Quay remembers. "A couple of times during the season, Jimmy Ray had forgotten to get water, and it caused big problems because we couldn't clean the bikes. So after practice at
Hangtown
, he and Bob got into a huge fight because, once again, he forgot the water. Jimmy ray stormed off, walked into the crowd, and just disappeared! So it was up to me to wrench for Alan King that day."
The opening 250cc moto at
Hangtown
was a thriller. Honda rider Clint Hardick grabbed the holeshot and led Team Yamaha's Keith Bowen, Suzuki's Mark Barnett, and Lechien. By lap four, Bowen had caught and passed Hardick and took off with the lead. At the same time, Lechien motored into second, with Team Tamm's King close behind in third. Then Lechien bailed off, dropping to 10th.
Bob Hannah had also been on a charge to the front, soon reeling in Bowen. The two went at it at it for a lap, banging handlebars and pointing fingers until Bowen and Hannah collided yet again, sending Bowen off the track and Hannah over a fence. King assumed the lead and would hold on to it until the final lap, when Team Yamaha's Rick Johnson slipped by the Honda pilot on a greasy uphill off-camber turn. Johnson would win the moto, while King placed second. The team was elated.
"Johnson passed me with one lap left, but I wasn't too upset because I had never had good luck at
Hangtown
," says King, who today works construction in his native Michigan. "Between motos, I felt like I had a good chance at the overall. You know, it was so hard win something back then. The factory bikes would go by me so fast—I was 6' 3" and weighed 190 pounds. Guys like Lechien, Jeff Ward, and Hannah were, like, 50 pounds lighter than me and would just fly by."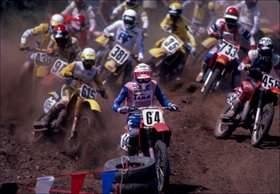 That's John Whelchel, one of Alan King's Team Tamm teammates, leading the way in 1984
photo: Fran Kuhn
Quay went right to work on King's bike for the second moto, while Bob Tamm, in light of Jimmy Ray Anderson's earlier exit, also got in on the action. "Bob was so happy that he completely forgot about Jimmy Ray and jumped right in to help get Alan's bike ready for the second moto," Quay says.
Lechien led the 40-rider field out onto the
Hangtown
circuit for moto two and never looked back. Meanwhile, back in second, King held station. Mark Barnett would catch and pass him a few laps later, but King kept his cool and quietly rode around in third place, knowing that the first-moto problems of Lechien and Barnett would keep them out of overall contention. With two laps to go, though, King almost botched it all. After clipping a fencepost, he hit the ground. However, he quickly got to his feet, kicked the CR250R to life, got going, and held on for third, good enough for the overall.
"I thought I was done right there when I hit the ground," King recalls. "But less than two laps from the end, the team guys knew I had the points I needed for the overall and kept signaling me to 'hold position.' So that's what I did."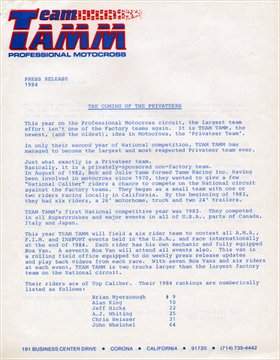 A 1984 Team Tamm Press Release
Alan King's win was huge for both Team Tamm as well as the privateer way of motocross life in America. For not only had he won
Hangtown
with his 2-3 moto scores, but King had also become the first true privateer to lead an AMA Motocross Championship Series after more than one round. "Suddenly, Team Tamm's Alan King had the points lead," Bob Tamm offers. "It was the best moment in the history of the team."
Sadly,
Hangtown
would be the last great moment for Team Tamm. By the end of the summer, the money had run out, American Honda had pulled the plug due to the financial straits the team had found itself in, and the riders were beginning to defect.
"They just had too much going on," offers King, who would finish a fine fourth overall in the final 250cc National point standings, which Johnson would win on his factory Yamaha. "If they would have just stuck with two or three riders and trucks, they might have stuck around for a while. They were just spending too much money. Man, putting seven trucks on the road?"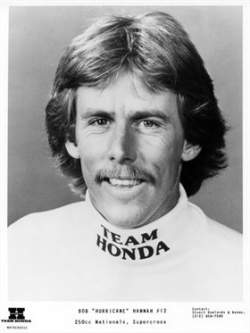 Check out Hannah in '84 with the porn-star mustache
Team Tamm had a mostly different lineup in 1985, including Brian Myerscough, Mike Beier, and Tom Carson. They were also set to ride Kawasaki, but that didn't work out either. Soon, Bob Tamm's privateer dream was over.
And what became of Jimmy Ray Anderson's exit-stage-left
Hangtown
walkabout? Good question.