Privateer Profile: Joe Oehlhof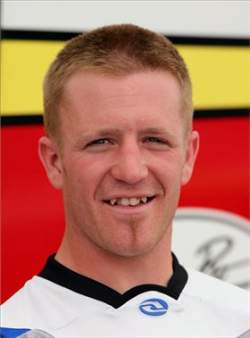 Joe Oehlhof

photo: Simon Cudby

This weekend not only marks the start of the 2006 Toyota AMA Motocross Nationals, it also is the return of Joe Oehlhof to professional racing. Last season Joe suffered a series injury which forced him to the sidelines, but he is now 100 percent ready to get back on the track. We caught up with Joe for this quick interview this week. Be sure to show Joe and his sponsors some support by clicking on the links at the bottom of the page.
Racer X: Joe, we see you made it out to the Prequel last weekend at Glen Helen and took fifth place overall in the 450 class. It's good to see you back on the track.
Joe Oehlhof: Yeah, it's definitely good to be back on the track instead of sitting on the couch and watching everybody race all year.
How did you feel out there?
I felt pretty good. The first moto was good – I got a good start and finished third. I felt strong the whole moto. And then the second moto, I spun off the concrete and got a bad start. I was coming through the pack pretty good, but then Carter Gurnee, I believe it was, swapped out and when he was tumbling, I tried to miss him and hit him, so I went down and ended up ninth that moto. So I was trying to get within the top five that moto, but all in all, it went good and I was happy with how things turned out.
Do you feel you're still trying to find speed, or are you where you left off before the injury?
I think on certain days I'm better than where I was. I think I'm at least as fast as where I was, and hopefully I'll get those days that I'm faster more often.
How's your fitness?
That, I know, is better! It was kind of good before I got hurt, but the injury gave me a chance to kind of sit and let everything heal, rest up, and now I've just been riding outdoors for a few months now, training and just getting ready for May. My fitness has definitely improved.
For our readers who don't know, tell them what happened to you last year.
I just went down in a Saturday qualifier at Red Bud in the first turn. A few guys got tangled up and I went down and hit headfirst into the bottom of someone's bike and cracked my C1, which is the top cervical vertebra. I cracked it in three places pretty bad. They didn't know if it was going to heal or not. It ended up healing a little different than normal – it kind of fused itself, in a sense – so I didn't have to do that surgically. So it's good and strong and everything is good there - I just don't have full mobility from side to side. I have just a little less than I normally had, so it's not too bad. But other than that, it's pretty much back to normal.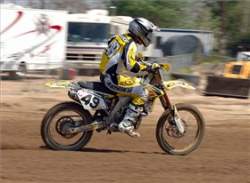 Oehlhof took fifth overall at The Prequel this past weekend and is hoping to be in the top 15 at Hangtown on Sunday

photo: Carl Stone

Are you excited to be running your new national #49?
Oh, yeah. Hopefully there will be people asking who that #49 is out there. I'm excited. It's been a while since I was racing, and like I said before, I'm tired of watching and I'm excited to get back out there.
So from a pro rider's perspective, what did you think about that battle we saw in the Amp'd Mobile Supercross Series?
Wow, that was definitely one for the books – definitely something the sport needed. I think it was great to see Ricky and James go at it. You never knew which one was going to be on top each weekend, and Chad was always right there and made things interesting. It came down to the last race, which is what everybody wants. With the live TV coverage, it couldn't have been better timing. So I'm excited for the whole sport in general.
How's everything going up at Competitive Edge MX Park?
It's good. It's opened up during the week and on the weekends, but they're doing a pretty good job. I think everyone is happy with how it's going. It's close for me and I can out there and ride a couple days a week.
You looking forward to racing Hangtown?
I normally don't like it, for some reason. I've never been a fan of it in the past. Last year I did pretty well in the first moto and felt decent. I usually feel good there, but there's just something about it I don't normally like. But I saw on the internet that they did a lot of improvements and changed the track a bit, so that's cool. I'm just excited to race. We could race out in the desert somewhere and I couldn't care.
When all is said and done on Sunday afternoon and the dust has settled at the end of the final moto, what finish would you be satisfied with?
I would be satisfied with a top-15. Before I got hurt, I was flirting with the top 10, so that's where I want to be. I won't be happy until I get in the top 10. I'll be satisfied with top-15s, but I want to get some top-10s. I know I can get up there and shake things up a bit.
Are you looking forward to packing up your bags and being on the road all summer?
I actually got pretty lucky: I get to fly home because my wife is pregnant. I can't really leave her by herself all summer, so FMF is going to haul my bikes and I'll get to fly back and forth. I've got some great people who have funded my program this year: Solid Foundation Construction, Pacific Collision Centers, Answer, Competitive Edge MX Park, along with a few other private guys. It's been really good, and it's nice to know that not everyone forgot about me. I'll get to fly home every week, so that'll be nice.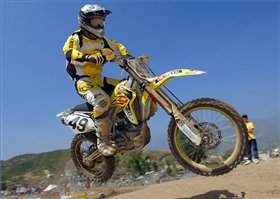 Joe's new national number #49 is the lowest of his career

photo: Carl Stone

So you'll be pitting out of the FMF truck?
Yeah, I'll be pitting out of there. They were nice enough to let me do that, so I'll have my own little program over there and it should be good.
You happy with your bike and equipment?
Yeah, I'm really happy with my bike. Tokyo Mods is doing the motors, I'm using FMF pipes, obviously, and Race Tech did the suspension. The past few months, we've been working really hard to try and get something I really like, and the whole package has come together pretty nice. So I'm excited to go out there and pin it for 30 minutes.
Well, it's going to be nice to see you back at the AMA Nationals. Good luck this weekend, Joe.
Thanks, Billy. It's good to be back.
Joe Oehlhof's sponsors:
Victorville Motorcycle Center
Solid Foundation Construction
Pacific Collision Center