Bench Racing Ammo: Another New Beginning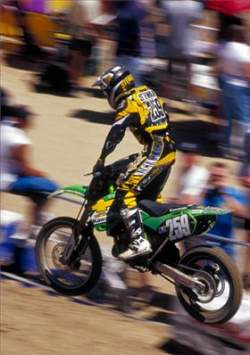 James Stewart went 1-2 to win the overall at his first-ever 125cc National at Glen Helen in 2002
photo: Simon Cudby
We're now just a few days away from the gate drop of the opening round of the 2006 Toyota AMA Motocross Nationals at
Hangtown
, so let the bench racing begin! Although it's very disappointing that we're going to begin this new battle without the presence of last year's 125cc National Champion,
Ivan Tedesco
, moving up into the premier class, we can look forward to the first outdoor season between Makita Suzuki's
Ricky Carmichael
and Team Kawasaki's
James Stewart
where they go head to head in what can be called "a fair fight."
If you followed last year's outdoor season, and you've ridden dirt bikes, you know exactly what I'm talking about. Last season was definitely an uphill battle for Stewart, as he struggled on an underpowered 250cc two-stroke against, on most days, as many as 37 other 450cc four-strokes, and maybe two other two-strokes – his teammate
Michael Byrne
and privateer Sean Hamblin. But James held his own on the KX250 and even pulled some holeshots (Broome-Tioga comes to mind) and finished on the podium in more than a few motos. But most of the time it seemed that James had to ride over his head to try and keep up. James riding normal is unbelievably fast, so can you imagine how fast he's going when he's riding over his head!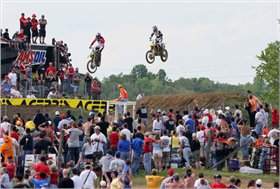 We can look forward to Bubba and RC battling all summer long. It's going to be good!
photo: Simon Cudby
Fast-forward to this season. James is now armed with the potent KX450F; a bike which he has definitely proven could win in supercross. But can the KX450F win outdoors? We know James has the capabilities to.
In fact, one can argue that
James is actually a better rider outdoors
than he is at supercross—and a better 125cc rider than Ricky himself— by looking at the AMA record book. One of the few records that Carmichael doesn't have is the record for most 125cc AMA National victories – Stewart has two more than RC: 28-26. And
Bubba
did it in less time. Stewart set the record in only three years (2002 – '04), where as RC also rode three full years, plus one race in '96 and then came back to ride one in '01—the last race before Stewart showed up (and won) the very next race, which was the '02 season-opener at
Glen Helen
.
All told,
Stewart's 125 MX win percentage is an astonishing .903
, as he is 28 out of 31 in races he's entered (he missed the first four races of the 11-race '03 series with a shoulder injury but returned to win the remaining 14 motos of the season). But he only won two championships in those three years, as
Grant Langston
snuck in for the '03 title without actually winning a race.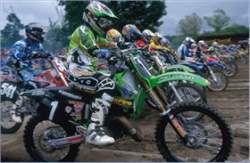 Although James has RC covered in the 125cc win total, RC's three championships trumps Stewart's two championships
photo: Paul Buckley
RC, on the other hand, rode 39 races and won 26, for a total win percentage of .666 (spooky, huh?) But RC has Stewart covered here in one aspect:
Ricky's three 125 titles are matched only by Broc Glover and Mark Barnett
.
So with such an amazing 125cc resume in outdoor motocross, will
James Stewart
be able to parlay that success to the premier class now that the playing field (or track) is level? Guess we'll begin to find out on Sunday!
(Don't forget, you can listen to Racer X's Live Webcast, presented by Cycle News, of the 38th Annual Hangtown National this Sunday. Coverage begins at 1 p.m. Pacific time. Check it out on www.mxnationals.com. Also keep a window open on www.amamotocross.com for all of the laps and times and scores.)