Monday Conversation: Katherine Prumm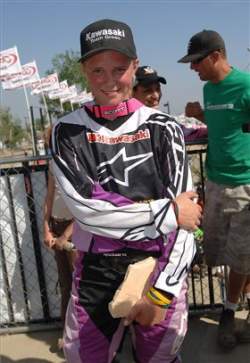 New Zealand's Katherine Prumm

Katherine Prumm landed in America last week a complete stranger. Her and father had traveled from Germany, where the 17-year-old New Zealander had won the opening round of the FIM Women's World Cup, to San Bernardino, California, where Katherine was going to have a go in the opening round of the 2006 Hitachi AMA/WMA National Motocross Championship presented by Kawasaki. Well, by the time the races were over, Miss Prumm was a stranger no more—she won both motos in her WMA debut!
We immediately set out to track Katherine down for our Alpinestars Monday Conversation, but she proved harder to find than most. But late this afternoon she found us, fortunately.
Racer X: Katherine, it's actually the first I actually got to speak to you, but I feel like I already know you. In the last couple hours I've spoken to Ludo at One Industries, then Miki Keller of the WMA, and even Reid Nordin from Kawasaki Team Green. The consensus is, "You guys should make sure you check out Katherine, she's quite a cool racer." So, your reputation precedes you.
Katherine Prumm: [Laughs] You know, it's pretty awesome that all of those people have been putting me forward and it was really awesome to get a result for all of them over here.
Last Saturday was the first round of the WMA's 2006 series, and you were the overall winner.
Yeah, it was awesome. I mean, I didn't have the greatest starts – actually, they were terrible. And the first race was extremely bad and I just kept working hard throughout the motos and I managed to get to the front of the pack in both races and had a bit of luck on my side and it all worked out really well.
Was this your first WMA race?
Yes, this was my first time to America.
Oh, wow! So this is your first time on Glen Helen as well. What did you think of that track? It's notorious in the States as being one of the roughest and most challenging on the men's circuit.
Yeah, it was an awesome track. I went down Thursday – they had a practice day, and they ran bit of a short circuit. All the top guys were out there, along with the top women, as well. So that was really good to get to ride against them and to see how the track was going to form up. It gave me a bit of an idea of what it would be like on Saturday. And then Saturday, of course, the put in the big three hills and some of the REM track, and it was awesome. We don't have anything in New Zealand where the elevation changes so much and it goes from clay to sand. So, it was a really good test of riding skill.
Other than the WMA riders, who were some of the other riders you recognized out there on practice day?
Well, Chad Reed was there, and Mike Alessi, Ryan Villopoto, Martin Davalos – all the guys you see on TV. It was awesome to be able to be on the track at the same time as them and kind of follow them and learn from them.
Didn't you just return from an event in Europe?
Yeah, I was competing in round one of the F.I.M. Women's World Cup where I got second in the first moto and then I won the last moto, so I won the overall for the day. So I got the second round in July in Sweden.
Where was the first round at exactly?
It was in Germany at Teutschenthal , where they had the GP.
How was that track compared to Glen Helen?
I think it actually got a little bit rougher, but the German track was a lot faster and a little bit scary at times. I know they try and slow it down after they had some serious injuries there in 2005. But it was a very fast track and it also had some steep hills like they had at Glen Helen, but it was more of a hard packed track. And with all of the MX1 guys just before us, it did get a little bit rougher than Glen Helen did.
Yeah, come back in September after the pros race on Glen Helen – it's tough to even walk around that track. They let Jody from MXA get really creative on it, and it's a really tough track.
I can imagine!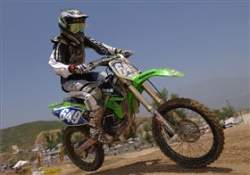 In her first WMA event ever, Katherine raced to the overall win on her Team Green Kawasaki

So, how did you get from New Zealand to Germany to America?
Back in February we were waiting for the WMA dates to be released to start planning, and once they did all the dates just worked out perfectly. We figured since we were flying through L.A. on the way there, we decided we should stop for two weeks and just see how these two events would go and use them as a learning experience for following years or whatever is going to happen.
Do you feel like you learned something?
Definitely! The competition here is really stiff and the classes have a lot of depth. There's like 10 or 12 really fast girls who are all about the same speed and pretty much who gets the start can take the win.
Now, there's another WMA race just a few days from now at Hangtown. Will you be able to stick around for that?
Yeah, definitely. I'll be heading up to Sacramento this week and I'll stick around and compete at Hangtown and then head home next Tuesday.
Will we see you back at any of the WMA races?
At this stage we only planned to come to round one and two, but maybe if someone sees me and decides they want to fork out a bit of money and get me back [laughs] I'll definitely come over. But it's pretty expensive to keep coming back and forth.
I can well imagine. Reid told me that it seemed that you made as many fans off the track as you did on the track Saturday; and Ludo said you're the complete package as a racer.
That's awesome! Racing and competitiveness stays on the track, and off the track you just got to be yourself and I like to be friendly and make friends off the track. But on the track you race hard and do whatever it takes to get to the front. No one is your friend on the track.
Tania Satchwell is also from New Zealand; did she help you out at all?
Yes, she was at the race and she was awesome – she helped me out a lot and filled me in on how things work over here. She's been over here for five years, so she knows a lot more about it than I do. But she had a bit of bad luck on the weekend, but she was great.
What about some of the rest of the girls like Jessica Patterson, the defending champ, or Sarah Whitmore, the Loretta Lynn's champ….
I didn't really get to meet Jessica Patterson, but I did get to spend a bit of time with Sarah Whitmore and Elizabeth Bash and some of the girls that went to the Kawasaki press day on Friday. It was really good to finally get to meet them.
What kind of job did you think the WMA did at the race?
I think they're doing a great job. They're promoting women's motocross and trying to make it as big as possible, and I think it looks really professional. And the more professional we can make it look and the more girls we can get on the start line the better it is for future sponsors.
Are you traveling with your folks or do you have your mechanic with you?
I'm traveling with my dad at the moment.
How's he like all of this?
Oh, it's pretty awesome. He had a motocross accident about seven years ago, so he's taking a little bit of shame. But it's really good that he's over here supporting me. And the rest of my family back home is supporting me as well.
Do you have any brothers or sisters that race?
I have a little brother – he's 15 – and he's staying in New Zealand for supercross. He races for KTM New Zealand. Wrong color, but he's really good and he helps me out with my training and all that!
What's his name?
Matthew.
And what town in New Zealand do you live in?
I live in a town called Bombay, which is about 50 minutes south of Yorkland.
Prumm will be racing the second round of Hitachi AMA/WMA National Motocross Championship Series this weekend at Hangtown before heading back home to New Zealand

From what I've seen, the riding there just looks amazing.
Yes, it's awesome. The country is pretty small, so you can find four or five tracks within an hour or two that ranges from clay to sand, so it's really good for riding.
Well, if you run into Ben Townley at Hangtown, make sure you let him know that you're taking care of the Kiwi flag for him till he gets out there. You want to list any sponsors, Katherine?
Definitely. If I could thank the New Zealand Motorcycle Trader and News – they're a motorcycle magazine back home and they've put a lot of money and support in to me to get over here. And also Mike Ramsey and Mike Wilkins from Kawasaki New Zealand. They put a huge amount of effort with Kawasaki America to get me a bike organized. Richmond Kawasaki on the weekend – they treated me as part of the team and were really good to me. And Reid, Jeff and Dave from Kawasaki – they've all been really supportive while I've been here. And Alpinestars, One Industries, Scott Goggles, Pro Circuit and Ogio.
Well, think this week at Hangtown—with all of the factory teams and the presentation and the media and all—will knock your socks off. Enjoy you weekend in California and we'll see you at Hangtown.
Thanks a lot, Davey!
Want to know more about Katherine Prumm's FIM Women's World Cup triumph from last week? Click here.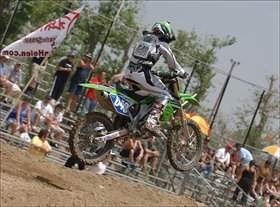 Hopefully we'll see the #649 back in the States later this summer