Great Races: The 1999 Brazilian Motocross des Nations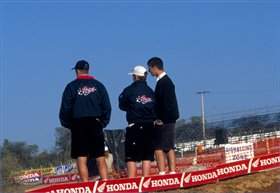 "You ruined it!" said Carmichael as he, LaRocco, and Windham walked the track in Brazil.
photo: EJ
"What did you do to it?" screamed
Ricky Carmichael
at a track worker who held a hose and was pouring water on what was already a swamp. "You ruined it!" The then-three-time AMA 125cc National Champion was seething. Only 12 hours before, the track had been in optimum condition. Now, the Circuito Paulo Yamakami in Indaiatuba, Brazil, site of the 1999 FIM Motocross des Nations, was ankle-deep in mud. Oblivious to the American's shouts, the man didn't even bother to turn around. Carmichael, along with Team USA teammates
Kevin Windham
and
Mike LaRocco
, walked away in disgust, jumping over puddles of standing water.
"Did it rain last night?" Windham mused aloud, trying to calm things down. The trio then walked down a hill and into the pit area. Okay, maybe this one was not such a great race, but it's still a tale that deserves to be told.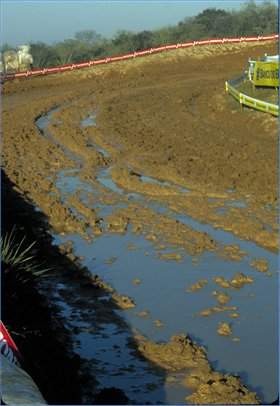 RC had a good point. With the race starting at 10 a.m., there wasn't much time for this to dry up.
photo: EJ
With the '99 MXdN poised to be aired live all across Europe late Sunday afternoon, the event organizers announced that the first moto of the day—the 500cc/125cc classification—would leave the gate at 10 a.m. Sharp. Team USA was the Circuit Paulo Yamakami at the crack of seven. They would be trying to win the event for the first time since 1996, having lost in Belgium (and to Belgium) in 1997 and then again the following year at muddy Foxhill, England.
The day before—qualifying day—had gone extremely well for the Rock, K-Dub, and RC. Despite falling twice in the 125cc seeding race, RC was easily the quickest in his class in Brazil. Windham (250cc) and
Mike LaRocco
(Open) also rode quite well, placing first and third, respectively, in their qualifying races. Things looked good for the three East Coast riders—so good that a little fear and maybe even some loathing swept through the paddock: Perhaps a good old American whitewash was in the works. Maybe that's why they decided to turn the track into a mud bog overnight. That was the conspiracy theory on Sunday morning, anyway.
By the time the first moto was sent to the gate, the circuit had actually dried up quite a bit. But still, it was a one-lined, slot-car-type racetrack at best. When the gate dropped, new 500cc World Motocross Champion, Andrea Bartolini of the Italian team, pulled the holeshot aboard his super-trick Yamaha YZ426 four-stroke. LaRocco was in sixth, and Carmichael, after a woeful start, was way back in 22nd. Carmichael would start to come roaring back through the pack, but then Lady Luck screwed everything up.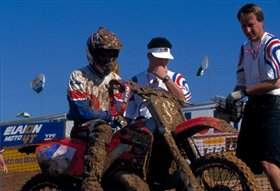 Team France leader Sebastien Tortelli, covered in mud on a bright, sunny morning
photo: EJ
"I got a good start, and I was pretty happy, but some guy slid out in front of me in the S-turns in the back, where it was real one-lined and there was nowhere for me to go," said the reigning AMA 125cc National Champion back in the pit area after the moto. "I ran into him, and then I had to wait for everybody to go by. I got going again and was catching up to everybody real well, then I went around a corner and there was a big rock and it ruined my pipe, and that was it." Even after his DNF, the young superstar-in-the-making was looking at the bright side. "I feel good and I'm confident I can win the second moto, but I need a good start."
Bartolini would win the moto—a great start for Team Italy—while Belgian Joel Smets was second. LaRocco, crashes and all, was fifth. Great Britain's James Dobb placed 10th on his RM125, the first 125 rider across the finish line, while '99 125cc World Champion Alessio Chiodi was second. After the first moto, Italy led the event with 12 points. Team USA was ninth with 32 points.
Less than a lap into moto number two—the 250cc/125cc division—Team USA's chances at winning the Motocross des Nations went up in smoke when Carmichael went down at the bottom of a small hill. Another bike clipped his Kawasaki KX125, shearing the bike's brake line and throttle cable. And despite the fact that
Kevin Windham
rode an amazing race, just missing Belgian ace Stefan Everts at the finish line, it was all over for Team USA.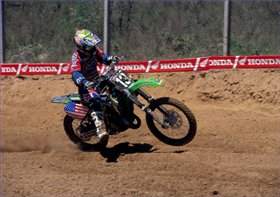 Carmichael was fast in qualifying, but he looked awkward wearing #13
photo: EJ
"I guess there's not too much to say other than if we don't win, I'm obviously the reason why," said a dejected Carmichael, sitting in an empty wooden crate in the American pit area. "It was just bad luck. I mean, I would have rather had something like this happen at a national than at this place. I don't know what to say to everyone.… I was just so anxious to do well. I was running in front of a bunch of 250s and was right where I needed to be. I don't mind crashing, because I know I can catch back up. That's not a problem. But man, was I bummed when I looked down and saw no throttle cable." That's how
Ricky Carmichael
's worst motocross race as a professional ended: DNF-DNF.
Stefan Everts would defeat Bartolini to win the third and final moto (Open/250cc). But with Bartolini's teammate Claudio Federici placing fourth, Team Italy had managed to string together the best five results that sunny day outside of Sao Paulo to win the Motocross des Nations for the first time in history.
"It's a wonderful day and everything is beautiful," beamed team leader Bartolini after the moto. "When I was champion one month ago, I felt a lot of satisfaction, but now I feel very proud because I put my country on top of the world." Chiodi, who rode his Husqvarna 125 to 2-1 moto scores to win the class overall, was ecstatic: "I'm so happy, so very, very happy!"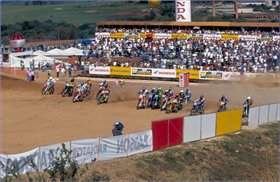 That's Windham wearing #14 and coming up on the outside of the start
photo: EJ
With LaRocco placing sixth and
Kevin Windham
ninth in the last moto, Team USA placed a distant and unremarkable fourth overall in the '99 Motocross des Nations. As the riders got undressed and the mechanics and team personnel began packing up crates, depression permeated the Team USA pit box.
"Well, it's obviously not what I wanted," Windham lamented. "All of us came over here and gave it our best, and we all wanted to win. We all put in good rides, but I think our biggest problem was that the track was one-lined and it just didn't work for us. A lot of the inside corners only had one line, and a guy would go down and there was really nothing you could do—that's what happened to me and that's what happened to Ricky. And Mike, he was the backbone of the team. He's the only one that really held us together, and it's quite obvious that we're all pretty depressed here."
Added LaRocco, "It was not the day any of us wanted to have. I know we all went out there to do what we had to do, but it just wasn't our day. I just did what I had to do, but it didn't work out for us."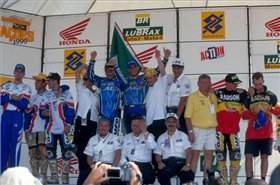 The podium featured no Americans (and one very young Cobra on the far left!)
photo: C. Batteux
Adding some levity to the situation was '99 Team USA manager Mitch Payton. Payton, drafted into service to oversee the American effort, cracked a can of Brazilian Budweiser and saw the water truck as half-full. "I was totally stoked with our guys," he said. "I don't care what anybody says, they should have won this thing—it was theirs to win. Ricky was the fastest 125 guy, and I think Windham was as fast, if not faster than Everts. LaRocco was up there, too. It just didn't work out. I'm not bummed on any of them—it was just bad racing luck. And I think it was that damn #13 on Carmichael's bike that started the whole thing going badly."
Carmichael would return to the MXdN the next year in France on a Kawasaki KX250 and lead Team USA to the win with a winning performance in the 250 class, with Ryan Hughes and
Travis Pastrana
backing him. He wore #11, by the way, but that's a story for another time.