Privateer Profile: Josh Demuth
This past season has been an interesting one for Josh Demuth. First off, he was crowned champion of the inaugural BooKoo Arenacross Series, adding yet another AX championship to his two previous AMA AX titles. The day following the final race of the BooKoo series, Josh unexpectedly announced that he was retiring from racing – a surprise move by the 27-year-old. After a month hiatus, Josh had returned to racing, but this time it was AMA supercross for the BooKoo Honda team, filling the vacancy left by David Vuillemin. In the final four races, Josh put together two top-ten finishes and secured a deal with the team for the entire 2006 Toyota AMA Motocross Championship Series. It's been more than four years since Josh raced a motocross national, and he says, "I can't wait. This is something I'm really looking forward to." You can show Josh and all of his sponsors some support by clicking on the links at the bottom of the page. And make sure you check out Josh on The Reality of Speed, Tuesdays on Speed.
Racer X: First of all, congratulations on getting married this past weekend in Vegas!
Josh Demuth
: Oh, thank you! It was absolutely awesome. I had planned on asking her, but neither of us planned on doing it that early. But it kind of just happened.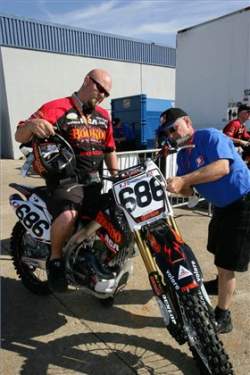 BooKoo's Billy Bell spins the wrenches for Demuth
photo: Simon Cudby

Well, another congratulation is in order for a fine ending to your four-race 2006 supercross season in Las Vegas with the BooKoo Honda team.
Definitely - that race was pretty good. I had gotten better all year long, and that last race, I felt really good. I liked that track a lot – it was real similar to a lot of the tracks we ride here in Texas.
You were in the first heat race and battled with Yamaha factory rider Heath Voss for the final transfer position, and you got it. Was that the first time you transferred directly out of a heat race?
No, I think I've done it one other time, but I'm not positive. It had been a while ago if I did.
Let's back up a bit, Josh. Tell us about your championship-winning season in the inaugural BooKoo Arenacross series.
Well, I came into this new series with a new team. I was transitioning onto new bikes, riding Kawasakis, and it was a new year for the 450, as well. So we had quite a few things going against us, but I felt good coming in. I did a lot of good training and testing and we got our bikes to where we needed to be. I think the year went well. But it was a struggle for me because I was hurt the whole year. I put all of my faith in the good lord Jesus Christ, and he pulled me through it.
What did you injure?
I broke my hand at the first round, and I actually broke the same hand two more times during the season – the same bone. And then I tore two bicep muscles in my right and my left bicep. I also twisted my ankle really bad, and at the next-to-last race there, I lacerated my face really bad and basically split my cheek in two. So I had to have, like, 75 stitches to put it back together. I was beat up the entire series. I think there was only one race that I rode that I wasn't hurt.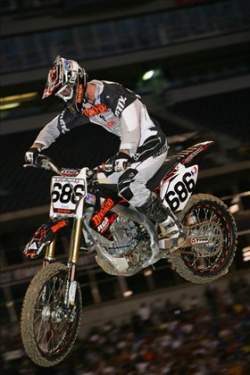 Josh closed out the 2006 Amp'd Mobile AMA Supercross Series with an impressive eighth-place finish
photo: Simon Cudby

You're a two-time AMA arenacross champion, so you know the ins and outs of that series. What made you switch over to this new BooKoo series, and can you tell us some of the main differences you noticed?
I switched over because I've been good friends with Mike Kidd for a long time, and he's always looked out after us and took care of us. He was starting up this series, and the money and the opportunity looked to be a little bit better for me than with the other series. I just did what I thought was right. The attendance was pretty bad there at first, but I think once Mike took over the series from Advanstar, things started to get a lot better. I think this next year will be even better for Mike, and I think they're going to change their format up as well.
Where does winning the first BooKoo Arenacross Championship rank among your other championships?
There has been a different feeling and meaning in each championship that I won. One isn't better than the other; the first one was just one of those things where people thought I'd never be able to win. I did that, and the second one was more just to prove a point that it wasn't a fluke. I also wanted to break that all-time win record for most wins in a season. It was just a strong goal, and I did that. After that, I had those two years of just basically career-ending injuries, and people told me that I wouldn't be able to come back from that. So I had a lot of emotion and drive coming into that BooKoo series, just to prove to everybody that I wasn't done and that those injuries didn't hurt me. I had my father with me as my mechanic, and we'd never won a championship together. So that was something that I really wanted to accomplish for me and him.
So after the BooKoo series ended, you announced that you were retiring from racing. What influenced you to make that decision?
After the BooKoo series was over, I had my little girl with me at that last race, and we woke up Sunday morning after the races and I couldn't even get out of bed to play with her. I have basically done almost everything that I wanted to do in racing and was just wanting to pursue some different avenues and just give my body some time to heal. I rode that entire series hurt, and I was just at a point where I was really upset with how it went, even though I won. I just didn't do it the way I wanted to. So I took a month and a half off. I wasn't even around a bike. I just went on some vacation and went to Orlando to watch a supercross with my best friend. At that same time, David Vuillemin was leaving BooKoo and they needed a rider to fill in. So I just kind of fell into that and they made me an offer that I couldn't refuse.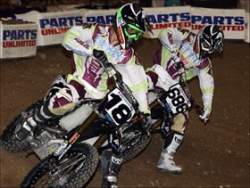 They grew up racing minibikes together, and now Brock Sellards (18) and Josh Demuth find themselves on the same team
photo: Simon Cudby

Give us some details about how that deal came about. Did Michael Holigan just call you out of the blue one day?
No, I just met him at the race. I went over and sat down with Michael and Lucky and a couple guys. We just basically talked everything over and they were telling me that they needed a rider to fill in for the last four supercrosses and possibly the outdoor nationals, as well. We just had contact on the phone, and that next week, we met when I got back here in Dallas and everything was good to go and we got a deal put together.
So how's it been so far being on the BooKoo Honda team?
It's been over and exceeding my expectations. Those guys really have a good team. They have a great suspension guy, and Lucky is incredible at building four-stroke engines. The team has really got their stuff together and it's one of the best teams I've ever been on.

I know you live in Texas, but did you have to move to be closer to the shop for taping The Reality of Speed?
No, actually, I live only 20 minutes from their shop, so I didn't have to move or anything like that. Everything just worked out so perfect and it all fell into place. I know Lucky and I know all the people who run the show over there – the only one I didn't know was Michael. I got introduced to him and we talked for a while, and right now it's just a good deal. I'm just a local rider on a local team. We all get along well and it's kind of like a big family.
Out of three supercross mains that you qualified for this season, you took two top-tens. Did that meet or exceed your expectations?
You know, I obviously wanted to get a top-ten before I came in. I felt like I was that caliber of a rider. Just getting some breaks that I needed to run up there with those guys, I believe I got them in those races where I finished up there. I believe that's where I belong, with a little more testing and riding. I'm really looking forward to next year – I think I can get up there and battle with some of the faster guys like Tedesco and Wey. I'm just a hair off of their pace right now, and I think it was just from lack of riding and testing.
So I assume this isn't just a one-year deal you've got going if you're already looking forward to next season.
I'm actually going to see about contract negotiations for next year here pretty soon.
So no more arenacross for you, Josh?
No, sir. I've done what I wanted to do in arenacross. I love the series and the people there are awesome. I really enjoyed being there, but I'd like to finish out my career doing supercross and outdoors and see if I can just give it my all one more time to see what I can do. I'm definitely getting older, so I want to see what I can do there and maybe move on doing something with the BooKoo team afterwards, when I'm done racing.
What's it like being a TV star?
It's not really that big of a deal. When I was in arenacross, I was on TV quite a bit, so I'm familiar with it. When I came to do this, I was a little nervous at first, but once I got to know everyone it was a lot more relaxing.
It's kind of ironic that the other guy they just brought over to their team from AX is Brock Sellards, a guy you actually grew up racing with.
Yeah, we actually started racing and riding together, and I used to spend summers at Brock's house. We grew up riding minibikes and all that stuff, and then we got to a point where we were on big bikes in the pro class and we became more of a bitter rivalry then friends. But we're getting along fairly good now. We didn't have any confrontations or anything like that, and our racing is pretty clean.
And just to clarify, a lot of Texans like to claim you as one of their own, but you were actually born and raised in Ohio, right?
Yeah, I was born in Dover, Ohio. I grew up there most of my life and then we moved do Pennsylvania for about six years, over in District 6 in Eastern PA. We then moved to Texas about 10 years ago.

Well, that about does it, Josh. You want to thank anyone?
Yeah, just the good lord Jesus Christ for keeping me safe and blessing me to ride my motorcycle, my wife, Leticia, my kids, and the whole BooKoo Honda team and Michael Holigan.