Monday Conversation: Ricky Carmichael
Supercross fans may have just experienced the most significant supercross of this generation, with RC just barely defending his supercross title for the last time from both a surging Chad Reed and super-fast James Stewart. It came down to the last main event, in front of a sold-out crowd and a huge live audience on Speed. RC never felt pressure like this at a season's closing, and he just told himself he was going to do it.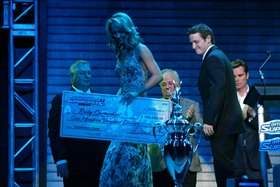 Ricky looks over at the last supercross championship trophy he plans on taking home. Behind him are Live Nation CEO Charlie Mancuso, Part Unlimited's Jeff Fox, and Amp'd Mobile's Peter Add

Things clicked for RC at the last race. He used different settings and seemed to be over his whoops problem, and all he needed to do was beat Reed and not let anyone get between himself and Stewart. He got ahead of Reed in the first turn and never let him get close enough to make a move. RC won the AMA title but not the World Supercross GP championship—that series doesn't count Daytona, so Stewart's bad night there (sixth) didn't matter.
We left RC alone after the post-race press conference, and instead decided to look for him at the annual supercross awards banquet at the MGM Grand Garden Arena on Sunday night. We found him in the entryway doing an interview about every 10 feet.

Racer X: Hey, are you ever going to make it inside the banquet?
Ricky Carmichael: Hey, I'm just excited to be here. I'm looking forward to a good night. It may be a little confusing with two champions, but I've been down that road before. I'm just really pumped for the team. They really stepped it up. Ian Harrison was at the shop until 8 o'clock Friday night. We had a couple problems. We got it ironed out - the thing was good Saturday, and it was good when it needed to be.

When you hit the two whoop sections yesterday, you looked smooth and just as fast as the other two. Did you change something?
Yeah. Scot Benet worked hard this week. We got a new shock setting. He changed it quite a bit.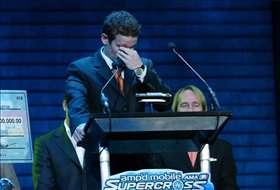 RC is just pretending to be choked up during his acceptance speech: He's really just showing off that new watch from Monster Energy.

This was the closest title you have competed in—you must have been shitting bricks.
[Laughs] You know what? That's another check I can put in my biography, if you will. I won't be down this road any more—except probably for the outdoors [this summer]. I have some confidence if I am ever in this position again. You know what? St Louis robbed us, and I know I'm beating a dead horse and I'm going to hear about it online, but it's the fact of the matter. I'm just pumped that I ended up winning the AMA title, and the first four-stroke to win the title.

What will you do Monday?
I'm going to see Ernesto [Fonseca]. I talked to him today and the dude sounds so good. His voice sounds great. I can't wait to see his smiling face tomorrow. His attitude is amazing. Ursula is going with us, Scott Taylor, and JH Leale are going. I'm really excited.

Did you think you would get away from that press conference Friday without talking about your new contract?
No, I was going to let everyone know. That's what I was going to tell everyone. I was prepared. I wanted to let everyone know before the season started. I had my mind made up before it started. If I was in this situation and I didn't win, I didn't want people to say, "Oh, he's quitting because he didn't win." I won. I knew what I was going to do before the first race even started.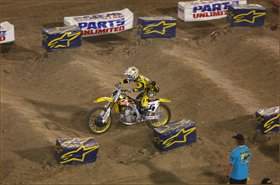 RC and the Makita Suzuki team appeared to have sorted out his troubles in the whoops just in time. He didn't lose any time in them in Vegas.

As far as your next life and this car business, are you driving them? What's your time line?
A lot of that stuff happens more in the summer for me, because supercross takes up so much time. I have been talking to a couple of people. I have some great opportunities, and I'm looking forward to taking advantage of them.

Did you see video from last night's main, and do you think Ivan helped you a little on the first triple when it looked like he was able to make Chad just double it?
I haven't even seen it. There are a lot of coulda, shoulda, and wouldas. If my shock spring wouldn't have broken at St Louis, I would have won [the title] last weekend at Seattle.

Any tense moments last night?
No tense moments, it was silky smooth all night.

What were you thinking on the gate?
When I was sitting on the gate, I said to myself, "#$@, I'm doing it. I am gonna do it. All or nothing, we are going to make it happen, and that is the bottom line…."

How much, per lap, was that race worth for you last night?
[Laughs] Per lap, I don't know. If you can get Mel Harris to tell you how much he pays me, then you guys can figure it out!

Thanks, enjoy the banquet.
Thanks, Steve.