Kawasaki/Racer X Race Report
My heart is still racing as I type this. For the past week all of us have been running the various scenarios through our minds. The fact that the Amp'd Mobile AMA Supercross Series was tied going into the final round has been drummed in our brains all week long and the final 450 main event of the season couldn't come quick enough. But finally, in front of a sold-out crowd in Sam Boyd Stadium, the 2006 Amp'd Mobile AMA Supercross champion would be crowned. So here's how the most dramatic race in the history of supercross went down…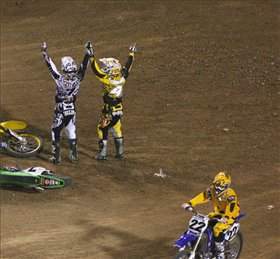 RC and Stewart celebrate, and Reed's third gave him third in points, but it was very close.
TFS photo
Team Kawasaki's
James Stewart
pulled the Progressive Direct Holeshot Award followed by Sobe/Samsung Mobile's
Kevin Windham
, Makita Suzuki's
Ricky Carmichael
, his teammate
Ivan Tedesco
, and Yamaha's
Chad Reed
. It was a dramatic first lap which would end up playing a significant role in crowning the AMA Supercross champion as
Chad Reed
lost some very precious seconds in a tricky triple-quadruple rhythm section. He then had a difficult time passing Tedesco, but had an easier time with Windham. In fact, he gave thumbs up to Kevin over a triple, as Kevin let Reed by on lap four so he can race for the championship.
So the stage was set and Bubba, RC, and Reed were each separated from each other by roughly five seconds. This would truly show who the fastest rider is this season. Unfortunately for Reed, he would not be able to close that gap throughout the next 15 laps. It was a dramatic, suspenseful 15 laps, and the most excitement came from watching both RC and Reed attempt to pass through the lapped traffic. Reed caught the worst of the lapped traffic as he had a few problems with some backmarkers, resulting in RC to add some precious time to his cushion. But for the last five laps the top three had a relatively clear track, and although he gave it 100 percent, Reed just couldn't reel in Carmichael.
So as the checkered flag flew on the final race of the season, it was James Stewart collecting his eighth win on the season, giving him his first 450 championship as he was crowned the 2006 Amp'd Mobile World Supercross GP Champion. Makita Suzuki's Ricky Carmichael came across in second giving him the 2006 Amp'd Mobile AMA Supercross Championship, the fifth of his career. And coming across in third, just over three seconds behind Carmichael, was Yamaha's Chad Reed who came into the race tied for first but left tied with Stewart for second. And based on wins, Stewart would get the nod for second overall in the AMA series as the tiebreaker is based on overall wins. To give you an idea of how fast these top three guys were going, fourth-place finisher Kevin Windham crossed the finish line 45 seconds behind Reed.
"I felt like I rode a solid race tonight," said a very disappointed Reed in the post-race press conference. But he was very admirable in saying, "I didn't leave anything on the table. I just made a few too many mistakes. Hats off to Ricky, he had a good race. It didn't turn out in my favor, but in the end it was a really fun weekend."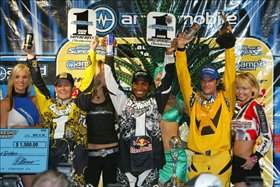 Before the race, RC announced that this was most likely his last full year of racing.
TFS photo
Following the race, Makita Suzuki's Carmichael was very emotional on the podium in saying, "I can't believe it. I kept saying to myself that there is no way I'm letting Chad beat me this weekend. I know I'm only going to race part time next year, but I had a great career. I can't believe it. It's amazing and I'm going to miss you guys. I can't say enough for my team and my people. I appreciate it. I've had a heck of a career and it's great to go out on top."
It was a great way to end a great supercross career for Ricky Carmichael. But much to the surprise of many, he said in the post-race press conference that "depending on how the first few races go in 2007, I may race for the championship again." That would be awesome, Ricky.
As for the 2006 Dave Coombs Sr. East/West Shootout, it was sweet redemption for Team Honda's Andrew Short, who just one week ago lost the Western Regional Supercross Championship in a heartbreaking mud bath in Seattle, WA.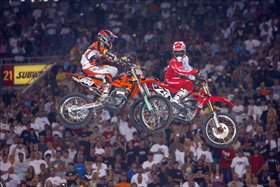 Short won the Dave Coombs East/West Shootout for the second time.
TFS photo
After the gate dropped it was Monster Energy/Pro Circuit Kawasaki's
Ryan Villopoto
pulling the Progressive Direct holeshot, but it wouldn't last long. In turn two his longtime amateur nemesis, Red Bull KTM's
Mike Alessi
, cut inside of him for the lead which caused Villopoto to fall over. By the time he remounted he was in last place. Alessi's lead was short lived though, as the Factory Honda teammates of
Andrew Short
and
Davi Millsaps
blitzed past him in the whoops on lap three, setting up an exciting battle between the two. Millsaps shadowed Short lap after lap and definitely looked faster in the whoops, but ironically that's what cost him the win as he crashed in the whoops on lap eight and was forced to retire from the race after he tweaking his front end.
So with Millsaps out of the race, Andrew Short built up a sizeable lead and cruised to victory in the Shootout for the second time in his career. "This is awesome," said Andrew on the podium. "I blew the championship last week, but this feels great."
As for the next two podium positions, Sobe/Samsung Mobile's Josh Grant caught and passed Alessi, but the two would play a brief game of cat and mouse with Grant getting the short end of the stick as he went for a block pass and hit a tuff block, costing him a podium finish. Alessi, who struggled through the whoops all night long, went on to finish second with Sobe/Samsung Mobile's Tommy Hahn finishing in third on his golden-clad CRF250R. Josh Grant remounted to finish in fourth with Team WBR Suzuki's Ryan Morais finishing in fifth.
It was a very grand finale tonight in the Amp'd Mobile Supercross Series, and hats off to everyone who made this series as successful as it was. You all deserve a pat on the back. Now let's get ready for some outdoor motocross!