Privateer Profile: Kyle Partridge
Continuing with our countdown to Las Vegas, for this week's installment of the Sponsorhouse.com Privateer Profile, we talked to Las Vegas resident Kyle Partridge, who will be vying for a spot on the starting gate in the Dave Coombs Sr East-West Shootout this Saturday night. Many of you probably have heard of Kyle before, as he was a force in amateur motocross with American Suzuki. He has switched to the Powerhouse Yamaha team for 2006 and has put in some solid results. Be sure to show Kyle and his sponsors some support by clicking on the links at the bottom of the page.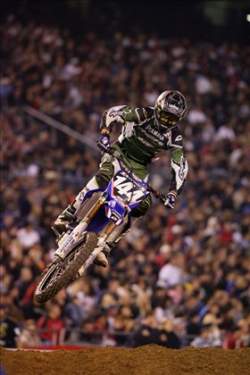 Powerhouse Yamha's Kyle Partridge hopes to do well Saturday night in front of his hometown crowd in Las Vegas

Racer X: Kyle, the Amp'd Mobile Supercross Series is rolling into your hometown this Saturday night. You ready?
Kyle Partridge: Yeah, I've been training really hard, and I think that besides my brother and Carey Hart, I think that I'm the next guy who has qualified for some supercross mains who is from Las Vegas. This race is actually extra-important for me because nobody from here has actually qualified for the main event. I'm really looking forward to getting in that main event and putting in a solid top-ten ride.

You have a lot of friends coming out?
Oh yeah, I have a lot of my friends and family and people I went to high school with coming out. I've had a lot of people calling me and asking if I was racing. I had to ask my team manager for, like, 20 extra pit passes.

Is this your first time racing in Sam Boyd Stadium?
Last year I rode for Motoworld, but I got hurt quite a bit and didn't get a chance to race. This is actually my first full season of supercross without getting hurt.

You actually were a Suzuki support rider for much of your amateur career as well, right?
I rode for Suzuki for nine years. Cole Gress really took care of me over there. He's a cool guy, and he's always been there for me. I'm trying to get some stuff figured out for outdoors with him. My current deal is for supercross only and I have no ride for outdoors. I just pre-entered for the first four, and I was going to see if somebody could take my bike to the races, and I was just going to fly there. If not, I'll just go up to Canada and race. But as of right now, I have no ride for outdoors.

Well, if someone reads this and wants to get in touch with you, what should they do?
They can call my brother, Jason Partridge, at 714-873-7285. But I'm just trying get something figured out for outdoors. Suzuki has helped me a lot through my career and I would be more than happy to be riding for them again.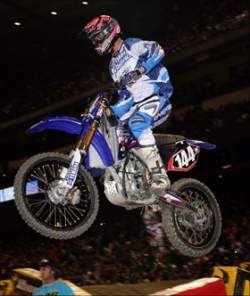 If your team is looking for a 250F rider for the Toyota AMA Motocross Nationals, Kyle Partridge is available

You had a rough rookie season last year. What happened?
I rode, like, three supercross races and five outdoors because I was always hurt. I just had a bunch of freak accidents. My first day testing at the Suzuki test track, my mechanic turned my gas off and I didn't know it, and my bike died on the face of a triple. I broke both of my feet from that. And then I healed up and then tore my ACL at San Diego. And then I went to Davi Millsaps' house on our break and my transmission broke on the face of a triple there, and I broke my collarbone and my hip. And then at the Prequel at Glen Helen, I was testing a new motor and it broke, and I was sitting on the side of the track and Ryan Sipes swapped out and hit me and it bruised my tib-fib really bad. It was just one thing after another, so I really didn't have a full season. It sucked because going into the first round this year, I didn't know what to expect. After I made the main, it was like a huge weight lifted off of my shoulders.

It's good to see you back out there racing, Kyle. You're also on Yamahas now.
Yeah, I'm riding for a shop that's up in Paso Robles, California, called Powerhouse Yamaha. There is a guy named Pete Newman that we've known for a few years, and he always helped me out. He just called me and said that he's interested in helping me out. I went up there a week before Anaheim 1 and rode a Yamaha for the first time and just started racing. I never signed a contract or nothing, just in case I did well and somebody was interested and wanted to help me out for the rest of the year.

Is the owner cool with that?
It's kind of funny. He has no relation to the sport at all. His kids don't ride or anything. He just loves to help people, and he's scared not scared to spend money and get the best stuff you can get. I'm actually very surprised how good our stuff is. What I have now is just supercross-only, and I don't have any contracts with any teams or gear companies.


Kyle finished a career-high 11th in the mud at San Francisco
photo: Matt Ware

You guys have a semi truck, too, right?
Yeah. They have an amateur team that they go to all of the amateur races with. Like Kyle Cunningham, Bryce Stewart and a couple other kids. They do all that stuff, and that's why they didn't have an East Coast team. I wasn't even going to do the West Coast, because I tore my ACL in San Diego last year and I just kind of rode around for the rest of the year because if I didn't finish 50 percent of the races, I didn't get my pay from Motoworld. As soon as I got done with the 50 percent, I went and got my knee surgery by Dr. Ting up in San Francisco. He said I wasn't going to get to ride until February, but I rode a month before and maybe three or four times before Anaheim 1. I didn't really have high expectations going in there, but I qualified. After that, I just started making more main events, so it was good.

Are you 100 percent now?
I'm about 100 percent. But the thing that sucks now is that I don't have a supercross track, so I ride out in the middle of the desert on an outdoor track every week, and then I get to a supercross and try racing. It's just two completely different things. In the beginning of the year I'd go to the gym three days a week and ride supercross once and then race on Saturday. So I don't ever have any time on a supercross track at all.

What's your best finish this year?
Eleventh. I got 11th twice this year.

Well, there's a ton of motorcycle-related events going on this weekend. Are you planning on going to any of them?
I really want to go see Metzger jump over the fountains. That should be pretty gnarly.

How far you live from the Strip?
Probably five or 10 minutes.

You're too young to gamble, aren't you?
Yeah, but the funny thing is, this past weekend I went and gambled in one of the 18-and-up casinos in Seattle. They don't have any of those in Vegas, though.

What are you shooting for Saturday night?
I really want to break into the top ten so people notice that I'm legit and I have my stuff together this year. I want to get a ride for the outdoors.

Looking ahead to outdoors, where do you see yourself finishing in those?
I think outdoors, I definitely want to be top-15 in points. I don't want to set a high expectation and go into the first round and have my confidence ruined. I definitely want to get top-15 and get some points and get a two-digit number.

I wanted to ask about your brother, Jason. I remember growing up and always reading about him in the magazines. He was pretty amazing on a minibike. Has he been a big inspiration to you?
For the last few years, he has helped me with everything and anything. He was a bad dude before he got hurt. Him and Ricky used to be the two dudes that were the top dogs. He broke his back in '95, and that set him back. He came back and raced a couple supercrosses and his best finish was a ninth. Ever since then, he just started helping me, and these last few years, especially this year, he's been really hard on me. He knows a lot about supercross and about racing in general, and that has helped me out a lot.

Are your parents still involved with your racing?
Yeah, quite a bit. My dad is the one who finances my racing. He and my mom are the ones that are helping me out right now. As soon as I get a ride and start making money, I've kind of got to pay them back. It's just kind of tough right now. Going from having a ride and getting paid every month to having nothing, it's kind of a rough deal. Getting let go by Motoworld was probably one of the best things that ever happened to me but was also one of the worst things to ever have happened to me. I was super bummed out and felt like nobody cared and nobody wanted to help me. But then Powerhouse helped me, and I'm pretty pumped with what's going on, and we'll just see what happens for the outdoors.

Let's say, worst-case scenario, you don't get a ride for the outdoors. What happens then?
I'm going to race the first four rounds. If I don't do well, I'm just going to head up to Canada and race the outdoor nationals up there. Eric Nye and I were just going to go up there in his motor home and do it.

Before wrapping it up, who do you want to thank, Kyle?
First and foremost, I'd like to thank Pete Newman and Tim over at Powerhouse for giving me this opportunity to show everybody that I've been working hard. My trainer, Jeff Graddy; O'Neal, Spy, Troy Lee Designs, Independent Suspension, United Nissan, my mom, dad, little brother and sister, and especially my older brother Jason.

Have fun this weekend, Kyle. Good luck.
Thanks a lot, Billy. It's going to be a hot one, so be prepared.


Kyle Partridge's Sponsors:
Bloodshot Clothing
Second Nature
Simons Racing
Uncle Pete