Between the Motos: Todd Jendro
Well, all of the tireless work, effort, and promotion to make Amp'd Mobile Supercross as big as it could possibly be just paid off. With more people checking out the sport than ever this year, the championship has turned out to be the closest ever, with two riders tied for the points lead coming into the final race. And it's on live TV! The Live Nation crew that is behind these races has to be pumped – so we talked to Live Nation's Todd Jendro to get his take on the eve of what really has become the perfect storm.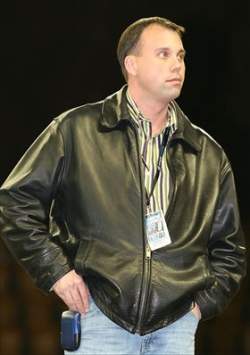 Live Nation's Todd Jendro

photo: Jason Hooper

Racer X: Todd, did you ever imagine in your wildest dreams that this series would come down to the top two riders being tied in points going into the last round?
Todd Jendro: I've been doing this for ten years and I've been dreaming about it turning out like this. We're really excited about the way it has turned out – the best riders in the world and the titles come down to the last race. To have a race in Seattle, where we had rain, and have it completely wipe the points lead down to nothing, and have Ricky Carmichael and Chad Reed tied in the points standings, it's really amazing.

And then it works out perfectly that the race is live on Speed this Saturday night.
That's right. This Saturday at 10 pm Eastern we're going live on Speed.

You guys weren't even planning it like this. The live deal was in the works long before we knew the points would be tied!
Right! This is something we've actually been working on for years, and we finally had everything work out around February of this year. So we were already planning on it, and now we're going to get a lot of attention. But it makes it harder on us, because with the live TV broadcast we have to be on the clock and be on time to the minute with everything.

The good thing about Speed is, they have a lot invested in the race too. They've been promoting it like crazy – it seems like every commercial break on every show they're pushing this race, and then Ricky goes on Wind Tunnel and they seem to repeat the races 100 times during the week. It's a lot of promotion!
We're thrilled to work with Speed this year. The exposure they have given the sport through their promotions during other time slots has been great.

It's going to be a big night. We have multiple titles to hand out, the AMA and FIM World Supercross Titles, and the Lites Shootout. It's going to be jam-packed all night long.
Yes, it's interesting because with James Stewart only five points behind, if Kevin Windham gets in there and finishes second, and Ricky or Chad ends up third, he will tie in the points and win the title. So then James will win both titles. It's incredible to have it work out this close.

So what happens if all of those guys are in the back and something goes wrong? What if James is in 10th and Ricky and Chad are like 12th and 13th and the calculators are smoking trying to do the math. Are you guys in charge of that or does everyone have their role?
Everyone had their role. Steve Whitelock and his crew will be tabulating all of the points and the results for the AMA. We'll be on the stop watch making sure the show goes well and goes on schedule.

What about the track? Are you going back outside the stadium?
Yes, just like last year, what we called Thunder Alley. It's a big sweeping left hand corner around the back of the stadium, and they'll just be pinned through there. It's going to be great.

Vegas usually has some really gnarly whoops. Are they going to be that big this year?
Well, let me go back and talk about the whole track. Vegas, obviously, creates a lot of problems with track maintenance and construction. You're dealing with 97- to 100-degree temperatures all day. So we actually went there a week before the race and added a moisture agent to the dirt and processed it, and then sealed it. Then we set it up so the moisture will come up through the surface throughout the night, which will keep the dust down. We'll still have a blue groove situation, though, because of the nature of the dirt, but we will have moisture. I think it's safe to say the whoop sections will not break down on Saturday night!

Todd, I know you're in this business as a job, but I know you're also a fan and you ride. Just as a fan, you have to be really excited about this.
Well, as I like to say it, I'll have the best seat in the house.

Are there any tickets left at all?
No!

This is really turning into a great moment for the sport.
Oh, yeah. We're obviously going to have a lot of media attention. This is what everyone wants! And one thing people sometimes forget is that these guys could have million-dollar bonuses built into their contracts. A win on Saturday night could be worth a million dollars!

I know with these guys that kind of money is good but, to be this close and be staring a championship right in the face, these riders are competitors and I know it's going to feel even better than just any championship if they win, and worse if they don't.
Yeah, can you imagine what's running through their minds right now? Can you imagine what will be running through their minds when they're standing in that tunnel and we're about to get started on Saturday?

I know! It's going to be great. Are you guys nervous? A lot of eyes are going to be focused on this show.
No we're not nervous. We know what to do and it's going to go really well.

Then what happens? Vacation time?
No way! We have the banquet on Sunday night, and I'm already looking to the future. We have the U.S. Open on October 13-14 at the MGM Grand.

Awesome. Well, I know you're busy, so go get at it. See you at the press conference on Friday – and I'm putting in a plug to listen to it on supercross.cc.com at 9 a.m. Eastern.
Okay, Jason. Thanks.