Monday Conversation: James Stewart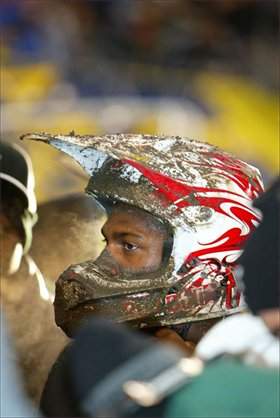 Going into a tight series finale, Stewart doesn't have enough points to control the outcome of the season, so all he can do is go for a win and hope somebody besides RC or Chad Reed gets second.
photo by Steve Bruhn

The tightest SX series battle ever made its second-to-last stop in Seattle, and to make things more stressful, it was a muddy race. James Stewart proved for the second time this year that he can also hang it out when it's wet. He even had a bad start in a heat race but didn't want to upset his streak of heat race wins, so he pinned it!

Stewart was lucky to walk away from a spectacular crash in the first practice, but it seemed to do more damage to his bike than himself. We caught up with him after his main-event win in Seattle on Saturday for this interview.

Racer X: So James, what did you think about this mud race?
Stewart: It was good. For the heat race, I was a little nervous. I got a bad start and I thought 16 was it [16 heat race wins]. I ended up running those guys down a little bit and made a good pass on Chad and got my 17th in a row, so I was happy about that. The track was the best for the person that got the best start, because it was really one-lined and you couldn't pass. I was just really keyed on my start tonight.

Did you have any idea where Ricky was and were there points calculators going off in your head while you were racing?
No. I didn't really care. All I can do is my best. I'm not saying I didn't care if he we got hurt or not, I'm just saying I didn't care where he finished. I can just try and win these races and do what I came to do. I prepare myself during the week to do that, so here I am.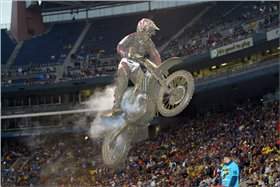 Stewart proved for the second time this year that he can ride in the mud as well (or even better) than anyone.
photo by Steve Bruhn

You had a spectacular crash in practice but still won tonight. Are you OK?
I'm fine. I don't know what happened. I just got kicked and it was Vegas all over again. It was, Here we go, winding up the windows again. I was able to get up and everything and walk off.

Was it like Vegas and Daytona, or was it different?
Daytona, I actually held on until I flipped over those hay bales. It was more like Vegas. Actually, it was higher, but I landed on the downside of the jump and got really lucky. I was happy for that.

Were there any parts of the track scary for you tonight?
Just the lappers! The ruts were gnarly, but just the lappers.

How did you go so straight and so fast in those tricky whoops last week at Dallas?
I think we have a good setup, and I felt like whatever happened in there, I could hold on, so it was me not having that fear of falling. We work hard during the week for that, so I wasn't scared to just let it hang out.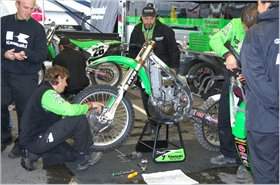 After James crashed out of practice, Kawasaki's pit crew pitched in to rebuild his bike from the frame up.
photo by Steve Bruhn

Assuming you get that world SX title next week, is that as important as AMA and do you think the fans give that series enough credit?
I think they do. To me, any one of these titles is important. Of course I want to win AMA, too, but for me the world is just as important. We had more races. It's cool. All I could do is my best. You are going to see me partying if I win it, I can tell you that much [laughs]!

Since you announced your contract is finished and you're staying with Kawasaki, does that change a race day? Less to think about or anything? Or have you just ignored it all and let your people handle it?
There was no stress for me, trying to figure it out. I have a great manager, David Evans, and I just kind of stepped back and let him do it. He did it. I am really happy to extend my years with Kawasaki. I have been with them like 13 years. I always wanted to stay here. I wanted to get my contract and sign it before everyone else started talking, so it was good.

Thanks for the extra time.
Thanks, Steve.