Great Races: The 1994 High Point 125cc National
He's won 33 AMA Motocross Nationals and AMA Supercross main events. He was a member of the victorious Loretta Lynn's Team USA Motocross des Nations squad last September. He's won two AMA 125cc West Region Supercross Championships, and he's won the 250cc United States Grand Prix of Motocross. He's world-renowned as one of the smoothest, most stylish motocross racers of all time.
But on Sunday, May 29, 1994,
Kevin Windham
was a 17-year-old Team Kawasaki support rider sitting behind the starting gate of
High Point
Raceway on his KX125. Having made his debut at Gatorback Cycle Park in Gainesville, Florida, nearly three months before — where he got duly smoked — the standout amateur racer from Baton Rouge, Louisiana, waited for the starter to signal him and 39 other racers to kick their bikes to life. He was about to start the third moto of his rookie season, and on the gate with him were riders with surnames like Henry, Emig, Lamson, Hughes, Huffman, Dobb, and Ferry (oh, Pingree was probably there, too).
When the gate dropped, the pack roared up the start hill and circumvented the wide Mount Morris left-hand first turn. The first rider out of it was the #510 Kawasaki rider Windham. For 30 minutes and one lap, he led the opening moto of the Mount Morris National. Fans lining the fences scratched their heads, trying to figure out who the kid in the AXO gear and the funny number was.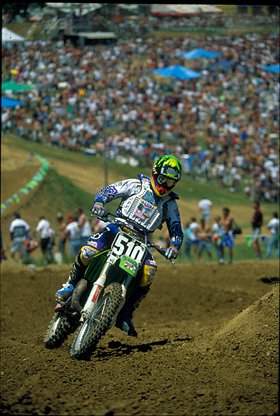 Windham actually opened a lead on the whole pack before the hot weather and a certain Honda rider reeled him in
It stayed that way for 30 minutes. Then, with less than one lap to go, reigning 125cc National Champion Doug Henry—sporting retro Fox gear as part of the company's 20th anniversary celebration—caught Windham, passed him, and won the moto. Windham, who had captivated the 25,000 fans lining the fences with his calm, cool, and collected approach, held on for second.
"It would have been great to have won it, but at this stage of my career, winning really isn't as important; proving I can hang with these guys is," Windham told
Cycle News
after the moto. "I tried not letting the pressure get to me, but it's hard not to when you come up to the starting gate and line up next to Henry, Emig, and those guys. I am just happy I kept my head and didn't let them influence me on the track.
"I started to get fatigued," he added. "Once I started to tire, I began making mistakes, so I decided that second was better than taking a soil sample. I guess I kind of surprised myself."
In the second moto, Windham came back down to earth somewhat and placed 11th for sixth overall. Henry won the overall that sunny spring afternoon with an unlikely 1-5; Jeff Emig and Ryan Hughes went 1-2 in the second moto.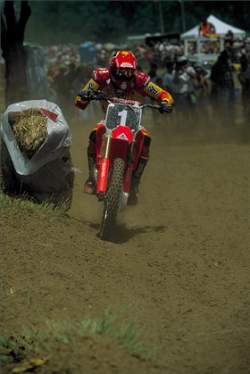 The man who got Windham that hot, hectic moto was none other than Doug Henry, the 1993 and '94 AMA 125 National Champion.
In the 1998
Cycle News
year-end issue #50, this writer interviewed Windham. During the recently completed 1997 season, not only had he clinched his second consecutive AMA 125cc West Region Supercross Championship, but he also became the first 125cc supercross racer to win a 250cc main event in the same season (at Charlotte Motor Speedway on April 19). During the interview, I asked about his amazing breakout moto at Mount Morris in 1994.
"I don't remember how I got the holeshot," he reflected. "I was so nervous. I just put my head down and went. I was coming from racing amateur events, where you race just four or five laps, and here I am running up front in a 30-minute moto, with the pressure of Doug Henry behind me — it was just overwhelming.
"Mount Morris kind of turned everybody on to me," he added. "Yamaha started talking to me and came down to Loretta Lynn's that August to watch me ride. I felt that they had the best program at the time, so I signed on with them."
Thirteen seasons later, Windham is still at it. Racing for the SoBe/No Fear/Samsung Honda outfit, the seasoned veteran rides full-on factory Hondas. Although his 2006 campaign started relatively late — the result of a preseason testing crash — Windham is now back in the mix and a threat to take a place on the podium on any given Saturday night. In fact, if all goes to plan, come tomorrow night in Qwest Field in Seattle, Kevin will be doing what he has done so very often in his storied career: spraying champagne and holding a trophy above his head.