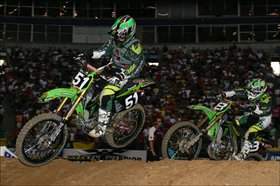 It could get interesting if we see this scenario in Seattle
Hello, everyone, and welcome to the Rev-Up! The 2006 Amp'd Mobile AMA Supercross Series is hitting full song as we head into what may be the most exciting final two rounds of the series' history. April 28, 2006 will be a date of drama that will rival almost anything that has taken place beneath the 605-feet-tall Space Needle since it was constructed in 1962.
I was hoping for a spark to ignite a fire last weekend, but I had no idea that we would be blistered with the raging inferno we find ourselves burning in now! The nitro I have in my veins arrived late last Saturday night on the heels of a series of instant messages I received from "Bad" Billy Ursic scribing the down right insane events of Dallas: "Villopoto takes his first win…RC goes down huge…STEWART GOES DOWN HUGE…Reed wins!"
And just like that, we have what I am calling the biggest race of the decade on our hands. Two championships are on the line as we speed toward the music capital of the world. (Well, in 1991, anyway.) The fate of the 450 class rides heavily on the events that will transpire this weekend. The constant battle between the big three comes down to these final two races. Although it's the last dance for the West Coast 250F boys, which hasn't exactly been a dance, but rather a full-blown mosh pit of madness! So let's get our boots on, climb aboard this steed of seething supercross sickness, and get Revved Up for Seattle!
450F Class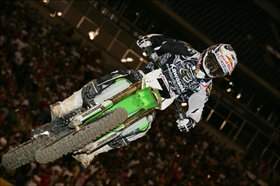 It's "must-win" for James from here on out
According to reports, Hunter S. Thompson's last words were "It never got weird enough for me." He should have stuck around and attended the Dallas Supercross! Last week's race has me feeling like I am in some strange twilight zone of surreal chaos. Before last week there were two certain things in the world: We all have to pay taxes, and
Ricky Carmichael
does not make mistakes at the end of a championship series.
We can scratch that second one off the list now. RC was going for it like the GOAT he is but, as we all know now, a wicked set of whoops, a wad of photographers, and a display boat stood in his way. You cannot beat Ricky up for trying: He proved that he wants to close out this season with a win, and isn't afraid to risk a crash to do so. Fear is fuel for cowards, and Carmichael definitely threw a match on the fuel and showed everyone he is still burning. He is close to completing his masterpiece and needs to get through Seattle with a win or a second.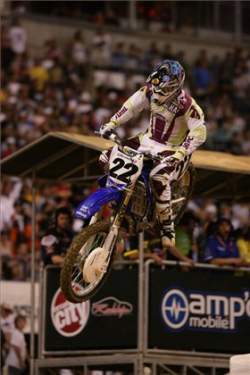 Reed has been lurking all season and finds himself very much in the hunt
It was déjà vu all over again (a la St. Louis) as
James Stewart
suffered yet another freak get-off shortly thereafter. Once again, just when James blows people's minds with moves like his pass on Carmichael, he goes down. Talk about déjà vu – remember how fast he was going in Daytona before he flew off the track? I hate it for James, because when he isn't making those tiny-but-costly mistakes, he is simply writing poetry with the throttle and rear tire.
All of this lands the steadfast
Chad Reed
right back into the points championship. With two races to go and 10 points separating the big three, it's safe to say the gloves are off. Hell, I don't even think they will be taping up! Can it get any better than this for our premier series?

250F Class
This group just keeps throwing punches and will not go down! Grant Langston has been fast all season and finds himself buried in a four-point margin between himself and
Andrew Short
. Does this guy ever take the easy road? If memory serves, you will recall the last championship Grant won, the 2005 East Coast title, coming down to the last lap, where he had to fight off
Steve Boniface
. If you have a better memory, you will remember his 2003 outdoor championship being decided by a rainout at Troy, Ohio (though he was more than up for Ryno's challenge at
Steel City
the weekend before). And if you have a memory like a steel trap, you know all about the one that got away from him in 2001 when his rear wheel let go at
Steel City
.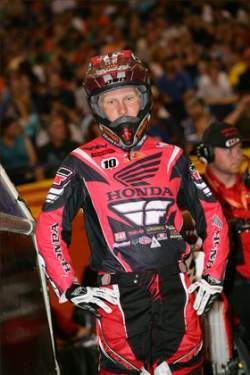 Will four points be enough for Short?
If history repeats itself, we are going to see nothing short of a heart-stopping 15 laps for Grant,
Andrew Short
, and—drum roll, please—
Ryan Villopoto
! I told ya'll to watch out for him last week in Texas and the "Flying Freckle III" delivered in a big way. With Ryan atop the speed charts and looking smooth as silk, he may be forced to make the biggest decision in his 17-year existence: Would he give up the lead to Grant to reward him the title if they are running second and first ahead of Short? I can guess how Mitch Payton would answer that one.
It's been war from the drop of the gate at Anaheim and the boys have just one more battle to decide who will emerge victorious. I know
Andrew Short
wants this one bad. Maybe as much as Team Honda, as a sweep of the tiddler divisions would be huge.
I consider myself a fan of all things racing, and
Wind Tunnel
with Dave Despain is one of my must-watch shows. What did they begin the show talking about? The Subway Eat Fresh 500? No. The F1 and open-wheel action taking place all over the globe? No! It was our incredible Amp'd Mobile Supercross Series bringing the noise in a big way. Ole fidgety Dave and his co-host seemed to be more pumped up about the action in Texas and the ending of our series than everything else going down over the weekend. This is big, folks. Our market has seen an enormous spike since Travis hucked it into the San Francisco Bay back in 1999. It's all beginning to peak right now! I believe the outcome of the next 12 days is going to
Bubba
Scrub our our sport to where it belongs.
This is what we have all been waiting for, folks: The great big hairy animal that will bring us to the edge of our seats has arrived. The tension is here. If you are not in attendance at the race itself, you will be able to hear it in Weege's voice on the webcast. Hopefully, after reading this, you are feeling it right now.
Thanks for reading, see you next week!