Monday Conversation: Chad Reed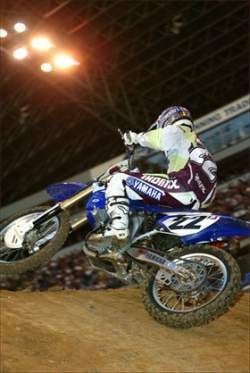 Dallas was all about not making mistakes
Dallas seemed a little like Orlando last year: Just when everyone started talking like supercross was just Stewart and RC, Chad Reed wins. Reed had enough time to finally let his shoulder heal due to a break in the schedule. He had a feeling something was going to happen in the main, and it even happened about where he thought it would—in the whoops.
While in third watching RC struggle a little in the difficult whoops, Stewart made a pass for the lead. On the very next lap, Reed watched RC dart off the track, narrowly missing the Mastercraft boat that was on display and scattering (and dropping a couple) photographers.
Reed's win jump-started his series hopes again. He is only two points behind RC, and Stewart is just eight more behind him. It's going to come down to Seattle (which will be shown on CBS) and Las Vegas (live on Speed)!
Racer X: Congratulations, Chad, this must have been an important win for you.
Chad Reed
: This year has been an emotional roller-coaster year for me for sure. I'm happy. I will take it any way I can. Tonight I had a feeling something was going to go down. It was a fast track and mistakes were going to be costly. I guess sometimes it pays to be smart.
What were your thoughts on this track after the track walk and the first practice?
The whoops were good. After two weeks off, I felt strong again. I felt the whoops were going to be fun—I always enjoy them. They were high-speed and they got cupped out. The last couple of weekends, they have been working on the whoops. This weekend they just left them [to get rutted up]. Right away on the parade lap, I knew it was going to be a tough main event—somebody was going to go down. I think out of three of us, the one that is the most vulnerable in the whoops is Ricky. And anybody else would have hit that boat! He is a lucky man.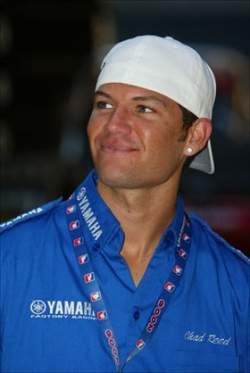 Chad said he knew something was going to happen at this event

In the main, when James and Ricky were going at it, you were right there. Were you picking up on what they were doing?
I felt good. I felt like I had a comfortable pace that was not beyond my limits or the track's limits. I think that was more important tonight. I really felt good. I was proud of myself and happy. The fans were going crazy. I was a part of that and it was a nice feeling. It has been a weird year; I have been off the pace. I have my own reasons for that, but it is what it is. I just felt that tonight, things were going to turn around. We have to race to Vegas. That's why I sucked it up and rode Daytona. It's racing and anything can happen. No one is exempt from it, not even our champ. I'm looking forward to the rest of this season.
It seems that just when the fans think it's all about those other two, you win another one.
That's all there has been all year, those two guys. If you ask them who are they racing, they mention each other—they don't even include me in. I'm excited. I'm happy to win races and be the odd guy out. I will take it any way we can. There are two races to go, and I think we can make it happen.
Did you say in the press conference that you just moved into a new house in Florida over the break?
Yeah, I just moved into one that makes life a lot more fun. It's real homey, and Ellie and I like it a lot. With the company that I have back there, my life is really fun.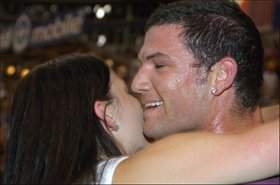 Ellie celebrates with Chad after his victory lap

So there are rumors about the summer. Are you going to race the outdoor nationals?
At this point, yes.
Okay, then how are contracts going for next year?
It's coming. I know what's going on. I know what I want to achieve next year. I have good guys working on it. That's why I pay them the big bucks!
Would you do a supercross-only deal?
Maybe. I could make more money doing that. Why not?
We'll leave it at that. Thanks, Chad.
Thanks, Steve.