Kawasaki/Racer X Race Report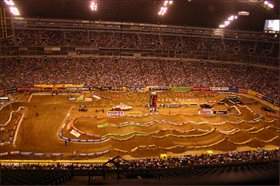 Texas Stadium
Wow, what a dramatic night in Dallas. After practice, though, it looked like tonight might be a repeat of the past three races. Team Kawasaki's James Stewart had the fastest lap time in practice, followed my Team Makita Suzuki's Ricky Carmichael and Team Yamaha's Chad Reed. Something major was going to have to happen to knock Stewart off of the top of the podium, and tonight was the night it happened.
Carmichael took the Progressive Holeshot Award on his RM-Z450 and after almost colliding with Honda's Travis Preston over the first triple, James Stewart jumped his way in to second. At the end of the first lap we had the first new leader in more than 60 laps as Carmichael led Stewart and Reed over the finish line double.
The stage was set as Bubba wasn't able to do what he has done in the previous three races – pull the holeshot and check out. Stewart shined all evening in the whoop section leading up to the finish line, and on lap four Stewart blitzed past Carmichael like he was standing still and took the lead for the first time of the night. Carmichael didn't let off and stayed with Stewart for the next two laps, but then what RC feared most happened – his bike swapped sideways in the whoops and he violently careened off the track. He then clipped the Mastercraft display boat and collided with a group of photographers and track workers, dropping three to the ground. He struggled to get his 450 started and re-entered the track in ninth position, obviously shaken.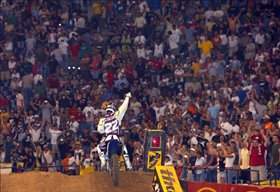 Yamaha's Chad Reed celebrates his second victory in 2006
photo: Steve Bruhn
At this point it looked like Stewart had this race in the bag and the main focus would be watching Carmichael try to salvage points, but on lap eight Stewart cased a small jump at the end of a rhythm section and flipped over the bars. He quickly restarted his KX450F as the crowd went into a frenzy, and he got going again in sixth place -- still ahead of Carmichael. He made quick work to get into second place but by this point Reed was long gone. So when the checkered flag finally flew, it was Yamaha's Chad Reed taking the win ahead of Stewart and MDK Motorsport's Nick Wey.
"I felt tonight something was gonna go down," Reed said in the post-race press conference. "I don't know why, I just had that feeling." For the second time this season Reed capitalized on the mistakes of Stewart and Carmichael, and said, "It's nice to take wins, but on the other hand, I'd like to earn them."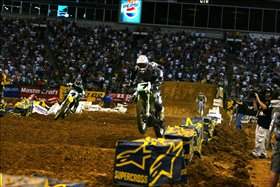 Stewart leads RC and Reed moments prior to RC crashing
photo: Steve Bruhn
Rounding out the top five was Makita Suzuki's
Ivan Tedesco
and Kawasaki's
Michael Byrne
.
Carmichael, meanwhile, was able to claw his way back to sixth. And with his sixth-place finish, Carmichael now holds a two-point lead in the Amp'd Mobile AMA Supercross Series over
Chad Reed
. Stewart sits in third, 10 points out of first. And in the World SXGP standings, Stewart now has a seven-point lead over Carmichael.
As for the 250F class, you all nailed the Troy Lee Designs online poll this past week when we asked what supercross rookie would win his first supercross of the season in 2006. Of Red Bull KTM's
Mike Alessi
, Rockstar Suzuki's
Jason Lawrence
, and Monster Energy Pro Circuit Kawaski's
Ryan Villopoto
, 87 percent of you voted that Villopoto, the 17-year-old rookie from Poulsbo, WA, would win a 250F main event first. And he did tonight in Dallas.
After having the second fastest lap time in practice behind his teammate and championship contender
Grant Langston
, Villopoto pulled the holeshot in the 250F main event and never looked back, leading all 15 laps and maintaining a comfortable lead on his way to his first main-event win. Team Honda's
Andrew Short
worked his way into second after starting in fifth but just couldn't close the gap on #51. Villopoto's teammate Langston started around tenth and finally managed to get to third, but Short and Villopoto were long gone. Already two points down to Short in the points, Langston lost another two points to Short as they head into the final round of the series next weekend at Seattle's Qwest Field, where the possibility of a mud race is very good.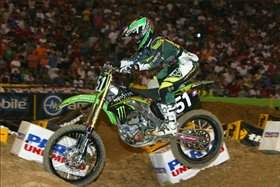 Monster Energy Pro Circuit Kawasaki's Ryan Villopoto led every lap of the 250F main event to record his first win as a professional
photo: Steve Bruhn
So with 14 races in the books, a mere two points separate the top two in the 450F class, and four points separate the top two in the 250F class. This is going to be good.