Great Races: The 1983 Unadilla USGP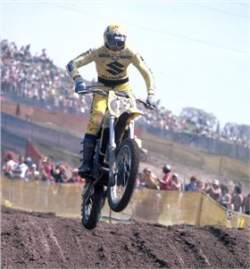 In 1980, Brian Myerscough was on his way to the top of the motocross world with Team Suzuki, but his career was derailed by health issues
photo: Dick Miller Archives
It was the summer of 1983. Team Honda rider David Bailey was deep in the throes of trying to win both the AMA Supercross Series and AMA 250cc National MX Championship. Danny LaPorte, the reigning 250cc World MX Champion, was fighting off the advances of Belgian rider Georges Jobe, who was making a serious play to take LaPorte's #1 plate away. And a Honda "B" team rider named Brian Myerscough was trying to make good on a second chance at saving his once promising career.
On March 30, 1980, Myerscough—an American minicycle racing legend—won the Saddleback National aboard a factory Suzuki. "I've never seen anybody go faster at Saddleback Park than Brian Myerscough did that afternoon," said the late Drew Lien of 100% of Myerscough's ride on what was then one of the planet's most famous racetracks.
Myerscough was on the fast track to greatness, but then, inexplicably, things began to go wrong. "I was a fanatic, and somewhere along the way I began to lose all my self-confidence," Myerscough told this writer in 1997. "I was putting so much pressure on myself that I wasn't feeling good at all. I rode all but the last two nationals in 1980, and throughout the season I began going to the doctors to find out what was wrong, but they really couldn't diagnose it. They finally found out that I was wearing myself down and that I was dealing with depression. I believe it was more of the mental depression that hurt me than the hypoglycemia the doctors initially thought I had."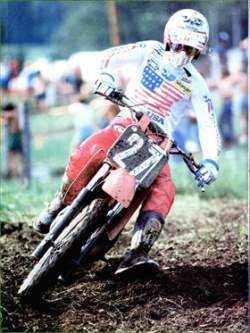 David Bailey was the star of the 1983 AMA season and a favorite to win at Unadilla's USGP
photo: Fran Kuhn
Myerscough left the sport, taking a year and a half off before returning in 1982. For the '83 season, he was hired to ride for Greg Arnett's Honda "B" team, which then provided its riders bikes, parts, salary, and a box van. Running in the highly competitive 125cc nationals that summer, shortly before the 1983 250cc USGP at
Unadilla
in July, Myerscough received a phone call form Honda.
"Johnny O'Mara was supposed to ride the USGP, but he was in the midst of a serious run at the AMA 125cc National Championship, so they threw me on the works bike at the last minute," Myerscough explained. "I wasn't completely prepared to ride the class, but I was going to give it my best shot."
When the checkered flag flew to signal the end of the first 40-minutes-plus-two-laps moto at
Unadilla
, Myerscough found himself a surprising second place, some 14 seconds behind Honda's new superstar Bailey. "When the first moto started, Brian and I just took off from everyone," Bailey recalls. "I led the whole way but Brian wasn't that far behind. We just kept an eye on each other. You see, back then, they didn't score GP overalls by who won, but rather by whoever had the fastest time in both motos combined, so we kept going hard."
Although Bailey was arguably the most physically fit rider in the world at the time, the first moto on
Unadilla
's notoriously rough and nasty natural-terrain circuit had taken its toll. "I was so tired and thirsty after the moto that I drank way, way too much water," he says. "It made me sick."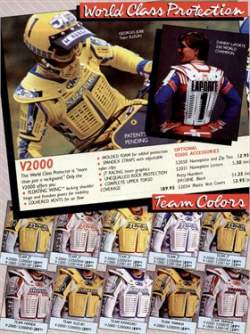 World-title combatants Georges Jobe and Danny LaPorte were popular enough to share a JT Racing ad in MXA
When the gate dropped for the final moto, Bailey, LaPorte (who had placed fourth in the first moto), and Myerscough all found themselves up front at the sharp end of the field. But then, a few laps in, Bailey bonked. "I just faded," he says. "Brian blew past me, then LaPorte went by me, and I just rode around for 20 minutes until I could regroup."
At the 25-minute mark of the long moto, Myerscough's #42 Honda whizzed by LaPorte and into the lead. He was approximately 15 minutes away from winning the biggest race of his lifetime, and probably the biggest 250cc Grand Prix upset since Jim Pomeroy's shocking win in Spain in 1973. But as the seconds slowly clicked away, Bailey began to charge and reeled in LaPorte, who, in turn, had crept up on the tiring Myerscough.
"I had to get Brian—I didn't even care about LaPorte because he was fourth in the first moto," Bailey says. "I was riding as hard and as fast as I could. I kept telling myself to dig deeper and deeper…. But then, just about that time, Brian took off again! I thought that was it—I thought it was over. I was thinking, Not only did I let LaPorte beat me, but so did Myerscough."
Added LaPorte of the drama that played out in the waning stages of the race: "There was a personal thing going on between David and I to see who was the best—the World Champion or the National Champion—and Brian just got caught in the middle of that. I guess he had some things on the line for himself at
Unadilla
, but we couldn't think about that. I mean, we were like lions—we had to eat him up."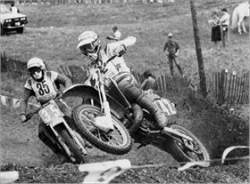 Fran Kuhn snapped this photo of Myerscough during his brilliant-but-ultimately-sad second moto
photo: Fran Kuhn
With 40 minutes burned off the clock, Myerscough was still leading. Then, out came the two-lap card. Myerscough, punch drunk with exhaustion, hit the wall, beginning to fade badly. LaPorte and Bailey smelled blood.
"He hit the wall," Bailey says. "He wanted to win that race too much. He should have played it smart and paced himself. He just didn't have anything left. He was a rag doll."
LaPorte went on to win the moto over Bailey, who, in placing second, claimed the 1983 USGP. Myerscough crawled across the line in fifth.
"I was out in front in the lead, but I lost my stamina and folded at the end," he said. "I was just dead. After the race, I got sick and so did everybody else. I didn't win, but to this day I feel good about running with those guys. I should have won the USGP, but I just got too tired."
Myerscough would race, off and on, through 1986 before finally retiring. Today, he works at Troy Lee Designs in Corona, California. He remains, in the minds of many, one of the sport's truly tragic heroes.